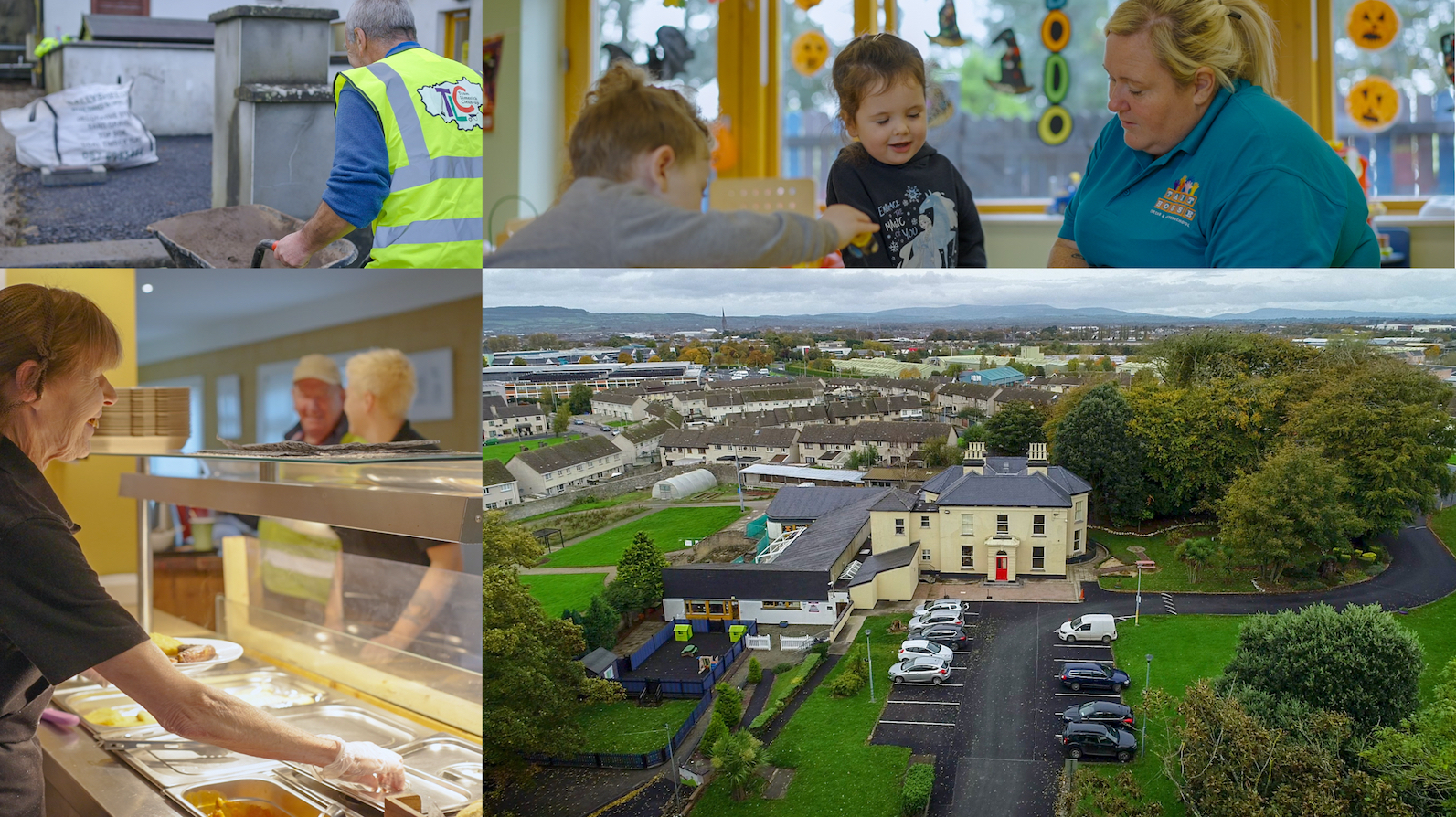 WATCH Tait House Community Enterprise creates social, environmental and economic benefits in Southill
Tait House Community Enterprise pictured above providing services to the local community and this is at the heart of what they do
Tait House Community Enterprise develop enterprise, employment and training opportunities
Tait House Community Enterprise is a social enterprise whose mission is to create social, environmental and economic benefits for communities in Southill and other local areas through the development of enterprise, employment and training opportunities from its base in Tait House.
Established in the mid-1980s, they have been active across a wide range of activities over the years, including childcare, a community café, community education, incubation space for small businesses and community environmental and circular economy initiatives, after a number of local residents became concerned at the levels of poverty in the local community and the lack of services and opportunities available locally in Limerick's Southside.
They came together to form Southill Development Co-operative Society to address these concerns and, with the support of a wide range of government agencies, began to implement a number of initiatives in the local community.
The Southill Development Co-operative Society was given the use of the then Southill House by the local authority. Over the years, a number of activities have taken place on-site including childcare, schooling, IT training, as well as providing rental space for a diverse range of services.
In around 2012, the house was renamed Tait House and the organisation was rebranded as Tait House Community Enterprise, to commemorate Sir Peter Tait, a local industrialist who lived in the house in the mid-19th century.
Michael Quilligan, General Manager said, "Providing services to the local community is at the heart of what we do. Equality and community development are fundamental principles of social enterprise, and the support that we receive from a range of funders enables us to provide services that are affordable within our local community.
For the last 25 years we have been offering services, we are very much involved in childcare with our creche looking after 50 to 80 children a day, we have a cafe, run a meals on wheels service and work closely with the Mid West Simon Community delivering food parcels. We are very much involved in the circular economy and are running a paint recycling project that has taken off and is growing. Our training programmes are very much focused on community education, informal programmes such as horticulture, baking and flower arranging, that are tailored to the needs of the community, planting a seed for more formal, certified programmes later. In terms of our staff, a lot of them come from community employment, to bring people back into the workplace and so many different types of people benefit such as offenders or ethnic minorities who have barriers accessing mainstream employment."
Many of Tait House's current activities are supported by workers on the Community Employment programme. According to Ann O'Mara, one of the programme's supervisors, "Community Employment is designed to help people who are long-term unemployed – or otherwise disadvantaged – to get back to work by offering part-time work in their local communities. People that are interested in getting involved should contact their local Intreo office".
Kelly Fitzgerald, another supervisor, spoke about their current vacancies, "We currently have roles for maintenance operatives and caretakers, office administration workers and people who are interested in gardening and looking after sports pitches. If you'd like to get back into work, we'll do our best to help you."
Michelle Bargary is Childcare Manager said, "Our service was established in 1990 and I've been working here myself for over 20 years. We comply with all the standards and regulations for the sector. Our creche provides full daycare for children aged 6 months to 5 years, and we work in partnership with the local primary schools in providing our school-age service, providing after-school care during term-time and full daycare during school holidays. We are lucky to have large outdoor play spaces available to us – we believe that play and exercise is essential to children's development."
John Mullins, Groundsman at Tait House Community Enterprise considers the friendly atmosphere as being, "like a little family up here. Everything is friendly here, the work isn't back-breaking at all, to me it means a lot because it keeps off the labour. I don't want to be in the workforce, not at my age. I'd rather come up here every morning and work. The job here changed my life."
Michael Quilligan added, "Southill is one of the most disadvantaged areas in the country so it's an area very much in need of the development work, organisations like us are doing. One of our goals in the short term is to make more people aware of who we are and what we do. That's why we're excited to be involved in the ARISE initiative with PAUL Partnership. We will continue to progress and develop our services and encourage anyone in the community to come meet us and we will help them in any way we can. We are there to help and serve the community."
About Social Enterprise Limerick
Learning Hub Limerick is a member of Social Enterprise Limerick, a practitioners' network of Social Enterprises in Limerick City. The overall objective of Social Enterprise Limerick is to provide a local platform for social enterprises to meet, network, share their experiences and learn from each other. The network encourages collaboration and the sharing of resources to help members to advance their community, social and/or environmental goals and is involved in a range of training, development and promotional activities.
In 2022, Social Enterprise Limerick was approved for funding under the ARISE programme, which is a Dormant Accounts funded initiative for the promotion of Social Enterprise. The ARISE funding was utilised to develop a range of promotional materials for network members and to highlight the activities of the SEL network, with a particular focus on the development of digital media/video content.
Social Enterprise Limerick was initiated by Paul Partnership under the Social Inclusion and Community Activation Programme (known as SICAP). SICAP provides social inclusion support to individuals and community organisations and is co-funded by the Government of Ireland through the Department of Rural and Community Development and the European Union.
For more information on the SEL ARISE project contact Michael Gleeson, Social Enterprise Officer at PAUL Partnership or visit www.socialenterpriselimerick.ie #SocialEnterpriseLimerick