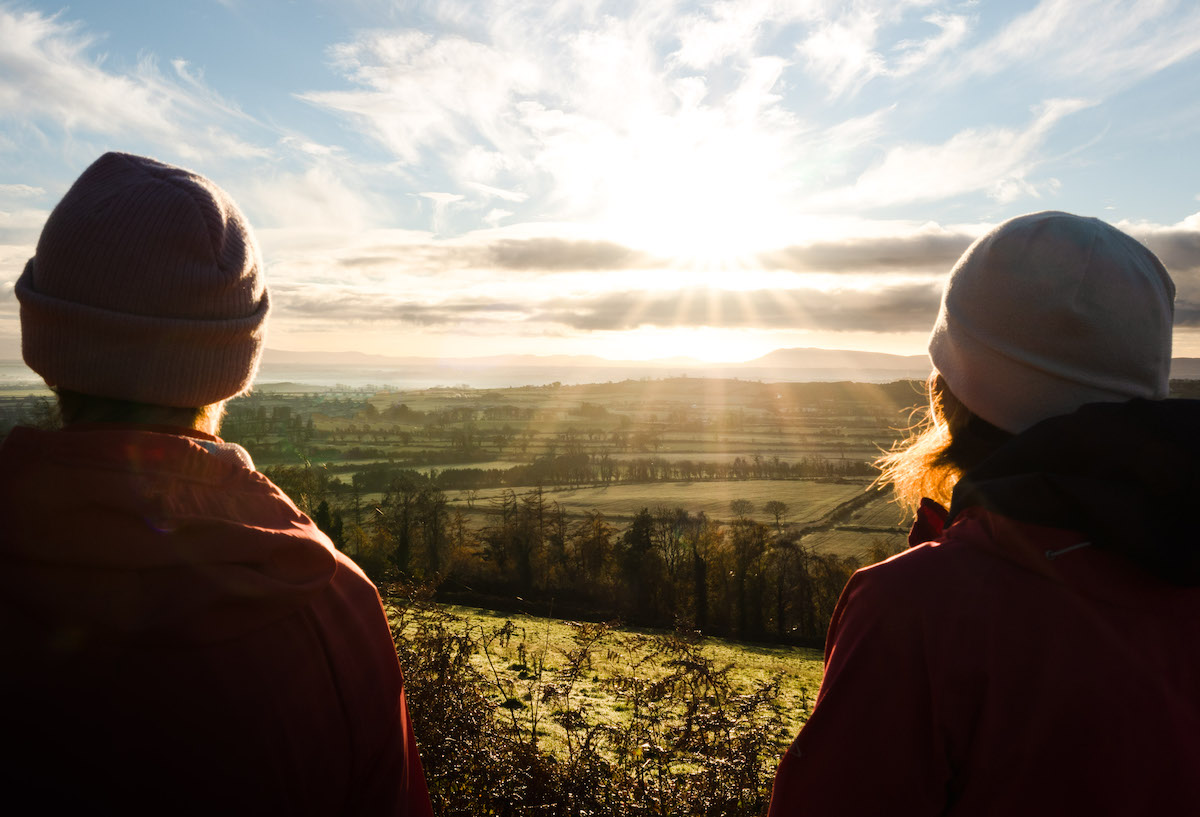 WATCH – Walk It Run It Love It campaign highlights walking and running routes across Limerick
Walk It Run It Love It – Pictured above is Maureen Curtin and Helen Murray soaking in the view at Liskennett Forest Trail, Co. Limerick. Picture: Gareth Laheen
Walk It Run It Love It guide showcases a range of routes waiting to be explored throughout Limerick
Limerick City and County Council are calling on all walkers, runners and hikers to discover spectacular countryside, mountain trails, forest parks and beautiful scenery with the launch of their 2023 Walk it, Run it, Love it campaign.
A four-week multimedia campaign will run from mid-January to mid-February across social, digital and print media. The Walk it, Run it, Love it guide, which will be available both in print and digital forms, showcases a range of routes waiting to be explored throughout Limerick. Whether you are after an easy amble or a long distance hike, there is something to suit explorers young and old!
Limerick is an ideal city to explore on foot, and both visitors and locals are encouraged to amble along the city's recreational riverside routes or follow in the footsteps of some of Limerick's legendary athletes on one of the Olympic running trails, such as the Three Bridges Walk, the Neil Cusack Olympic Trail and the City centre Slí na Sláinte.
Those looking for a "county-based" adventure can explore a range of options including Kilmoylan Nature Walk, a leafy looped forest trail in Doon, Co. Limerick; Liskennett Forest Trail offering stunning views across Limerick's lush countryside; and Galtymore, a difficult but rewarding hiking route and the highest point of counties Limerick and Tipperary in the Galtee Mountain range.
The routes, which feature on a series of promotional videos, commissioned by Limerick.ie, will be released across social media throughout the campaign.
These routes have received funding from the Department of Rural and Community Development, Fáilte Ireland and Limerick City and County Council under the Outdoor Recreation Infrastructure Scheme.
Don't forget too, the Limerick Greenway, which offers both walkers and cyclists the chance to experience Limerick's beauty from Rathkeale all the way to Abbeyfeale, or even further down into Kerry with the newly opened Kerry Greenway.
This year's campaign includes a specially curated Limerick Walk It Run It Love It playlist, which features an eclectic array of musicians from Limerick's vibrant music scene and makes for a spirited soundtrack for runners and walkers when stepping out in Limerick.
Donn O'Sullivan, Head of Marketing and Communications with Limerick City and County Council added "This campaign highlights some of the best routes and trails that Limerick City and County has to offer to walkers, runners and hikers.
"The assets, being launched today, coincide with Take A Walk Outdoors Day and we encourage everyone to get out and explore Limerick this weekend and beyond. If you are thinking of throwing on the runners for the first time in 2023, or you are flying along with #100daysofwalking, there is a route or trail for you. Keep an eye out too on our social channels for some footage of the what the trails and routes have to offer."
The guide also ties in with the objectives and aims of Limerick Sports Partnership, Healthy Limerick and Healthy Ireland as a means of helping locals and visitors to Limerick in becoming healthier.
The Walk It Run It Love It digital guide is available for download here.
For more information on the maps and lots more walking routes throughout Limerick visit Limerick.ie/Walking