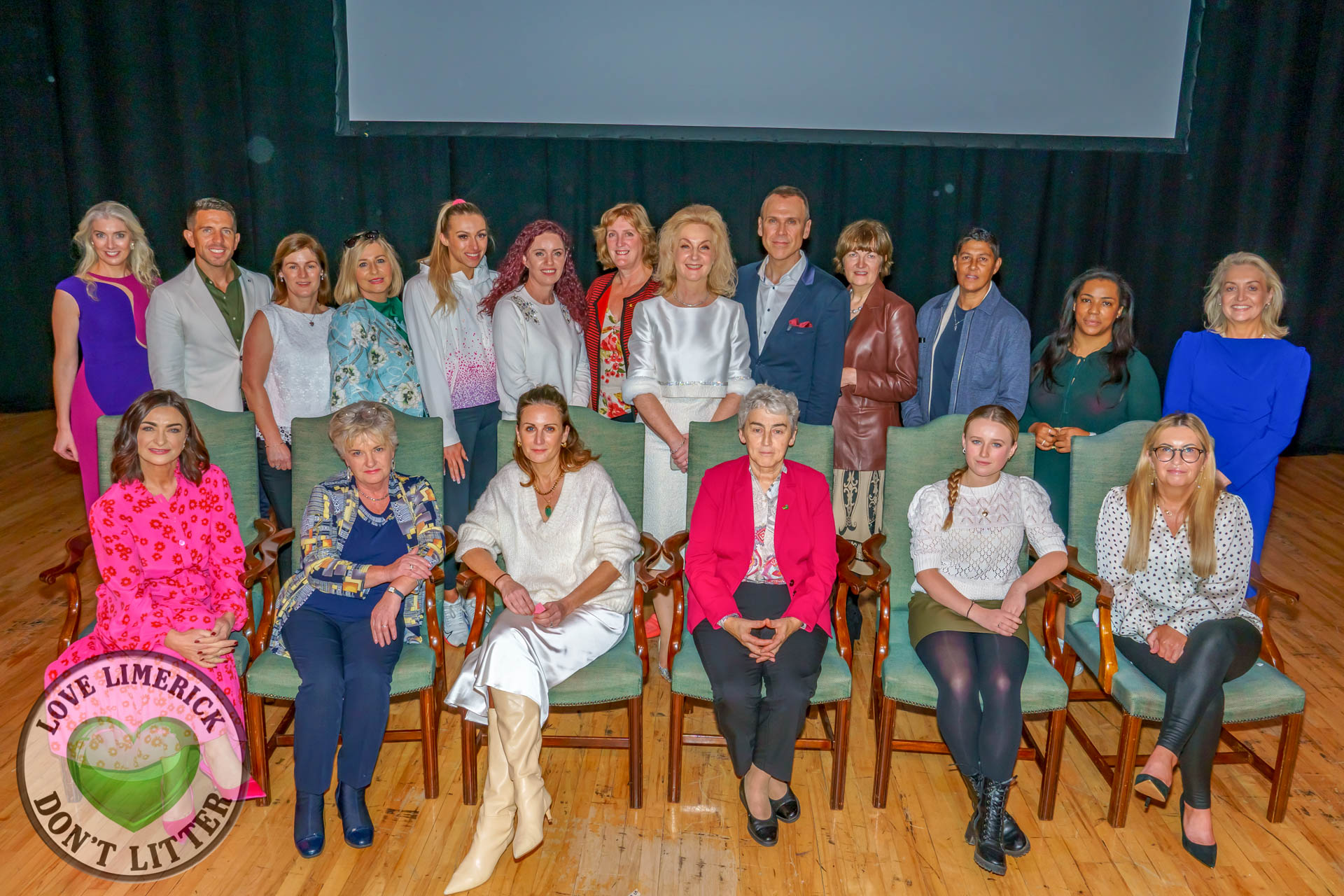 2022 Midwest Empowerment and Equality Conference at UCH advocates the importance of self-care, loving yourself, and supporting others
2022 Midwest Empowerment and Equality Conference at UCH – Pictured above are consultant radiologist Julie O'Brien, professional coach and mentor Aidan O'Brien, success coach Fiona Brennan, Karen Brosnahan, Shannon Conference & Sports Bureau, fitness athleteTina Hnatysyn, Lisa Daly, Chairperson Limerick Pride, community activist Helen O'Donnell, co-organisers Richard Lynch and Dr Mary Ryan, Margaret Boland, Honorary Senior Lecturer RCSI GSM and former CEO James Connolly Memorial, female sports trailblazer Jackie McCarthy-O'Brien, Direct Provision Activist Donnah Sibanda Vuma (back row), entrepreneur Oonagh O'Hagan, Miriam Duffy, Executive Director at Rape Crisis Midwest, Una Burns, Head of Advocacy and Communications at homelessness organisation Novas, Helen Culhane, Founder of Children's Grief Centre and authors Sarah and Tracey Corbett Lynch (front). Picture: Krzysztof Luszczki/ilovelimerick
Conference took place to empower, educate and encourage men and women both young and old to take better care of themselves
By I Love Limerick correspondent Stella Gordon
On Friday, November 11 at the University Concert Hall, the 2022 Midwest Empowerment and Equality Conference took place to empower, educate and encourage men and women both young and old to take better care of themselves. The conference was presented by Dr Mary Ryan, Consultant Endocrinologist, Bon Secours at Barrington's Limerick and Senior Lecturer at Graduate Entry Medical School (GEMS), University of Limerick and organised by Dr Ryan and Richard Lynch of I Love Limerick.
Guest speakers include Dr Mary Ryan, Irish broadcaster and journalist Lorraine Keane, Irish educator and consultant clinical psychologist Dr Tony Humphreys, professional coach and mentor Aidan O'Brien, domestic abuse survivor Noelle Grant Matthews and entrepreneurs and empowerment guru's Laura Dowling and Oonagh O'Hagan.
Professor Ann Marie Gill, International Human Resource Consultant from University College Cork, officially opened the 2022 Midwest Empowerment conference at UCH by giving an inspirational speech about the improvement of equality and empowerment within Ireland. Professor Gill said, "In 1973 Ireland joined the EU and as a result, the equal pay legislation was introduced in 1995, however, the struggle still goes on.
"I've been watching COP27, one of the most important conferences of our future right now and there are so few women, it's a sea of black suits. Why are we letting 50% of the gene pool make decisions for the 100%, we need to do something as women." Dr Gill finished by quoting a powerful Chinese proverb, "When sleeping women wake, mountains move."
Dr Mary Ryan educated the audience on the importance of hormones and how it interacts with lifestyle and why empowerment is so important in both men and women. Mary spoke about the importance of mental health awareness and the prevalence of male suicide, during a time with poor mental health services. She said, "Our mental health system is poor, and we need to do something. We are an audience, we have a voice; we talk too much upon ourselves, but we need to be vocal."
Dr Tony Humphreys was one of the guest speakers of the day. Tony is Ireland's most renowned Consultant Clinical Psychologist and the author of over 20 books. Tony spoke about the trials and tribulations of his childhood, and the importance of looking after yourself in your early years. He emphasised that it is acceptable and normal to run into failures in life saying, "Failure is the most important stepping stone to learning and nothing to be ashamed of."
He stressed about his fondness and amazement of people, and how he sees everyone as equal saying, "I'm always in awe of every person I meet as I see them as a non-repeatable happening in this universe."
Noelle Grant-Matthews, Plus-Size Stylist and Domestic Abuse Survivor bravely spoke about her difficult childhood and the painful hardships she suffered in previous relationships. Noelle advocated for the audience to not rush into things and recognise the signs of an unloving relationship.
Tina Hnatysyn, personal trainer, and lively fitness guru got everyone's energy levels high, by getting the audience out of their seats to engage in some light and engaging exercise with some fun music.
Fiona Colwell, Personal Stylist, and Image Consultant spoke about the importance of fashion empowerment. Fiona explained, "It's so important we give ourselves the gift of confidence. We feel empowered. When you look good, you feel good."
Oonagh O'Hagan, Pharmacist and Managing Director of Meaghers Pharmacy Group and Mentor spoke next about how she came to own nine pharmacies at such a young age. She shared stories about her time as a student and her inspirations and mentors during that time. Oonagh spoke passionately about education as a role in empowerment. Oonagh shared the importance of women having role models and inspirations in their lives to empower them, "if you can see it, you can be it!
She told Dr Mary Ryan and the audience about her determination as a 21-year-old student to take over her favourite pharmacy in Baggot Street that she has worked in as a student pharmacist during her time at Trinity College. Oonagh had to figure out a business plan, and visit bank tellers, where she was successful and has since gone on to own eight more pharmacies. "I want my pharmacies to be places people come to so they can stay well, not just a place you come to when you get sick."
She finished with, "The biggest challenge for women is lack of confidence, they don't believe in themselves and sometimes you need someone to back you."
Professional Coach and mentor Aidan O Brien spoke about searching for happiness outside yourself, when all the time we have the answer already within us and empowered the audience all to look inwards not outward.
Entrepreneur Laura Dowling spoke about how she empowers her own family and how she loves empowering people to be their best self especially women. Laura is a pharmacist who set up her own company 'Fabu Wellness'.
Irish broadcaster Lorraine Keane was interviewed by Dr Mary Ryan on stage about female empowerment saying, "Women need to support women, we need to be there for each other and mind each other."
There were two discussion panels at the 2022 Midwest Empowerment Conference in UCH featuring guests from the fields of business, sports, entertainment, health, and academia. The first panel included Prof Ann Marie Gill, John Lannon, CEO of Human Rights group Doras, Linda Ledger, Manager of St Munchin's Community Centre, female sports trailblazer Jackie McCarthy-O'Brien, executive coach Margaret Valette-O'Connor, consultant radiologist Dr Julie O'Brien, success coach Fiona Brennan, and HSE staff member Winifred Ryan. During this panel discussion, social issues affecting the empowerment of both women and men were raised such as homelessness, politics, coverage of women in sports, domestic violence, and consent.
John Lannon, Doras CEO said, "For us, empowerment is about ensuring that people have the power and the capacity, and they have the access to be able to make the changes in their lives that are necessary."
The second panel included direct provision activist Donnah Sibanda Vuma, Miriam Duffy, Executive Director of Rape Crisis Midwest, Una Burns, Head of Advocacy and Communications at homelessness group Novas, Helen Culhane, founder of Children's Grief Centre, Helen O'Donnell, Limerick Tidy Towns Chairperson, Lisa Daly, Limerick Pride Chairperson, Margaret Boland, Honorary Senior Lecturer RCSI GSM and former CEO James Connolly Memorial and authors Tracey Corbett Lynch and Sarah Corbett Lynch. These panellists spoke about bereavement, mindfulness, LGBT rights, youth, communication skills, mental health, and sexual consent.
Lisa Daly, Limerick Pride Chairperson showed great strength sharing her story of how she came to be Chairperson after suffering four huge bereavements, homelessness, and growing up as a member of the LGBT community in Moyross.
Talking on female empowerment, Lisa said, "We have come far but we have so much more to go. We have to lift each other up and admire women, us women tear each other down quicker than we would with men."
Three transition-year students from schools across the Midwest each gave five-minute presentations on the topics of empowerment and equality in front of the audience, adjudicators, and panellists.
The students were Alec Aherne, TY Student from CBS Thurles who gave an inspiring speech on the powerful experiences his year have experienced in TY.
Isamae Solvin from St Pats Comprehensive, Shannon, Co. Clare spoke about body issues and beauty standards and how this can damage empowerment.
Jonah Ryan from Our Lady's Secondary School, Templemore shared his passion on gaining full gender equality between men and women, and to destigmatise the male and female binary.
Each of the student's presentations was judged by an esteemed panel of judges including Helen O'Donnell, Limerick Tidy Towns Chairperson, Karen Brosnahan, Shannon Conference Sports Bureau, and Dr Julie O'Brien. Helen O'Donnell announced the first-place winner was Jonah Ryan from Our Lady, Templemore. Well done to all three Transition Year students!
All proceeds from the event will be going towards Novas and the Children's Grief Centre. Novas is a voluntary organisation that works with vulnerable people and provides support for the homeless. The Children's Grief Centre is a free and voluntary organisation that supports children between the ages of 4 and 18, where parents have separated, or divorced or where there has been a bereavement.
Dr Mary Ryan concluded the influential and eye-opening 2022 Midwest Empowerment and Equality Conference by thanking all the incredible panellists and speakers, and of course, the audience. "I'm just so happy there were so many students here today," she said. "I hope you all take something away from this."
I Love Limerick's own Richard Lynch expressed his gratitude for all that came to the 2022 Midwest Empowerment and Equality Conference at UCH, "Thank you so much to everyone that came, it was an honour to organise such an amazing conference filled with inspiring and brilliant people."
Read more Empowerment stories
Find more events at University Concert Hall
Pictures: Kris Luszczki/ilovelimerick
Pictures: ilovelimerick