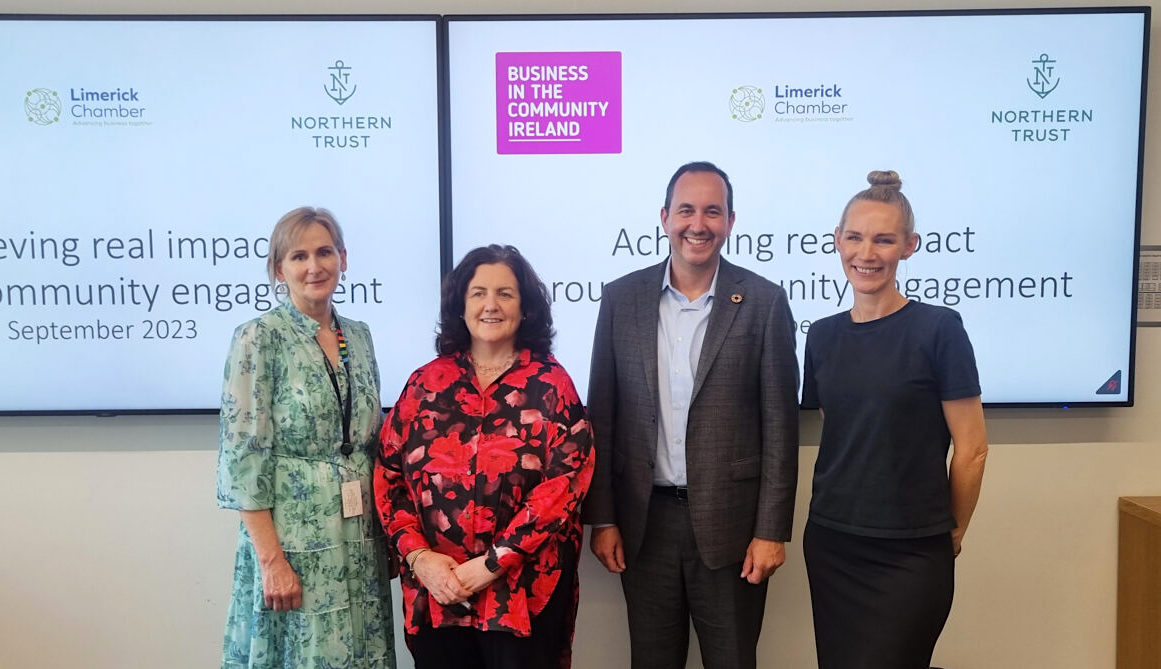 Inaugural BITCI's Munster Members' Network Event in Limerick promotes sustainable business practices
Inaugural BITCI Munster Members' Network Event in Limerick promotes sustainable business practices. Attracta Mulryan and Catherine Duffy, Northern Trust, Tomas Sercovich, Business in the Community Ireland and Limerick Chamber chief executive Dee Ryan
Business in the Community Ireland (BITCI) held its first Munster Members' Network event in Limerick on September 7 where members shared their activities and challenges in becoming a more sustainable business
This event hosted by long-standing BITCI member Northern Trust, a global financial services firm, brought together over 20 local and international companies to network, discuss and share their activities and challenges in becoming a more sustainable business.
An open event for members of Limerick Chamber of Commerce was held following the Members' event.   
This was the first BITCI Munster event held outside Cork and gave an opportunity for sustainability professionals to connect and discuss the challenges they face progressing their company's economic, environmental, social and governance (EESG) agendas. The theme of the Limerick event was achieving social impact through community engagement, in particular building strategic partnerships between businesses and local charities and NGOs.
BITCI showcased its current Education Programmes and Employment Partnerships already active in the Limerick region and called for more companies to engage and support local social needs, particularly the integration of migrant women and mentoring for school students. Other BITCI members Cook Medical and Three Ireland also spoke at the event outlining their charity partnership experiences.
Laura Morrison, BITCI Sustainability Advisor, Munster Region said, "Sustainability professionals often have extremely complex and demanding roles and, with so many pressing issues to tackle, it's vital that they can connect with each other in confidential and supportive settings.
"The Network enables individuals and companies to learn from each other's successes and setbacks and connects businesses with new sources of expertise; with such an urgent need for sustainable transformation, there just isn't time for every company to be individually grappling with the same problems.
"Members often comment on the unique atmosphere of openness and collaboration that they find at Network meetings; the thirst for connection and sharing was so evident after the Covid lockdown, and it's something that we've worked to nurture ever since."
Already 11 companies in Limerick including Amneal Pharma, Virgin Media and Analog are paired with 11 local DEIS schools to participate in our literacy and numeracy initiatives (Time to Read and Time to Count) and student mentoring programmes.
Dee Ryan, CEO, Limerick Chamber said, "We are thrilled to have had the opportunity to collaborate with Business In the Community Ireland on the event, 'Creating Impactful CSR Activities in Your Local Communities,' hosted at the Northern Trust offices, our valued strategic partner. This gathering was indeed a wonderful occasion for the members of Limerick Chamber to connect and engage with the vibrant community of Business in the Community Ireland.
"We extend our warmest welcome to Business in the Community Ireland for choosing Limerick as the location for this event. It has been a pleasure to work closely with Tomas Sercovich, who has long been an esteemed judge in our Limerick Chamber Regional Business Awards."
The Limerick Chamber CEO noted Corporate Social Responsibility (CS) as being a "crucial element" of strategies for businesses in the region.
She said, "It offers businesses the opportunity to collaborate on important societal causes and lend support to the commendable work undertaken by local charities and community initiatives. We believe that by joining forces and embracing CSR, businesses can make a meaningful impact in our local communities.
"At Limerick Chamber, we are committed to fostering these collaborative efforts and facilitating a culture of corporate social responsibility among our members. We look forward to continued partnerships with organizations like Business In the Community Ireland and Northern Trust as we strive to create a positive and lasting impact in our local communities.
"We thank all those who attended the event, contributed their insights, and shared their commitment to making a difference. Together, we can build a stronger, more socially responsible business community in Limerick."