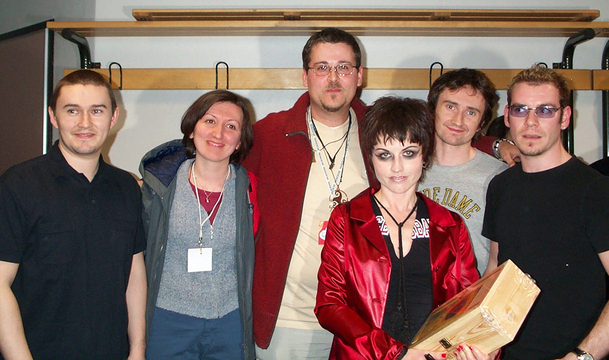 VIDEO – Italy Loves Limerick – Cranberries Italia raise €2,000 for Limerick Learning Hub Songwriting Workshop in memory of Dolores O'Riordan
Pictured some members of Cranberries Italia, the official community of Italian fans with The Cranberries in Italy during the 1990's.
Italy Loves Limerick – Cranberries Italia raise €2,000 for Limerick Learning Hub Songwriting Workshop in memory of Dolores O'Riordan
The music of Dolores O'Riordan and the Cranberries is connecting Italy and Limerick. On St Patricks' Day, the fans of the Cranberries in Italy hosted a concert in Rome in honour of Dolores O'Riordan, which has raised over €2,000. The €2,000 they raised on the day went towards supporting a music education programme here in Limerick at Learning Hub Limerick.
Dolores has always been loved for her amazing voice, for the passionate and overwhelming songs, but also for her generosity. On more than one occasion, she has shown her closeness especially to children and the youth, with charities for kids living in war zones, children suffering from sickness and social or environmental injustices, but also for young musical talents.
Jennifer Moroney-Ward, CEO of Learning Hub Limerick received an email out of the blue in late January,"Just after Dolores' death, I received an email from Paolo and Loredana in Italy. It was so amazing to read their message and brought tears to our eyes here in the Learning Hub. They both run the Cranberries Italia fan website and were devastated by the tragic death of Dolores. They said they wanted to hold an event celebrating Dolores's life but also to make a connection between the fans in Italy and her home city of Limerick by raising funds for a music project here. We were honoured that they had been recommended us by the Cranberries' Noel Hogan as a partner music education project they could support."
Since early February, the Learning Hub team and their new Italian friends have been having Skype calls and working on a plan to support their event and fundraising efforts but also to build a real social connection between the fans and Limerick.
James Blake is Music Coordinator at the Learning Hub, "We were very lucky to have the support of our Italian friend Giuseppe Torre here in Limerick to help us with our skype calls as a translator. It has been really wonderful to get to know Paolo and Loredana and to see how genuine their love is for the music of the Cranberries but also their interest in building a connection with Limerick too."
The funds raised will be used to support a series of songwriting workshops in the summer at the Learning Hub and will be launched by the CranberriesItalia fans when they come to Limerick in July for the gig in memory of Dolores in Dolans Warehouse.
The project has been presented with a video on the occasion of Cranberriesitalia Fan Meeting in Rome, on Saturday, March 17, 2018, during a tribute night "Ode to Dolores", at Jailbreak live club. The fundraising has been already launched on the platform "Produzioni dal Basso" (linked below) and will last until June 20. The purpose of the fundraiser s to finance an instructive musical program for children, for the whole summer.
At the same time, the initiative is promoted and spread also all over Ireland through national media. All information and constant updates can be found on the page of the event at www.cranberriesitalia.it and in the posts about the project in the CranberriesItalia Facebook group. We expect a great involvement of the fans but also all those who will want, in this way, to contribute to the realization of the dreams of young growing musicians. Maybe one day they could become famous like Dolores and The Cranberries!
To contribute to the fundraiser click
here
For more information about Cranberries Italia click
here
To read stories about The Cranberries click
here