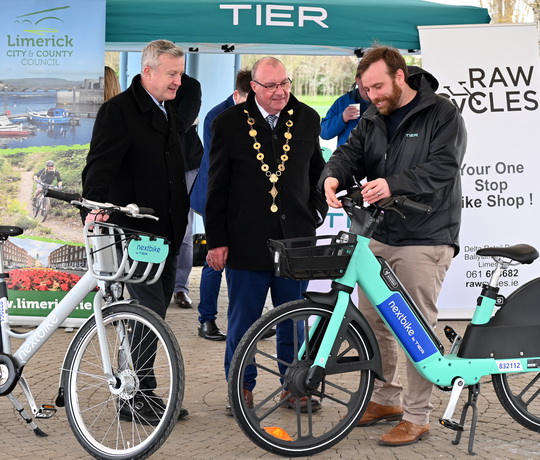 Limerick City & County Council is rolling out an innovative pilot dockless shared bicycle scheme
The Nextbike was launched at the pilot dockless shared bicycle scheme in Castletroy, in connection with LCCC, Tier and Raw Cycles pictured was, Brian Kennedy, DOS LCCC, Francis Foley, Mayor of Limerick City & County, Peadar Golden, Tier
The dockless shared bicycle scheme rolled out by Limerick City and County Council involves the initial rollout of 75 e-bikes and 75 push bikes
A dockless shared bicycle scheme being rolled out by Limerick City and County Council will see an initial 150 bikes available on the scheme.
Operated by Nextbike by TIER, the scheme will offer electric bicycles as well as push bicycles which can be parked in marked bays or at selected existing bike stands throughout the Castletroy area as well as at Colbert Bus and Rail Station and Locke Quay in the City. 
This first-of-its-kind project from the Council's Transportation and Mobility Directorate, involves the initial rollout of 75 battery power-assisted bicycles, also known as e-bikes, and 75 push bikes.
The scheme will improve accessibility to cycling for different demographics and abilities, in line with the aims and ambitions of Limerick City and County Council's Active Travel team, and the National Transport Authority.
Following a tender process, Nextbike by TIER's state-of-the-art e-bikes and push bikes will be available for the public to use from 12th April. Limerick visitors and residents will be able to access the scheme through the Nextbike by TIER app, available for both iOS and Android devices in their respective app stores.
Through the Nextbike by TIER app users can locate bikes, as well as the marked parking bays which are currently being installed. Once they have located a bike or e-bike, customers will scan a QR code on the bike, enabling them to unlock the bike and to start their journey. When they want to end their cycle, users locate a marked parking bay in the app, or find an existing bike stand. They then use the on-board lock to secure the bike, end their rental in the app and continue on their way.  
The Nextbike by TIER push bikes are a great way to get around while also getting some exercise, with seven gears to get you up even the steepest hills. The e-bikes offer powered assistance from the built-in motor and battery, allowing the user to get where they need to go without breaking a sweat or while carrying a heavy load with them.
Mayor of the City and County of Limerick, Councillor Francis Foley said: "We're thrilled to be launching our pilot dockless bicycle share scheme in Limerick, which will provide a green and accessible transportation option for our citizens. With a mix of electric and pedal bikes, we're making cycling an easy and sustainable choice for everyone. We're excited to see the positive impact this scheme will have on reducing unnecessary car journeys and promoting healthy living." 
The scheme will service key education, retail, residential, and employment centres, and will provide a viable alternative to non-sustainable forms of transport. It will improve accessibility to cycling for different demographics and abilities, and will help eliminate unnecessary car journeys in the area.
Brian Kennedy Director of Services Transportation and Mobility said: "This pilot dockless bicycle share scheme aligns perfectly with our vision for a greener and more sustainable Limerick. By improving accessibility to cycling for everyone, we're taking a significant step towards promoting sustainable and healthy transportation options in Limerick. We encourage everyone to take advantage of this exciting opportunity to explore Limerick on two wheels and experience the many benefits of cycling." 
Push bikes cost €1 to unlock and then 2c per minute. E-bikes cost €1 to unlock and then 20c a minute. Discounted monthly passes, student rates and other discounts will be available. All journeys need to be started and finished at one of the parking bays or selected bike stands.
Peadar Golden, Ireland Country Manager, TIER said: "We want to make travelling by bike as easy as possible. By offering both push bikes and e-bikes we are able to cater to a broad range of journey types, from carrying a load of shopping home on an e-bike to leaving the car at home and getting some exercise while commuting to work.  We bring the experience of operating bike share schemes in over 550 towns and cities across 31 countries and we are proud that Limerick is the first mixed push bike and e-bike system of its kind."  
If you're ready to try a dockless bike simply download the Nextbike by TIER app to your mobile phone to get started and scan the QR code to unlock a bike and begin your trip! A live map of e-bike locations can be found in the TIER app.