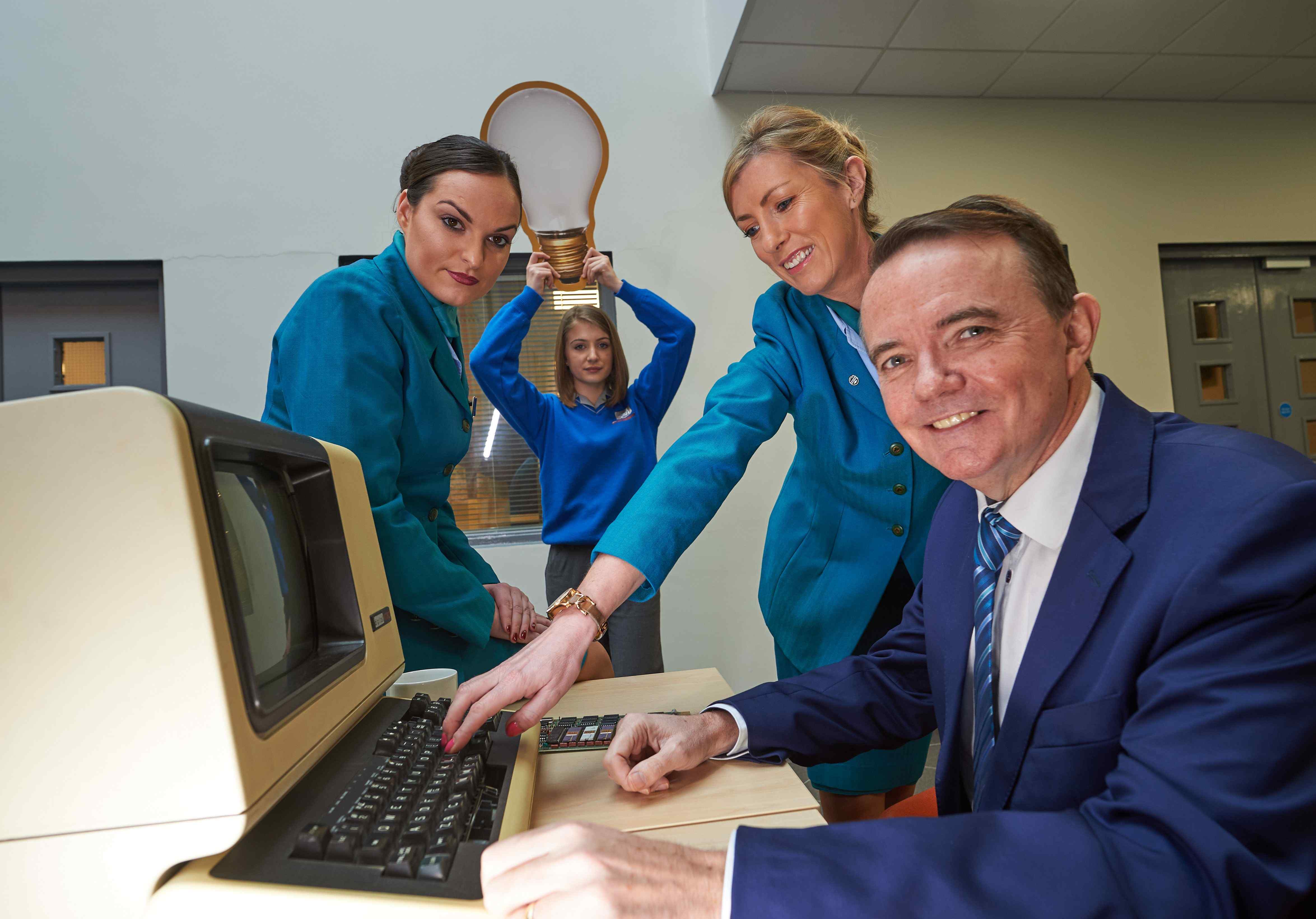 ITLG Internship in Silicon Valley up for Grabs for Winning ITLG Young Innovators Challenge
At the launch of the ITLG Young Innovators Challenge, Karen Haskett and Celine Joyce from Aer Lingus (sponsors), with Emma Ryan, Gort Community School and RTE Dragon and ITLG Co-Founder Barry O'Sullivan are pictured with the first Irish-made Digital computer (the 1970's). Picture: Barry Cronin.
ITLG Internship in Silicon Valley up for Grabs for Winning ITLG Young Innovators Challenge
Almost 800 students from all over Ireland were expected to convene on Friday, March 2, 2018, at Shannon Airport for the 3rd ITLG Young Innovators Challenge. However, due to the weather, this has been postponed with a new date for the event yet to be finalised. Students from across Ireland will come together to innovate and develop new solutions which will shape the way we will live, work, learn and travel in the future.
In partnership with the Limerick Institute of Technology (LIT), Shannon Airport and Aer Lingus, ITLG Young Innovators Challenge will see second level students pitching their innovations to leading Irish investors and RTE 'Dragons' Barry O'Sullivan, Gavin Duffy, Chanelle McCoy, Eleanor McEvoy, and Alison Cowzer.
"With the rapid pace of technology and change, it is vital that we continue to innovate and create solutions to challenges our world faces. The societal challenges of the future are the focus of this ITLG Young Innovators challenge," said John Hartnett, Founder and President of the ITLG. "We want to stimulate skills such as problem-solving, creativity, concept development and presentation within the young people attending, and give them a true experience of innovation and entrepreneurship at work."
The winning ITLG Young Innovators team will be awarded with an enviable ITLG Internship, which includes return flights to San Francisco sponsored by Aer Lingus, site visits to Silicon Valley's fastest-growing tech startups as well as innovation stalwarts like Google and Intel. The winners will meet ITLG investors and mentors and truly have an experience of a lifetime that should stand to the students and their careers in the future.
The event, designed and developed by LIT with ITLG is hosted by Shannon Airport, with the Dept. of Foreign Affairs and Aer Lingus as key sponsors. Support is also being provided by the San Francisco chapter of The Ireland Funds, Enterprise Ireland and Smart Futures, as well as local companies and organisations including Carambola Kids, Innovate Limerick, Limerick Chamber of Commerce and Shannon Chamber of Commerce. Importantly the event is community driven with technology companies like Dell EMC, Analog and more from Limerick for Engineering supporting in its design and on the day mentoring students. Equally UL, Mary Immaculate College, Foroige and Coder Dojo and more form part of the steering group helping to make this a very exciting event for students, teachers and industry on the day!
Professor Vincent Cunnane, President of LIT commented, "We're very proud to have driven Young Innovators since the beginning. This event reflects much what LIT is about – excitement, passion, innovation, the intersection between academia and real-world expertise. It's great to see students and teachers practice innovation skills and opening doors to the possibilities of the future."
Speaking at the launch of the ITLG Young Innovators Challenge, Chairman of Shannon Group, Rose Hynes said, "This is the third ITLG Young Innovators event to be hosted at Shannon Airport which is all about encouraging young people towards innovation and entrepreneurship. Seeing the talent, creativity and innovation culture at work at this event is always inspirational. We are proud to be partners in this event and look forward to welcoming students from around Ireland, their mentors and the Dragon's Den judges to the event."
Aer Lingus Communications Director, Declan Kearney, said he "is delighted to once again sponsor the ITLG Young Innovators competition. Ireland has a very strong and growing technology sector. Competitions like the ITLG Young Innovators are fantastic for nurturing young Irish talent and encouraging careers in this increasingly relevant field and help to reinforce the strong links between the tech industry in Ireland and the US, which is home to so many of the world's leading tech companies. We're looking forward to flying the winners over to Silicon Valley this year and wish each young innovator the very best of luck."
Hosted by Shannon Airport, in partnership with the Dept. of Foreign Affairs and Aer Lingus, support for ITLG Young Innovators is also being provided by the The Ireland Funds (San Francisco chapter), Enterprise Ireland and Smart Futures, leading global brands like Dell EMC, Cook Medical, Johnson & Johnson, Molex, Analog, Intel and Jaguar Land Rover, as well as indigenous organisations including Foróige, Carambola Kids, Limerick Chamber and Shannon Chamber as well as Innovate Limerick.
To find out more about the ITLG Young Innovators challenge click here.
To read about Young Innovators 2016 click here.