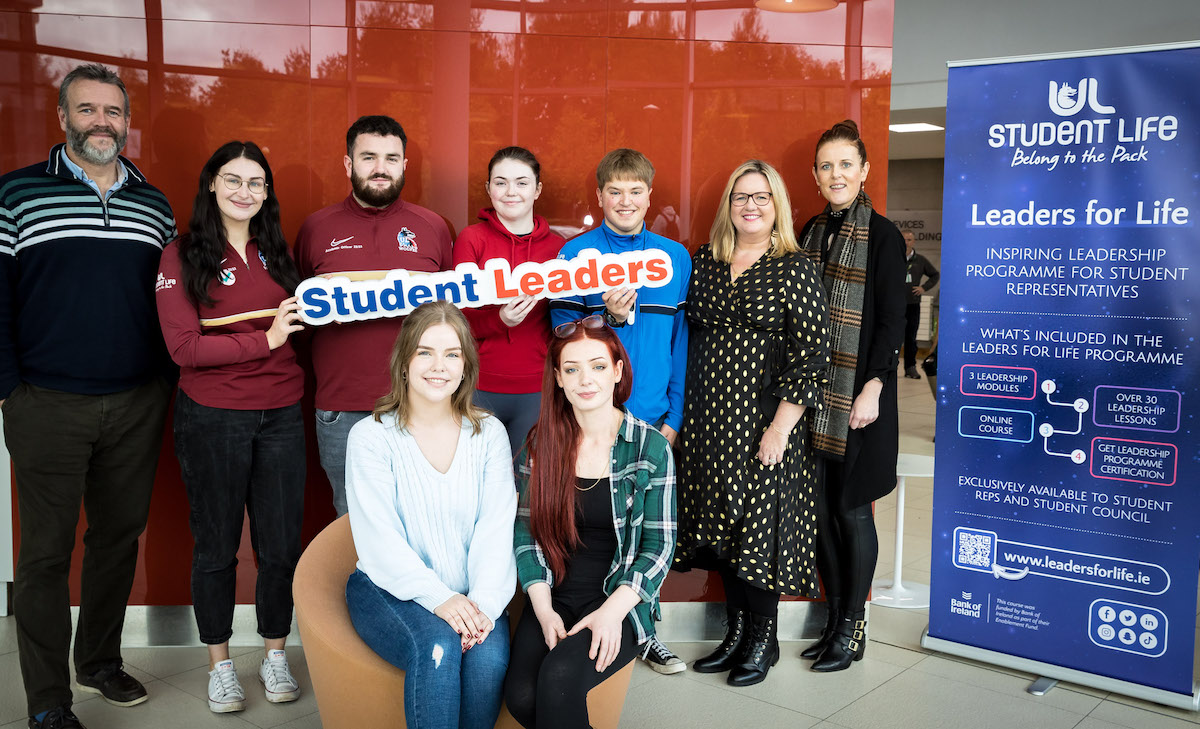 UL Student Life Launch first of its kind Leaders for Life Programme for student representatives
Leaders for Life Programme -Hugh Fitzmaurice Leadership Expert ClarityCoach.ie, Maeve Gilmore Student Welfare Officer, Kieran Guiry Student Academic Officer, Niamh Hickey Faculties Officer ULSL, Eoghan O'Mahony Student Council Chairperson, Muireann Fitzmaurice Leadership Expert MarketingCoach.ie, Gillian O'Gorman, Head of Leadership & Advocacy at ULSL, Rachel McLoughlin Class Rep and Roisin Mitchell Class Rep
The programme helps put the students' voice front and centre of all decision making within the University
UL Student Life (ULSL) has launched a new student leadership Leaders for Life programme to champion and empower student representatives.
The Leaders for Life programme is unlike any programme currently being run for student representatives in Irish colleges.
The online platform is made up of three leadership modules with bite-sized training that you can consume over coffee, at your own pace and in your own time.
The programme will provide student reps with practical skills that will enable them to understand their role and be able to conduct their role as a representative effectively, while also supporting and inspiring them to go beyond the role and develop the leader within.
Speaking on the launch of the programme, ULSL Head of Leadership and Advocacy, Gillian O'Gorman said: "Through continuous discussion and feedback, we learned that there was both a knowledge and skills gap amongst our student leaders, that was prohibiting them from fully stepping up into their leadership roles."
Each year, UL Student Life works with over 300 students in various leadership roles; from class reps and student councillors to a full-time elected Student Officer team, all of which need support and guidance in their roles.
O'Gorman continues: "Seeing this program come to fruition is an important milestone for UL Student Life. This platform is one of a kind, and we know it's going to help put the student voice front and centre of all decision-making within the University."
Professor Patrick Ryan, Associate Vice President of Student Engagement at the University of Limerick, was a guest speaker at the launch of the programme. He said: "The Leaders for Life programme recognises the talents, skills, and motivation of the next generation of social leaders. UL is superbly placed to nurture and develop a key group of its community – the student body – so that participants of the programme, not only get the best educational experience possible but are also equipped to emerge from the UL experience as confident and courageous influencers of our wider society."
The online course was co-created and designed by Muireann Fitzmaurice and Hugh Fitzmaurice, founders of Brandedcourses.ie
Student Representatives who complete the programme will be awarded an official Bronze Certificate, Silver Certificate and Gold Certificate as they successfully progress through each learning module.
Muireann Fitzmaurice, who is also a trainer on the course said: "We have created over 30 pieces of dynamic content that students can access to help them to awaken their inner leader on the go. We hope this content will empower them to be the best leader they can be and increase their impact on the world around them."
Hugh Fitzmaurice said this programme gives students the knowledge and tools on how they can become better leaders, in a truly unique way.
"These students have stepped into a leadership role in the university. This is the perfect time to help them slow down, gain clarity in their thinking, and cultivate their self-awareness."
Students can gain access to this online course by signing up to be a Class Representative, or by joining Student Council.
Encouraging students to use their voice, student representative and course coordinator Ben Kiely said: "The student voice is one of the most powerful vehicles for change and being able to empower that with the knowledge, skills, and attributes needed to present effective feedback is an essential step in the process. With the correct use of power, influence, intention, and mindset, real change occurs that helps the many and not the few."
Professor Ryan concludes: "This programme will positively shape the impact on tomorrow's world by our student leaders – it reflects who they are now and orientates them to future personal and professional possibilities."
The Leaders for Life Programme is funded by Bank of Ireland as part of their Enablement Fund.
Find out more on the Leaders for Life programme
Related Stories about the University of Limerick