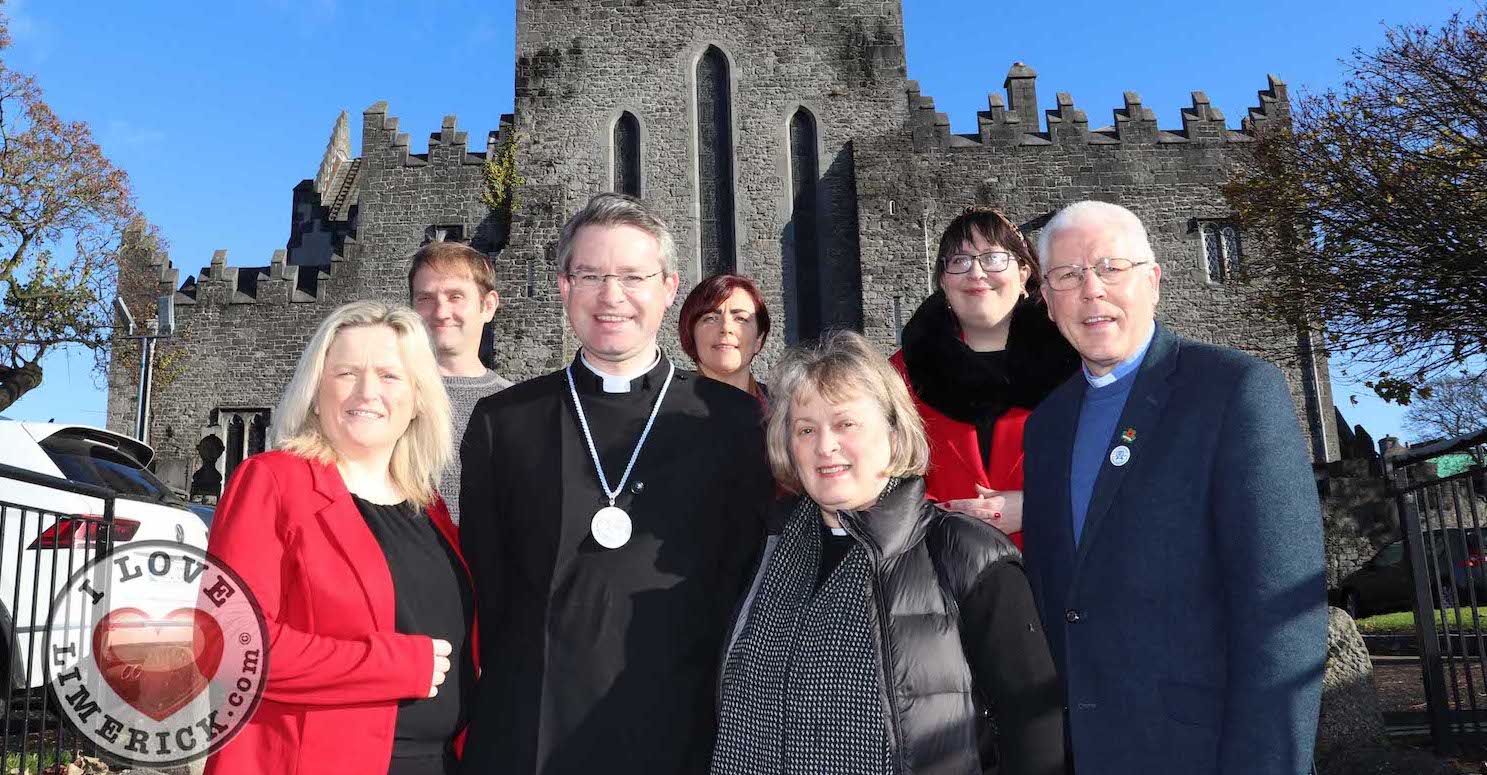 UPDATE: Leona O'Callaghan starts off Light in the Darkness Lunchtime Talks to help spread positivity and hope
Light in the Darkness Lunchtime Talks: Pictured at the launch is Joe Slattery, Co-Ordinator of North Star, Nicola Sweeney, Manager of Peter McVerry, Sinead Carey, Novas (back row), Leona O'Callaghan, Haven Hub, Deane Sloane, Saint Mary's Cathedral, Reverand Edna Wakely and Reverand Paul Fitzpatrick (front row). Picture: Kate Devaney/ilovelimerick.
UPDATE: Leona O'Callaghan starts off Light in the Darkness Lunchtime Talks to help spread positivity and hope
Leona O'Callaghan, from the newly-established Haven Hub, launched the beginning of the Light into Darkness Lunchtime Talks on Friday, November 29. Leona talked about her own experience with adversity and how she overcame the darkness in her own life.
The Light in the Darkness Lunchtime Talks will run for four consecutive weeks and will feature four inspirational speakers who will be sharing their experiences of overcoming difficulties, over the next four Fridays starting November 29. The campaign was devised by Vicky Phelan.
'Light in the Darkness Lunchtime Talks' will began Friday, November 29 with Leona O'Callaghan, founder of Limerick's Haven Hub and will run every Friday until December 20 when it finishes off with a talk from Peter McVerry of the McVerry Trust.
The aim of this series of talks is to provide inspiration and encouragement to those experiencing difficulties, coming directly from these inspirational people who have overcome their own challenges.
Leona O'Callaghan, founder of Limerick's Haven Hub, spoke about the new late-night service she has set up in Limerick to provide a safe place for those distressed by thoughts of suicide or self-harm. Leona who is an abuse survivor herself, notes that the peak times for suicide and self-harm is 11 pm at night or after- a time where services are currently not available. The aim of Limerick's Haven Hub is to provide support at these crucial times, hopefully managing to save some lives.
Leona is followed on Friday, December 6 by North Star Family Support Project Coordinator, Joe Slattery who is an addiction counsellor and his work at North Star involves providing non-judgemental, confidential support to families who are affected by, and trying to cope with, a family member's addiction to drugs and alcohol. Joe is no stranger to motivational speaking as back in September of 2018 he appeared as a TedX speaker in Dublin discussing the ways in which horses can aid people emotionally.
Friday, December 13, Una Burns from NOVAS is set to speak to the crowd at Saint Michael's regarding the work NOVAS does for the homeless. Una is Head of Policy and Communications and her work at NOVAS involves working with single adults, families, and children who are disadvantaged and homeless or at risk of becoming homeless.
The final talk of the series takes place Friday, December 20 and is with Father Peter McVerry of the McVerry Trust. Fr. McVerry first began his work for the homeless back in 1979 when he managed to convince the Minister for Health, Charlie Haughey to open a hostel for homeless children and has since, continued to commit his life to help the homeless. The Peter McVerry Trust was established in his name and is a national housing and homeless charity committed to reducing homelessness and the harm caused by substance misuse and social disadvantage.
The 'Light in the Darkness Lunchtime Talks' series was set up by a brave cervical cancer campaigner, Vicky Phelan who recently released her memoir, 'Overcoming' following her scandalous cancer diagnosis and becoming the voice of all 220 women who were also affected by the HSE's grave mistakes. Unfortunately, due to personal reasons, Vicky was unable to attend the launch and will not be present for the talks but hopes to return to Limerick in the new year and in better health.
All talks are set to run from 1 – 1.50 pm at Saint Michael's Pery Square and will provide a 50–minute window of hope and encouragement with the opportunity to ask questions and interact with the speakers. Refreshments will also be available.
Admission is free but it is encouraged you donate towards these valuable charities.
Reverend Paul Fitzpatrick of Limerick City Parish said, "Each session will offer hope encouragement and perhaps a way forward. We might recognise that we are not alone on the journey".
Please contact the Rev'd Paul Fitzpatrick 086 4113989 for further information.
For more information on Saint Michael's Church click here.
For more stories on Vicky Phelan click here.
Picture: Kate Devaney/ ilovelimerick