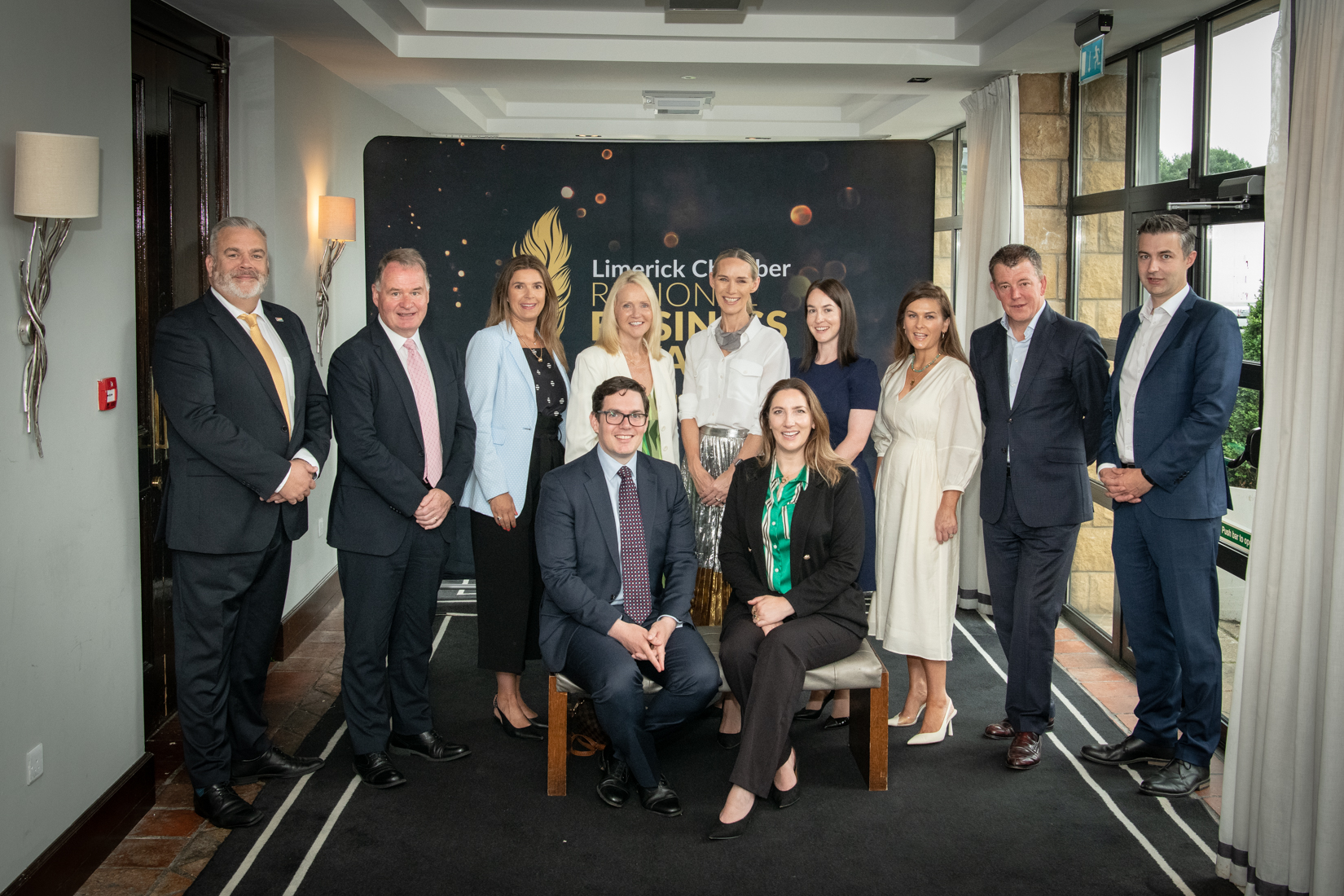 Limerick Chamber and TUS 2023 Limerick Chamber Regional Business Awards are open for entries until Sept 15!
Limerick Chamber Regional Awards 2023 Business Breakfast was held in The Castletroy Hotel. Pictured above are Noel Gavin, Northern Trust, Pat Piggott, AIB, Lisa Killeen, HOMS, Nadi O'Sullivan, The Shannon Airport Group, Dee Ryan, CEO / Limerick Chamber, Gemma Harte, BDO, Leenanne Storan, EY, Gramham Burns, CPL, Rory Corbett, Limerick City and County Council (back) row and Michael MacCurtain, Limerick Chamber Skillnet, Gillan Barry, TUS (front)
Limerick Chamber Regional Business Awards are sponsored by TUS and closing date for entries is September 15, 2023
The Limerick Chamber Regional Business Awards are open to businesses of all sizes and sectors across Limerick, Clare, Tipperary, and North Kerry, with no requirement to be a Chamber member.
Eight Award categories were revealed to the crowd of over 180 business influencers who attended the breakfast launch event at the Castletroy Park Hotel.
Event sponsor Michael Mac Curtain, Skillnet Manager with Limerick Chamber Skillnet urged attendees to enter this year's awards saying, "These awards make a difference. They make a difference to the region by showcasing the amazing businesses, organisations, and associations we work in.
"They make a difference internally too by building better engagement and pride in our work, with our colleagues and our customers, but most of all, we are here because we get to showcase and celebrate the region itself. The Mid-West is alive with a range of organisations, from sole-traders to multi-nationals and everything in between and we need to celebrate them all."
Confirming TUS's commitment as the award sponsors for the 12th year, President of TUS Professor Vincent Cunnane said the TUS Limerick Chamber Regional Business Awards are a celebration of not only the entrepreneurship, creativity and determination of businesses in the region, but also reflect the strong relationship between the technological university and the region's economy.
He said, "Working closely with businesses and industry is in our DNA, and our commitment to this is a win for the regional economy, our students and our partners. Our close connection with business allows us to support industry with research, development and work-ready, highly skilled graduates and to help drive the sustainable development of the region."
Gillian Barry, Head of Innovation & Enterprise TUS commented on the opportunity that the awards offer to businesses in the region, from celebrating their workers dedication and achievements, to ensuring the credibility of their business and their impact on the business community in the Mid-West.
She said, "The awards are a perfect tool available to businesses to help attract new talent, celebrate the achievements of their staff, and promote their company. "We are delighted to be the main sponsor of these awards,. We are incredibly excited to hear the wonderful stories from the companies across the region, we look forward to celebrating with the entrants at the pinnacle business event in November".
Miriam O'Connor, Sellors LLP and President of Limerick Chamber spoke to the ingenuity of the business community in the Mid-West region.
She said, "Through these awards, we aim to shine a spotlight on outstanding leaders, groundbreaking ideas, and transformative ventures that are shaping the future of business. We believe that recognizing and celebrating achievements not only motivates the winners but also inspires others to push their boundaries and strive for greatness.
Our business community is vibrant, diverse, and driven by passion and dedication. The Business Awards will serve as a platform to showcase the immense talent and potential that exists within our midst. By honouring exceptional achievements across various categories, we hope to foster a culture of excellence and continuous improvement, driving our community towards sustained success."
Limerick Chamber Chief Executive Dee Ryan said, "These awards are a celebration of the indomitable spirit and relentless pursuit of excellence demonstrated by entrepreneurs and businesses in our community. They provide a platform to recognize and honour those who have made exceptional contributions to their industries, setting new benchmarks of success and innovation.
The Business Awards are not just about accolades; they signify the power of perseverance, determination, and the ability to turn dreams into reality. They symbolize the remarkable stories of individuals and organizations who have faced challenges head-on, overcome obstacles, and emerged as beacons of inspiration for others."
Launch attendees were treated to a presentation by Patrick O'Regan, Senior Engineer with Stryker, who were the 2022 Overall Business of the Year winners and Best Sustainable Business recipients.
Patrick spoke to the impact winning this award had on team culture in the Raheen based company. Richard McKeogh, Plant Manager Stryker Limerick said, "The awards are a wonderful opportunity to acknowledge the positive aspects of our collective industries and celebrate the progress we have made in the region. Best wishes to everyone involved."
The event was rounded out with the big reveal of this year's 8 Awards categories and attendees were told it is now easier than ever to apply using video recording as an entry and the shortest application in the past 11 years of the Limerick Chamber Regional Business. A short investment in time could reap significant benefits in return.
A special mention and thank you was given to the independent judging panel made up of Liam Woulfe, Grassland Agro, Maria Couchman Design and Crafts Council Ireland, Sean Lally- Woodstock Hotel, Tomás Sercovich-Business in the Community Ireland, Paul Shelly- Business Advisor & Non-Executive Director, all capably led and chaired by Lorna Conn, CEO CPL.
The closing date for entries is September 15th, 2023, with more information here
Read more business news here.