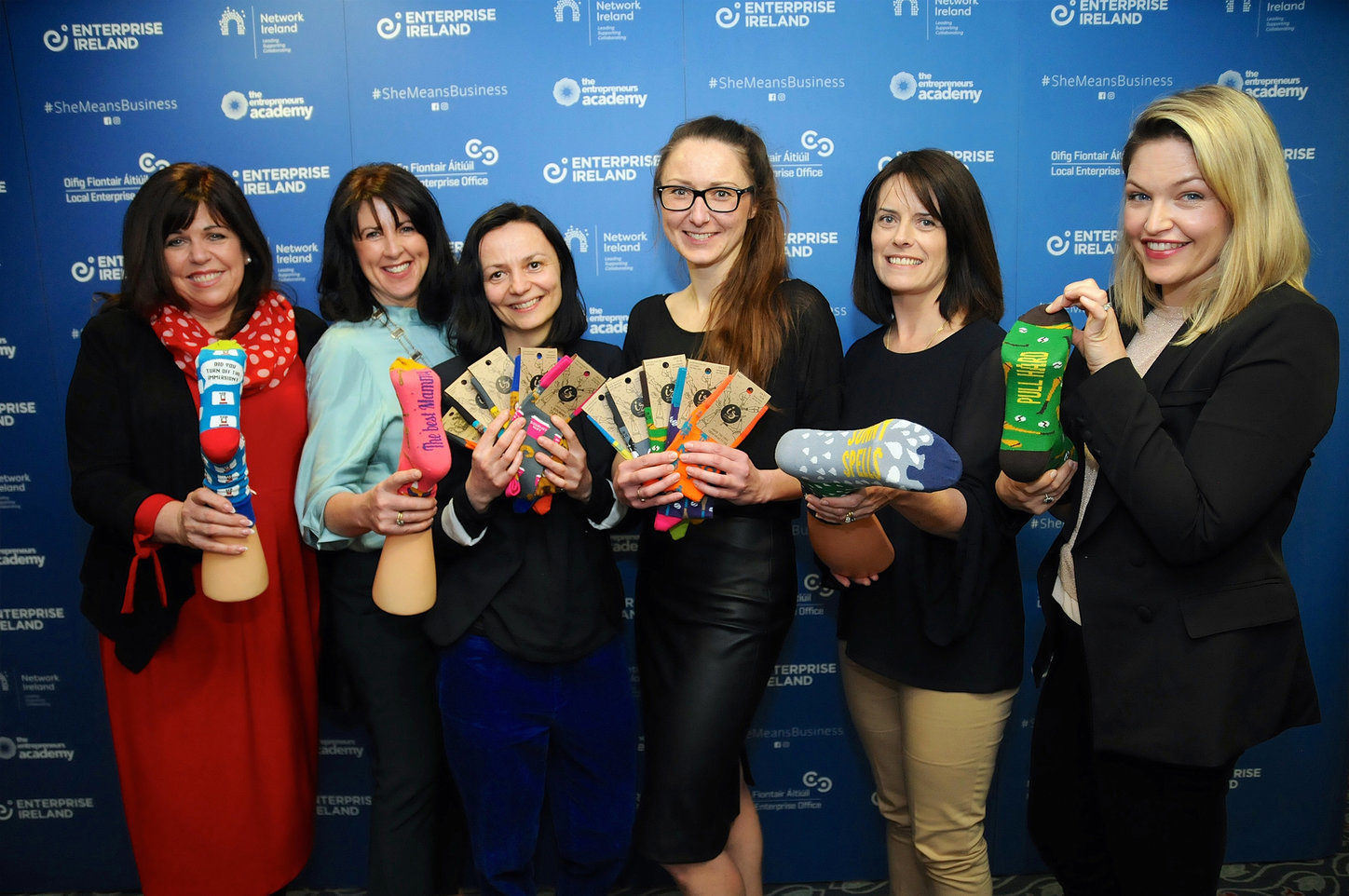 Female-led business wins €3,000 Elevator Pitch competition at Limerick Fuelling Ambition Roadshow
At the Network Ireland, Limerick Fuelling Ambition Roadshow, at the Savoy Hotel in association with Enterprise Ireland was Valerie O'Gorman, Entrepreneurs Academy, Valerie Murphy, Valerie's Breast Care & Network Ireland Limerick President, Pitch Competition Winners, Alehsandra Kieldanowicz and Joanna Zalech, Irishsocksciety, Rachael James, Enterprise Ireland with Helen Smyth, Facebook Ireland.
Female-led business wins €3,000 Elevator Pitch competition at Limerick Fuelling Ambition Roadshow
Joanna Zalech, MD of the Irish Socksciety was the winner of an Elevator Pitch competition worth €3,000 in Limerick last Thursday night.
The competition was part of the Fuelling Ambition 'Lead and Succeed' Roadshow event in the Savoy Hotel, Limerick organised by Enterprise Ireland and Network Ireland, in conjunction with the Entrepreneurs Academy, and was attended by businesswomen and entrepreneurs from the South West region.
The Limerick Fuelling Ambition Roadshow was one of a series of free-to-attend events taking place across the country during March and April which aim to encourage, support and drive the ambition of female entrepreneurs nationally by showcasing thriving Irish businesswomen and entrepreneurs.
The Elevator Pitch competition offers a cash prize package sponsored by Facebook worth €2,000 at each location, as well as additional prizes worth up to €1,000.
Ms. Zalech will receive a prize package that is designed to support her on her business journey, including:
10 sessions with Enterprise Ireland Mentors and attendance at Enterprise Ireland's Excel at Export Selling training programme
Annual membership of Network Ireland
Guest speakers at the event were Sharon O'Dwyer of Greentech Plastics and Dr. Tara Dalton, Ex-Stokes Bio and representatives from Enterprise Ireland, LEO Limerick, and Network Ireland were on hand to discuss the range of supports available to female entrepreneurs and those thinking of starting their own businesses. The event also provided an opportunity to network with entrepreneurs and business people.
The roadshow events are free of charge to existing and potential entrepreneurs and businesswomen and the next event will take place in Killarney on 26 April. Booking is strongly advised.
Network Ireland Limerick provides a forum where women in business, the professions, and the Arts can exchange business ideas and increase their business contacts. It encourages women to achieve more satisfying careers and promotes women as worthy contributors to the Irish economy. Network Ireland Limerick is a branch of Network Ireland, a national organisation driving the personal and professional development of women with almost 1,000 members and 15 branches throughout the country.
Network Ireland Limerick holds monthly networking meetings where a guest speaker is invited to educate, inform and entertain on topics of interest to women. Members can develop and pool their individual skills through interaction with other women in a supportive environment which offers, training, mentoring and an opportunity for women who call on other members with specialist expertise for help. It also provides a forum for established women to develop professional and social contacts.
For full details of roadshow events click here
You can also find more information here and here
For more stories about Network Limerick click here