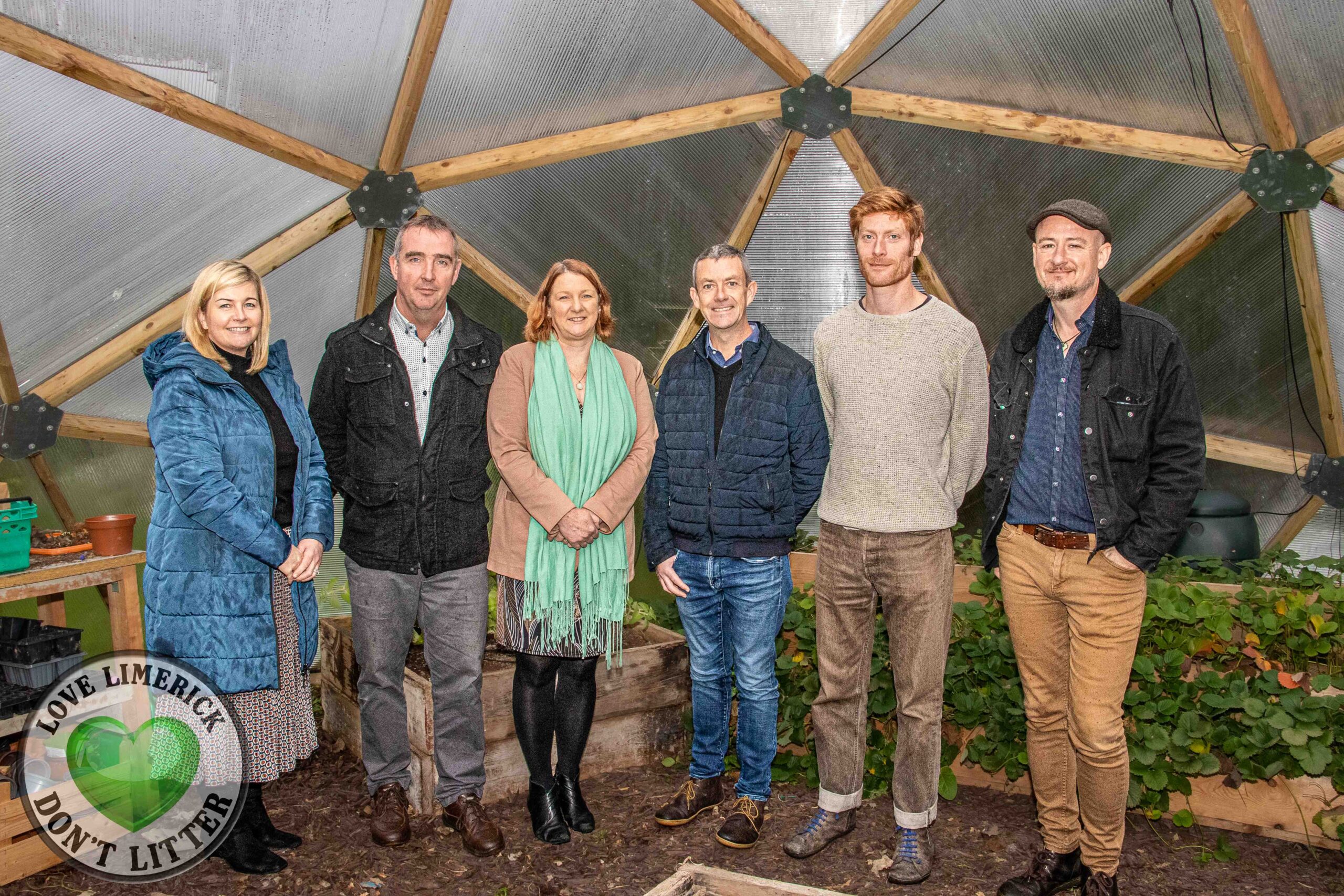 WATCH Limerick Growing Communities explores opportunities for Community Gardening and Growing Projects in Limerick
Limerick Growing Communities – Pictured are Fiona McCormack, Limerick City & County Council, Elaine MacGrath Coordinator, Economic Programmes at PAUL Partnership, Michael Gleeson, Social Enterprise Limerick, Mick Kelly Grow it Yourself, John Galvin, Living Woodlands and James Blake, The Learning Hub. Picture: Olena Oleksienko/ilovelimerick
Limerick Growing Communities conducts a feasibility study into the development of a citywide gardening and growing project in Limerick City
Limerick Growing Communities is an initiative focused on the development of community based growing spaces in Limerick City. We want to support both existing and new community growing projects and groups through collaboration, cooperation and by developing innovative new projects.
Social Enterprise Limerick in collaboration with the Learning Hub Limerick, PAUL Partnership (SICAP) and Limerick City and County Council have engaged consultants, Living Woodlands, to conduct a feasibility study into the development of a citywide gardening and growing project in Limerick City. Living Woodlands is a social enterprise founded by brothers Colm and John Galvin, who aim to transform existing forestry plantations into complex natural woodlands for the benefit of all.
The purpose of the project is to examine the current level of community growing taking place in the city and to identify the potential for more community growing in the city. Community Gardening serves a wide range of functions from the basic production of food, supporting physical and mental wellbeing, creating additional amenity spaces, opportunities for community and social interaction, creation of wildlife habitat, supporting biodiversity and much more.
The first step in the project was to identify all of the existing and potential growing spaces in the city. This allowed Limerick Growing Communities to explore the potential of Community Gardens in Limerick and to identify opportunities to further develop the sector.
Recently The Learning Hub hosted a Community Consultation on the Limerick Growing Communities research that has been recently undertaken by the Living Woodlands consultants into the feasibility of the citywide gardening and growing project. Many individuals, community groups and organisations in Limerick joined the event to discuss the future of food and community growing in Limerick.
John Galvin of Living Woodlands said, "Community growing is so important everywhere, but particularly Limerick City. So community growing brings with is a range of benefits in terms of health, access to fresh local food,  in terms of the environment increasing pollinator-friendly plants, and also socially it gives people a chance to meet each other, connect, and network."
The key speaker at the event was a social entrepreneur, author and TV presenter Mick Kelly, founder of Grow it Yourself (GIY) who presented and co-produced the 6-part series Food Matters on RTE 1.
Mick Kelly speaking of a global context noted "we have a food system globally that's in a lot of trouble". He told Richard Lynch of I Love Limerick, "We can see around us the issues with climate change, we see them everyday on our screens. I think the food system is responsible for a lot of that, unfortunately. Probably about 40 per cent of greenhouse gas emissions and things, most of the biodiversity collapse are caused by the food system. On top of that it's not doing a very good job of keeping us fed and healthy, it's a very extractive food system that's taking a lot from the planet and not giving a lot back."
Mr Kelly said, "We think food growing in that context is really important, I think it most people would accept that when people grow their own food it's good for their mental health, you can save money, it's good for your physical health to be out and about and so on.
"We think, in GIY that's really interesting, when people grow their own food it also tends to change their overall behaviours around food, so even if you're only growing 1 per cent or 5 per cent of the food you eat it changes the other 95 per cent.
"We know people who grow food tend to eat more plants, they're eating more vegetables, eating more fruit, they're wasting less food. All of these problematic food behaviours tend to get fixed when people grow their own food."
The GIY founder noted the challenge then becomes "how do we get people in homes, schools, and communities all over the world growing their own food" saying a change like that would "lead to a tipping point for a healthier and more sustainable food system".
Michael Gleeson of Social Enterprise Limerick said, "We started off working with social enterprises in Limerick, most of the social enterprises I work with are based in community organisations who as it happens also have community growing spaces so I was off to a really good start, I had a bit of an advantage over other people who might try to do something like that.
"They formed a core of the project, and we were really conscious that we wanted to find out who else in the city was growing. You know, a little corner of a housing estate maybe somewhere in the city where a local enthusiast has taken it upon him or herself to grow some food, or somebody who has been dreaming always of growing some food in a community setting in a city and where do they start, how do they get going, and how can we provide a structure I suppose to support these people to get involved and get growing in the city."
Elaine MacGrath, Coordinator Economic Programmes at PAUL Partnership, added, "We think Limerick Growing Communities can be a flagship project in the city to develop the whole area of community growing and we feel our role will be to facilitate the collaboration between all the stakeholders, bring them together and have that conversation, like today's event."
Ms McGrath said, "Part of the role we also do will be how to leverage funding, we have put some SICAP funding into this already in relation to the feasibility study and we will see the development of this project under the social enterprise side of our house where we support social enterprise network.
"But also in relation to Limerick Food Partnership where we are currently looking at the whole area of food poverty in the city and county. We will play a key role in supporting the communities and all the stakeholders in creating an action plan and moving it forward."
According to James Blake of The Learning Hub, "We are very excited to be involved in this project. We see huge potential to further develop the culture of food growing and community gardening in Limerick City. This project is about feeding ourselves while connecting communities and pooling resources. We hope it will connect the people and projects in the city and to help them to develop new opportunities in this area."
If you are involved in a community growing project in Limerick City, no matter how big or small and are interested in getting involved, you can register your interest in the project by contacting Michael Gleeson on mobile 087 4078648 or by emailing [email protected].
Find out more here.
Read more Paul PArtnership stories here.
Pictures: Olena Oleksienko/ilovelimerick