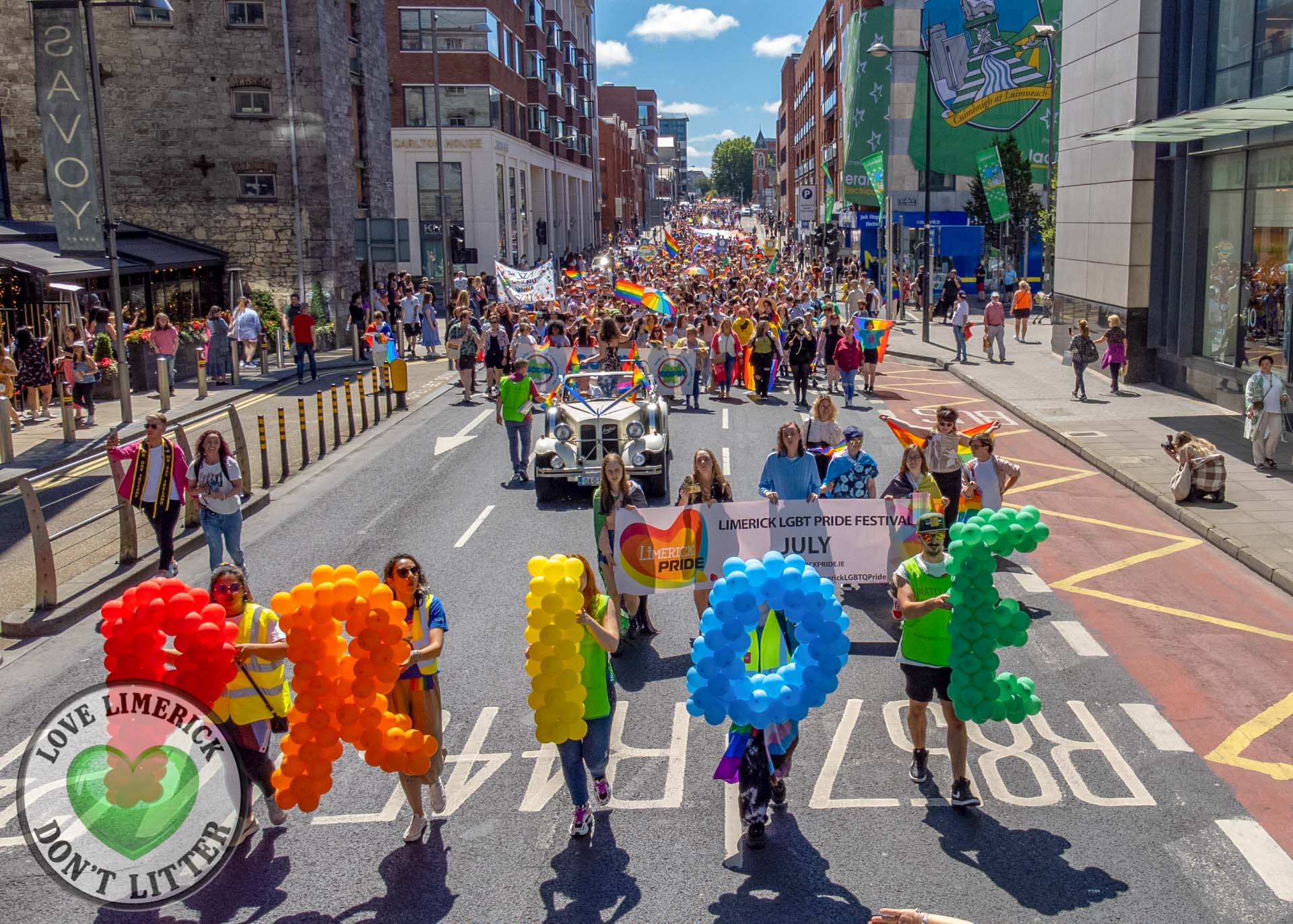 WATCH Limerick shows its Pride in all the colours of the rainbow for Limerick Pride Parade 2022
Limerick Pride Parade 2022 brought thousands of people to the streets of Limerick City. Picture: Kris Luszczki/ilovelimerick.
The theme for this year's festival was 'Pride is Culture', with a diverse series of events planned for the week which really contributed to Limerick's culture
Thousands of people were in Limerick on Saturday, July 9, as the first in-person Pride parade of the decade took place.
The theme for the festival this year was 'Pride is Culture', with a diverse series of events planned for the week which really contributed to Limerick's culture. The Pride parade of course was the highlight of the week and was an explosion of many different colours as part of one of the biggest LGBTQIA+ celebrations Limerick has ever seen, with bright, sunny weather no doubt drawing more people out.
For the last two years, the event has been held virtually due to the restrictions associated with Covid-19.
This year it was back with a bang as people young and old joined in the fun, with the parade led by well-known local historian Sharon Slater.
Sharon said, "To be able to lead out all these people is absolutely wonderful, after years of not being able to hold a pride parade. So many people wanted to come out and support each other. There are so many people from different backgrounds. It's lovely to see."
What particularly pleased Sharon is the fact many of the events during the week-long Limerick Pride festival have not involved drinking alcohol.
"It's lovely for me as a non-drinker. My highlight is that the week isn't purely alcohol based, it's community-based. There are people here who haven't been to a Pride event before, and they're adults, they became adults during Covid-19, and you can feel their energy," she added.
Lisa Daly, Chairperson of Limerick Pride said, "The weeklong festival featured a multitude of events from workshops, support meetings and discussions to evenings of music and club nights, to cater to the Pride needs of everyone. All events reflected the breadth and depth of our LGBTQIA+ community with our entire community in mind."
Festival events included 'A Culture of Pride' at Ormston House featuring a talk on film and theatre actress Alice O'Day by renowned historian and this year's Parade Grand Marshall, Sharon Slater, as well as a Marsha P. Johnson Pride event at the Belltable, in honour of the 30th anniversary of the beloved LGBTQ Stonewall activist's death – featuring LGBT-produced and LGBT-themed documentary movies.
Another event highlight for the festival is 'Kaleidoscope', an art exhibition featuring a diverse collection of artists curated by Moya Ni Cheallaigh which is being exhibited at the Hunt Museum and runs until Sunday, July 17.
Limerick Pride Parade 2022 began at Pery Square this past Saturday due to O'Connell Street roadworks, ending at the Hunt Museum for the annual Pridefest event in a lavish marquee in the museum garden. The family-friendly event featured live music and plenty of entertainment including an annual Tea Dance with well-known Limerick actor, director, and playwright Myles Breen.
That night Limerick Pride Climax Party took place at Dolan's Warehouse with a stellar line-up of fantastic acts with RuPaul's Drag Race star Courtney Act as the headliner. Supporting Courtney was Sarah McTernan, former The Voice of Ireland contestant and Ireland representative at the Eurovision Song Contest and Limerick's own burlesque artist Miss LaVelle as well as drag host Victoria Secret and the queens of Dragged Up.
Until next year Happy Limerick Pride and love to all!
For more stories on Limerick Pride 2022, go HERE
For more information on Limerick Pride, go HERE
Pictures: Dolf Patijn/ilovelimerick