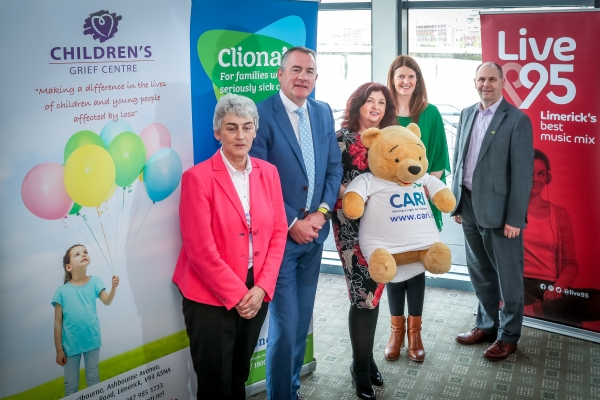 Live 95 shows it is Limericks Best Music Mix and all about the listeners of the City and County
Limericks Best Music Mix – The radio station has also revamped it's annual charity drive for 2019, under the banner 'Live 95 Helping Limerick Children', with this year's beneficiaries being long-time partners CARI Limerick; Cliona's and for the first time, the Limerick-based 'Children's Grief Centre'. Picture: Keith Wiseman
Live 95 shows it is Limericks Best Music Mix and all about the listeners of the City and County
Live 95 – Limericks best music mix has maintained it's market-leading position among listeners in the City and County, in the latest Ipsos/MRBI JNLR official radio listenership figures, covering the 12 months to March 2019.
The just-published results show that Live 95 has almost 100,000 listeners tuning in every week, which equates to 62% of the people of Limerick. This result follows the launch of the station's new logo 'Live 95 – Limerick's best music mix' in February, which has been given a warm welcome by listeners and advertisers, who continue to support the radio station loyally.
Live 95 also has an average of 800 thousand page views a month on live95.ie and thousands of followers and likes on Twitter, Instagram and Facebook.
The radio station is currently giving away a massive prize of a 'Game of Thrones' themed trip to Belfast, followed by five nights in New York City and two thousand euro in spending money. Finalists can qualify both on-air on weekdays and through live95.ie, and the final will include an epic screening of the last ever episode of 'GOT' and the winning of Live 95's fantastic prize by one lucky listener, who will also get to bring a friend on this amazing trip.
Live 95 Station Director, Joe Nash said "We aim every day to keep the listeners of Limerick entertained and informed and we are proud to focus more than any other radio station on this great City and County. We are grateful to our listeners and the business community for staying local in such numbers, because we know they are as proud of Limerick as we are, at Live 95. I want to especially thank the great team here at the radio station who are so dedicated to bringing the best radio possible, to the best place in the country."
Live 95 has recently been following the Limerick hurlers to National League success, backing Team Limerick Clean-Up 5 and supporting Riverfest 2019, over the May bank holiday weekend. The hurlers' journey continues across the summer, and Live 95 will bring it to you, along with the local elections in Limerick, more great giveaways and Limerick's best music mix.
The radio station has also revamped it's annual charity drive for 2019, under the banner 'Live 95 Helping Limerick Children', with this year's beneficiaries being long-time partners CARI Limerick; Cliona's and for the first time, the Limerick-based 'Children's Grief Centre'. A number of key events, along with smaller fundraisers will take place in the coming months, with a target of 95,000 euro to be raised for distribution among these three great causes, which all hugely help ill and vulnerable Limerick children.
Live 95's schedule includes Breakfast with Mark and Catriona, the three-hour Limerick Today Show with Joe Nash, Afternoons with Declan Copues, the Live Drive with Gary Connor and Total Access with JP Dillon. The schedule, as always, delivers up-to-the-minute Limerick news and sport and more great music you can't get enough of, too. The station can also be followed on Facebook, Twitter, Instagram and at live95.ie.
For further information, contact Joe Nash, Station Director, Live 95 at (061) 461900.
For more information, go here.
For more stories about Limerick`s Live95fm, click here