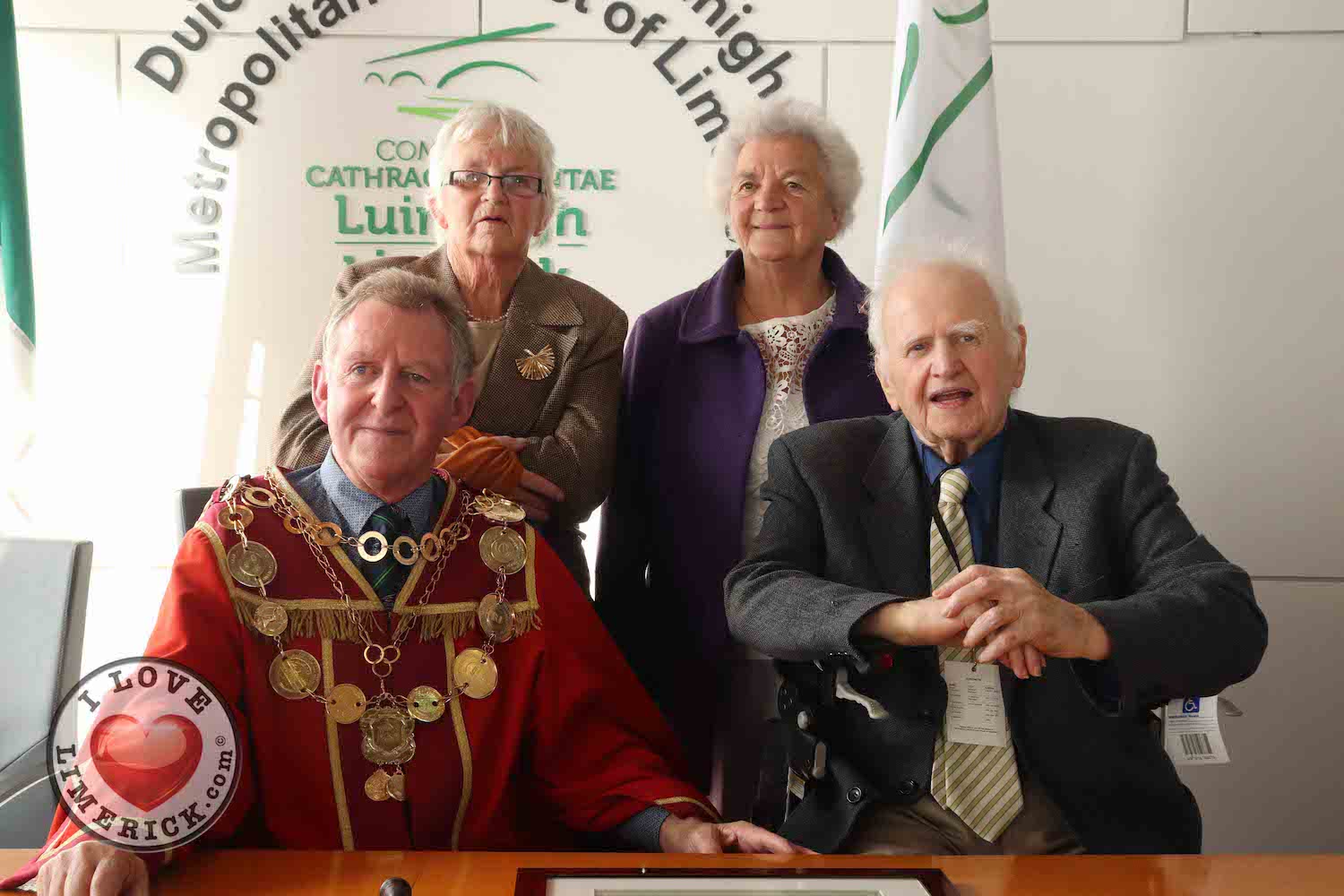 Celebration beats Commemoration: Cllr Michael Sheahen holds Mayoral Reception for living Limerick legends
Mayoral Reception October 2019 at the Council Chamber to Limerick Literary Icons: Mae Leonard, Maureen Sparling, Michael Sheahan, Mayor of Limerick, and Malachy McCourt. Picture: Bruna Vaz Mattos/ ilovelimerick
Celebration beats Commemoration: Cllr Michael Sheahen holds Mayoral Reception for living Limerick legends
Cllr. Michael Sheahan, Mayor of the City and County of Limerick held a Mayoral Reception, Wednesday, October 16 with Limerick literary legends, Malachy McCourt, Maureen Sparling and Mae Leonard to celebrate their livelihoods and works.
All present commended Cllr. Michael Sheahen for his decision to celebrate those whilst they are living rather than commemorate them when they have passed.
Mae Leonard, best known for her longstanding contributions to Sunday Miscellany's began with the phrase, "They say the profit is never appreciated in his own parish"- a nod to The Mayor's kind gesture in acknowledging them.
In return, Mae who is also a poet and folklorist, provided us with an evening of laughter and nostalgia as she so charmingly told stories of growing up in Limerick.
Yesterday @LimerickCouncil Chamber for the Mayoral Reception we caught up with Limerick legend & brother of 'Angela's Ashes' author, Malachy McCourt #ilovelimerick #lovelimerick #lovinlimerick pic.twitter.com/5VuyNP4pvB

— #LimerickTilliDie (@ilovelimerick) October 17, 2019
Malachy McCourt kept spirits up as he told his perspective of old Limerick through a stream of witty comments and reflections of his brother, Frank McCourt; author of 'Angela's Ashes'.
Malachy touched on the success that came from his brother's works despite people's expectations of him and encourages us to never step on the dreams of others.
"We must never thread on the dreams of our children".
Through her work, Maureen Sparling has kept the literary tradition of the 'Parish' alive, and we could see that again this evening in her reciting of a poem from her first book 'Remembering Old Limerick'.
Maureen is a novelist, short story writer, and poet and is set to launch her 13th book next year.
The event ended with a song from the local Men's Shed group.
To finish, in the words of Malachy McCourt, "Be hopeful, be generous, be literate and have the craic".
For more stories on Mayoral Receptions click here.
For more information on Limerick writers click here.
A little snippet of Mae reciting an excerpt from one of her Sunday Miscellany's. Thank you Mae & well done for this well received award! #ilovelimerick #lovelimerick #lovinlimerick @LimerickCouncil pic.twitter.com/ROO3BHaX8y

— #LimerickTilliDie (@ilovelimerick) October 17, 2019
Picture: Bruna Vaz Mattos/ ilovelimerick
Mayoral Reception October 2019