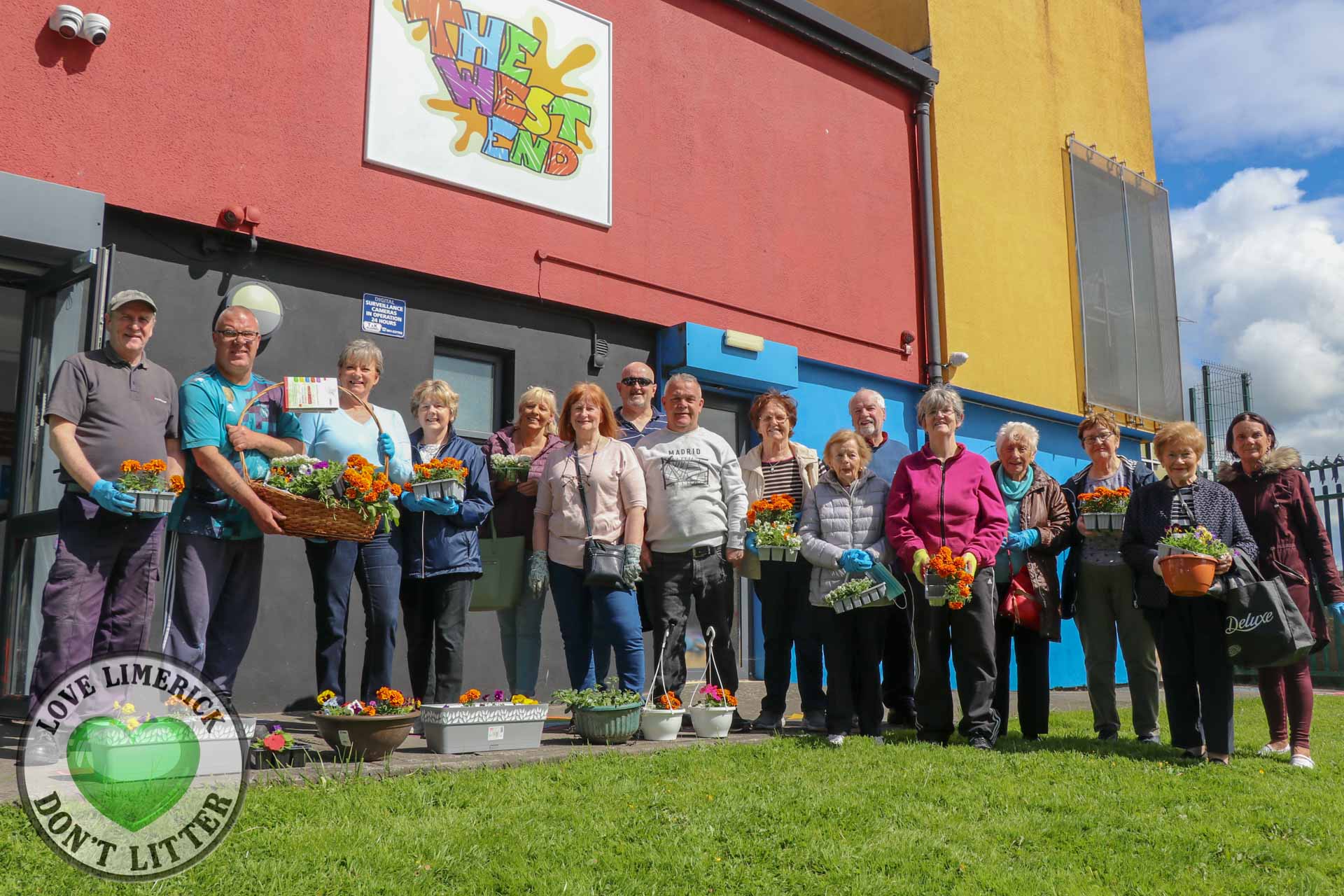 Our Lady of Lourdes Community Services Group creating a safer, healthier, happier place to live
Our Lady of Lourdes CSG is creating a safer, healthier, happier place to live
Our Lady of Lourdes CSG is committed to identifying and supporting the needs of people living in the Ballinacurra Weston community
Our Lady of Lourdes Community Services Group (OLOL), established in 1992, is committed to identifying and supporting the needs of people living in the Ballinacurra Weston community.
OLOL lies in the heart of the area which is the most socially and economically disadvantaged in Limerick and one of the most marginalised nationally.
The group is committed to working with the local community, helping it grow and become a safer, healthier, and happier place to live. the community service group prides itself in providing exceptional service by listening carefully and responding to the needs and expectations of the community, encouraging creativity and innovation while striving to enhance the quality of life in the community.
"We run a multiplicity of services for people from six months old up to seniors," explained the CEO, John Bennet, adding, "Our early year service offers childcare to kids from six months old up to five-and-a-half years old, our youth services have worked with children from the age of about seven and a half to eight through to 25 and we run adult education courses for members of the community."
"To me, it's vital in the community and the vast range of services that are provided are all provided with the community's needs in mind," said Katherine Kirby, Estate Management Worker, with each of the services being community-focused having evolved over the years due to the community demand.
OLOL provides a range of community-centred services which are open, accessible and professionally delivered to meet the needs of the community and the people in line with government strategy. OLOL strives to respond and evolve to the changing needs of our service user and at different parts of people's lives.
Denise Hannan, Admin & Older Person's Support and Adult Education Coordinator spoke about the classes and courses on offer to the older service users, "We do hobby classes and QQI classes, so the hobby classes will be arts, yoga, and Zumba; and QQI classes would be in healthcare and at the moment we're doing payroll and office skills."
They provide services for 200+ adult part-time learners on a variety of courses including, taster courses, Community Education, and FETAC-accredited classes up to level 6. OLOL are a registered and quality-approved FETAC Centre. We are active members of the Limerick Community Education Network and employ a dedicated Adult Education worker.
The group aims to provide the QQI classes at an affordable rate for those within the community, and open the spaces to anyone, Denise said, "The class is only three Euros per week and open to anyone in the community."
Adding to the educational and childcare services, OLOL also provides information services to those within the communities highlighting welfare rights as well as offering many activities for seniors.
"Beyond that, we run informational advice on welfare rights and benefits and also a multiplicity I suppose of various different activities and services," John Bennet explained, continuing, "From men's sheds through to Senior Services which operates centre-based activities and also trips and excursions for seniors in our community."
The group provide a range of services to senior citizens including meals on wheels, social clubs, and most appropriate also provides a home visitation service, where they work with senior citizens to ensure quality of life and independence in remaining in their homes for as long as viable.
Adding to these services, OLOL offer a Care and Repair service which stretches beyond the local community to wider Limerick City, where volunteers will complete "DIY jobs" for people over 65 or those living with a disability.
"It's a service we offer in the area and the whole of Limerick city, so Care Repair is an organisation that we do DIY jobs for people in their homes for people over 65 or people with a disability. We have a range of volunteers that would quench your home and do your job for you there's no cost you supply the materials and our volunteers do the work," said Denise.
Our Lady of Lourdes Community Services Group currently has a staff of more than 50 people and provides a Local Employment service to those in the parish area along with an Adult Guidance Service. Our Lady of Lourdes CSG sponsor a Community Employment Scheme and host participants from a variety of programmes including TUS Job Initiative, Jobsbridge, and provide work placement for those on local training initiatives.
"I have a management team of eight people and myself, each of those responsible for a key service and we also run a community Employment Programme here at the centre which has 25 employees many of whom come from the community and learn skills that enable them to go onwards into full-time employment in whatever job market they so choose," Mr Bennet explained.
Over the past 20 years the company has grown from strength and currently has an annual turnover in excess of 1.5 million Euros per annum we are a registered company, fully tax compliant and have charitable status and is committed to providing local and accessible facilities and services across the lifecycle of the community.
About Social Enterprise Limerick
Learning Hub Limerick is a member of Social Enterprise Limerick, a practitioners' network of Social Enterprises in Limerick City. The overall objective of Social Enterprise Limerick is to provide a local platform for social enterprises to meet, network, share their experiences and learn from each other. The network encourages collaboration and the sharing of resources to help members to advance their community, social and/or environmental goals and is involved in a range of training, development and promotional activities.
In 2022, Social Enterprise Limerick was approved for funding under the ARISE programme, which is a Dormant Accounts funded initiative for the promotion of Social Enterprise. The ARISE funding was utilised to develop a range of promotional materials for network members and to highlight the activities of the SEL network, with a particular focus on the development of digital media/video content.
Social Enterprise Limerick was initiated by Paul Partnership under the Social Inclusion and Community Activation Programme (known as SICAP). SICAP provides social inclusion support to individuals and community organisations and is co-funded by the Government of Ireland through the Department of Rural and Community Development and the European Union.
For more information on the SEL ARISE project contact Michael Gleeson, Social Enterprise Officer at PAUL Partnership or visit www.socialenterpriselimerick.ie #SocialEnterpriseLimerick