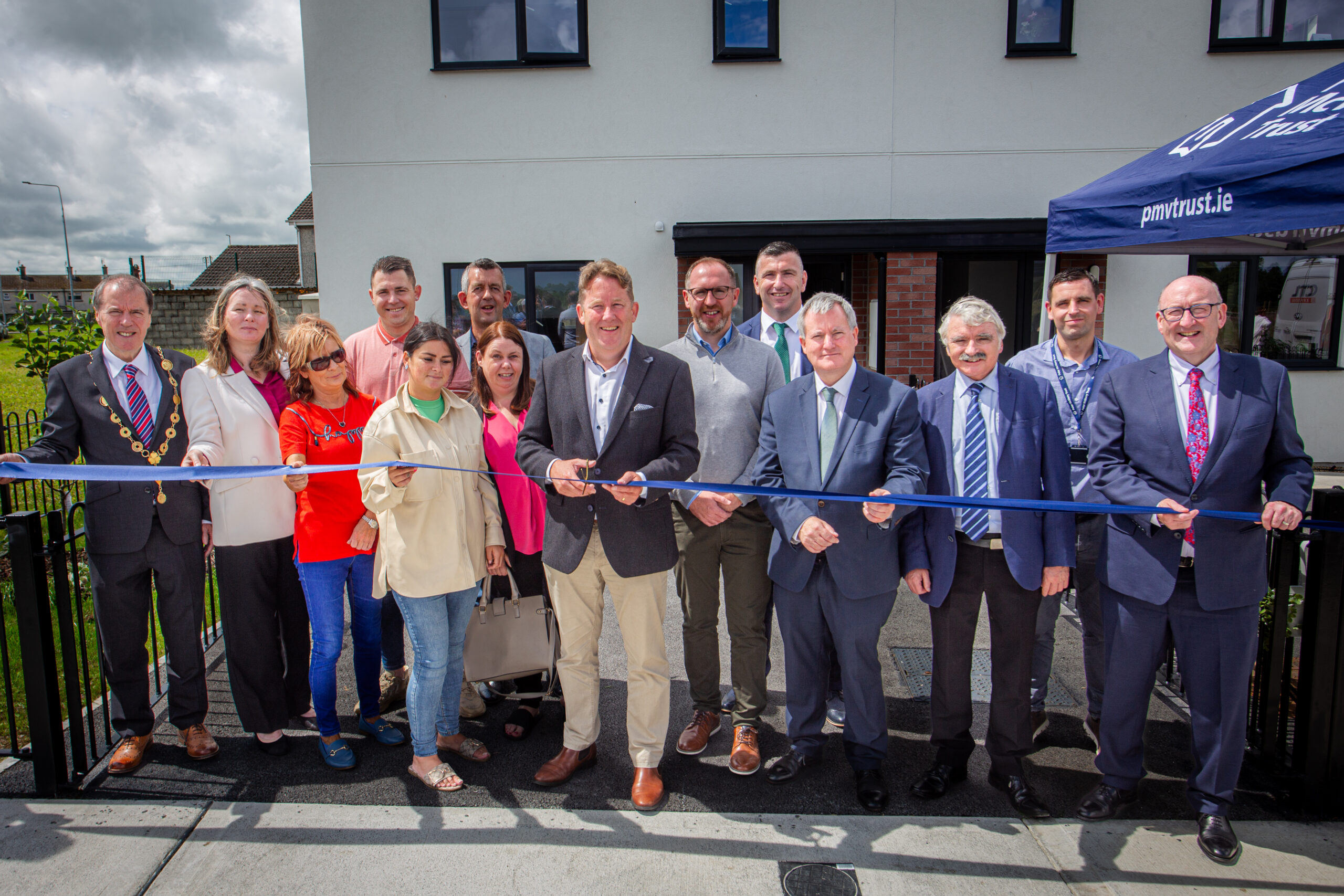 Minister for Housing launches Peter McVerry Trust's new social housing for families in Limerick
Minister for Housing Darragh O'Brien launched the new Peter McVerry Trust social housing in Limerick
Peter McVerry Trust, the national housing and homeless charity, has delivered 14 new social housing family homes in Moyross, Limerick
The new scheme is the first phase of the charity's social housing project in Moyross and Southill in partnership with Limerick City and County Council.
The 14 two-storey homes are an infill scheme in the Delmege Park estate and include 12 two-bed and two three-bed houses. The second phase of work will see the project deliver 38 modular homes in total, of which 24 will be in Moyross and 14 in Southill.
The project is part of the ongoing Limerick Regeneration Programme and is part of Peter McVerry Trust's largest housing project to date.
The first tenants have already moved into their new homes, which are modern, energy-efficient and fully furnished. Each home also has a front and rear garden and room for parking.
Minister for Housing Darragh O'Brien and Cllr Gerald Mitchell, Mayor of the City and County of Limerick were in attendance to officially launch the new homes, which were made possible with support from the Department for Housing's Capital Assistance Scheme (CAS).
Cllr Gerald Mitchell, Mayor of the City and County of Limerick, said, "The delivery of these homes is the result of a productive partnership between Peter McVerry Trust, Limerick City and County Council and the Department of Housing. The homes represent stability, and a fresh start for the residents, some of whom have long yearned for a place to call their own. We understand the far-reaching consequences of the housing crisis on families and communities. That is why initiatives like this, borne out of collaboration and shared purpose, are so crucial. They provide not just roofs over heads but also dignity, and the promise of a better tomorrow."
Francis Doherty, CEO of Peter McVerry Trust, said, "This is the first phase of our largest housing project to date anywhere in the country, and it's significant that it's here in Moyross given our long-standing connection to the area. The full project will deliver 38 modular homes across Moyross and Southill for families on the local social housing waiting list."
"Peter McVerry Trust is collaborating with Limerick City and County Council on a number of social housing projects across the city and county. It is also working with Limerick Regeneration on an 'Outreach to Employment' initiative focussing on the development of employment pathways for people living within local regeneration priority areas. We worked in close consultation with the local community throughout the building process and ensured employment opportunities for local people in the manufacturing process."
"This project is one of several regeneration projects we're working on across Limerick city centre, which will deliver much-needed one-bedroom social housing apartments for people exiting homelessness in Limerick."