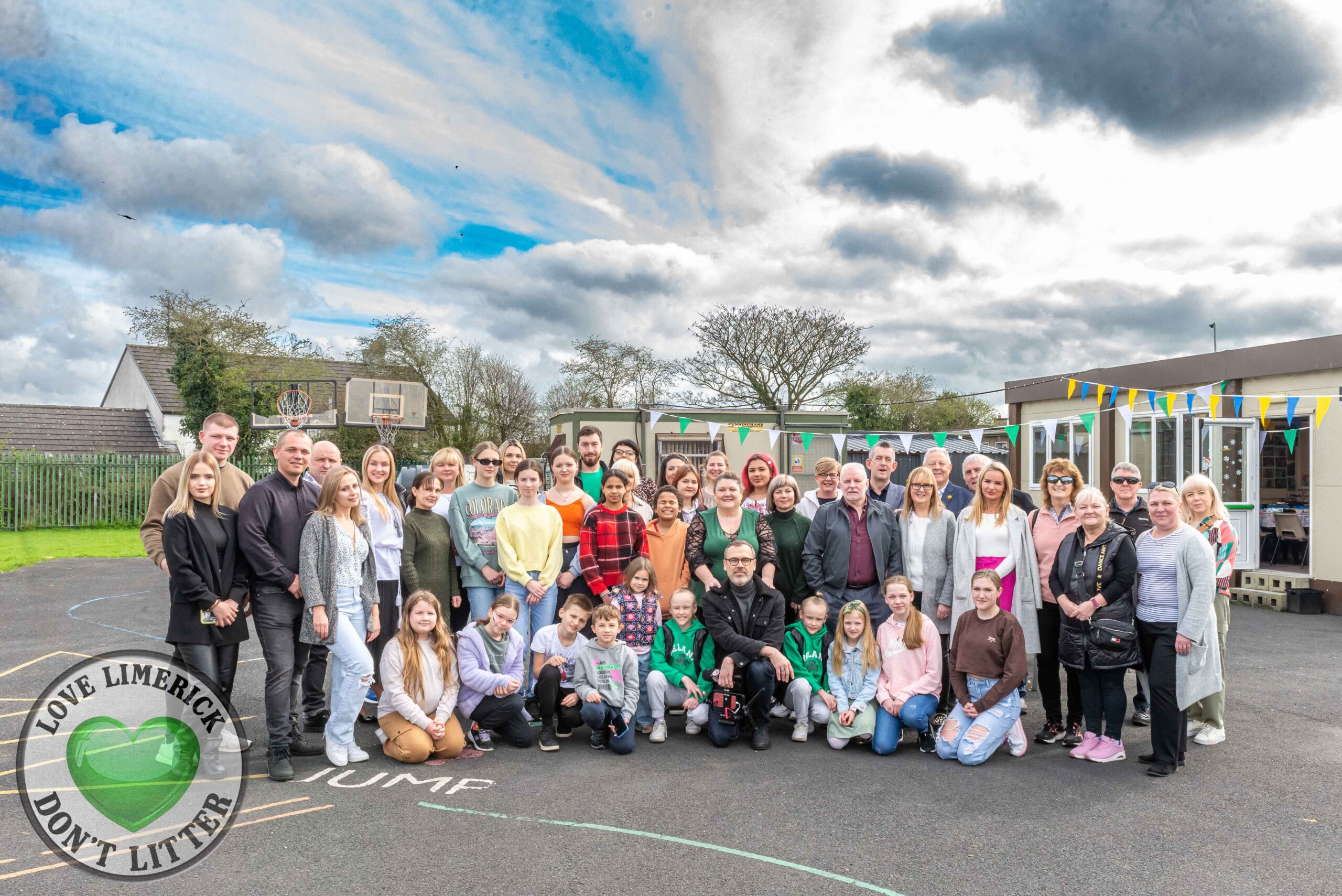 PHOTOS St Munchin's Community Centre celebrates 1 Year of helping Ukrainian refugees fleeing war
St Munchin's CC Ukraine Evacuation Hub 1 year anniversary. St Munchin's Community Centre Limerick celebrated the 1 year anniversary of St Lelia's Age Friendly Campus being used as Limerick Council's emergency rest centre and Ukrainian Hub. Picture: Olena Oleksienko/ilovelimerick
St Munchin's Community Centre marks 1 year of St Lelia's Age Friendly Campus being stood up as LCCC's emergency rest centre having assisted 50 Beneficiaries of Temporary Protection fleeing the war in Ukraine
By I Love Limerick Correspondent Cian Reinhardt
St Munchin's Community Centre has marked the 1 year anniversary of St Lelia's Age Friendly Campus being stood up as LCCC's emergency rest centre on Sunday, April 2.
St Lelia's Rest Centre has assisted over 50 Beneficiaries of Temporary Protection fleeing the war in Ukraine (BOTP's) with highlights including education, employment, volunteering, and housing.
Linda Leger, Centre Manager told I Love Limerick, "We are here today to celebrate these wonderful families who have come from such hardship, and Limerick City and County Council approached us to become a Hub, and we did a year ago, we learned so much.
"A lot of these families moved on, have come back today to celebrate and we've just got another new seven people on Friday. So the stuff we learnt in a year, it's been hard it's been really challenging, I mean it's been an experience of a lifetime. What these people have lived through, it's just incredible."
During the year, St Munchin's Communtiy Centre has helped in many ways, securing school places for nine children, a place at the Royal College of Surgeons for 1 school graduate and has 40 adults attending regular English Classes.
The community centre has also aided in employment helping six adults find full-time jobs, workplace experience programme placements for two adults and two adults are Community Employment Scheme (CES) participants.
I'm privileged, as normal, with St Munchin's this is a team effort. Our community are so incredible, but these families, they're our families now and it's just unbelievable, the love, the gifts, the difference of our cultures."
Linda also acknowledged there have been difficulties, telling I Love Limerick, "It's pointless saying everything is perfect, I've been accused of not looking after our Irish, not doing anything. But the law is very clear; no Ukrainian family is going to take anything off an Irish family, it's just not able, it doesn't happen. They all want to work, it's just the English [language] is killing them."
The St Munchin's manager noted her pride in the participation from the Ukrainian people in giving back to the community and joining the workforce, she said, "The minute they could go on a CE Scheme, they gave up their dole straight away, they wanted to work on the CE Scheme."
Noting their help in charity events, the St Munchin's manager said, "Anything that happened, we were packing the bags for Christmas, they were jumping in with us. There's nothing they won't do, they clean up they do everything, they welcome new people coming now. Watching it evolve, when a new family comes, it's not me, it's not the Council running out, it's these people helping the next person coming through, it's just incredible."
The group has prepared countless welcome packs for new arrivals to other accommodation centres in Limerick, prepared in excess of 1,000 Elderly Care Parcels for the community, more than 800 School Packs, managed Zero Cost Shop for or donations of essentials to help new arrivals to other accommodation centres in Limerick with urgent needs, and landscaping the garden at St Lelia's. They also welcomed Ukrainian Ambassador Laysa Gerasko to Limerick with a traditional lunch.
In housing, 29 BOTPs have now left St Lelia's to move into private accommodation, self-catering accommodation or pledged/hosted accommodation.  This frees up space for new arrivals.  They are all very much still part of the St Lelia's community and the wider community of Kileely.
Read similar stories here.
Find out more here.
Pictures: Olena Oleksienko/ilovelimerick