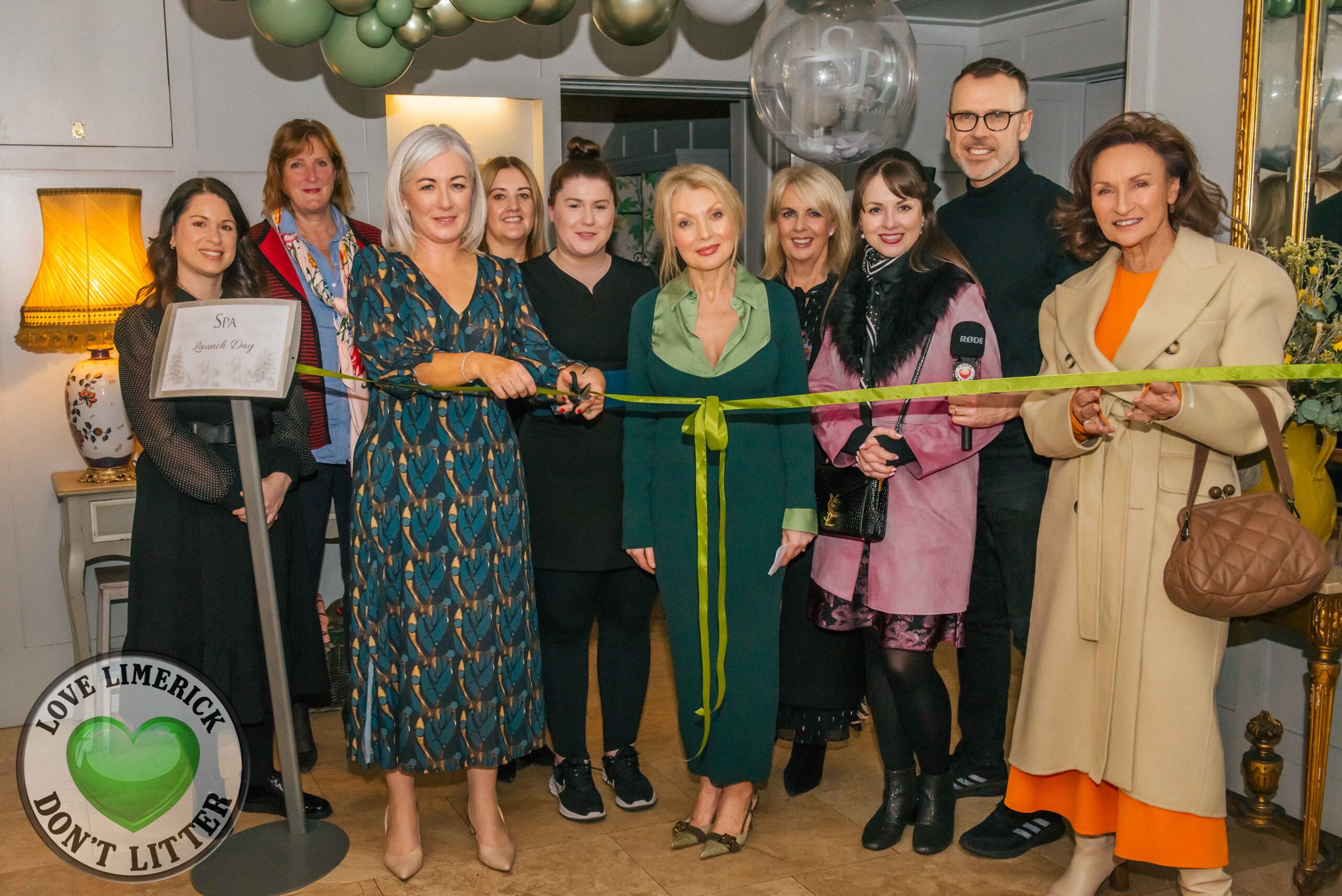 PHOTOS Holistic By Nature, The Spa at No. 1 Pery Square gets restyled as the perfect city retreat
The Spa at No. 1 Pery owner Patricia Roberts pictured above cutting the ribbon on the restyle of her holistic retreat. Picture: Olena Oleksienko/ilovelimerick
The Spa at No. 1 Pery offers holistic treatments and wellness experiences designed to promote rest and rejuvenation
No. 1 Pery Square has launched the restyle of its spa, offering a unique experience of holistic relaxation in a Georgian building in Limerick's city centre.
Balance is both sought and achieved at The Spa No. 1 Pery Square. Grounded in mindfulness, the spa offers holistic treatments and wellness experiences designed to promote rest and rejuvenation.
Following feedback and research studies No. 1 Pery Square realised the need for a more holistic style of wellness, with Patricia Roberts, owner and managing director of No. 1 Pery Square saying "people wanted to have more immersive spa experiences, which are very much wellness orientated".
The No. 1 Pery Square managing director said, "People aren't just looking for the pampering experience, they're also looking for an immersive, wellness-lead experience, with that in mind we went back to the drawing board and thought with that knowledge, how do we bring that to life in terms of a unique spa experience in the city centre.
"That's where the restyling came from, and that has been, conceptually wise, just 18 months ago, but a lot goes into the planning, and the change has been happening over the last six to eight months."
Holistic By Nature, The Spa No. 1 Pery Square offers elevated and unique spa experiences, custom facials, treatments and wellness happenings for women, men and mothers-to-be. A serene oasis in the heart of Limerick, The Spa will encourage you to leave behind your stress and troubles to reconnect with your own inner peace. The focus is a holistic approach which aims to treat each person as a unique individual.
Taking pride in what Limerick has to offer, the "biophilic design" aims to seamlessly integrate nature with the interior, and the hotel believes the restyling is very in-keeping with the business' ethos in protecting the listed Georgian building while having a tranquil, natural-feeling spa space.
"What we have done is very in-keeping with what our beliefs are; supporting local, being local, being Irish, and being organic. Everything we do, down to our food suppliers, the local suppliers, at the end of the day it all leads to wellness," said Patricia.
Following this ethos, No. 1 Pery Square Spa collaborated on the restyling of the spa with the support of great Limerick people such as botanical artist Tara Moloney and multidisciplinary artist Francesca Hutchinson, a Limerick School of Arts and Design graduate.
Patricia said proudly, "We have worked with Tara to create botanical art installations throughout the spa, in order to connect the natural outdoor environment within the spa environment and Francesca created a bespoke art installation for the spa and this piece truly seeks to evoke the relationship we have with nature and how nature heals us."
No. 1 Pery Square Spa wants to show the "Irish natural environment" taking advantage of the fact Limerick is on the gateway to the Wild Atlantic Way and that "you can have an immersive, holistic experience in the city centre".
Creating a relaxing space in the heart of a city centre requires care, and No. 1 Pery Square Spa says although the space is situated underground, they "have incorporated views of nature through the use of natural imagery, as well as having an area infused with natural light and views of the outdoors".
"The use of soft natural colours such as grey, green and earth tones helps to create a calming atmosphere. Where possible we have used recycled textures in the form of blankets & throws. Indoor plants dotted throughout the space help to purify the air and promote a sense of calm," commented Sharon Collopy, Spa Coach and Holistic Therapist.
Creating a calm environment, Patricia says No. 1 Pery Square has been "very lucky", saying in a city centre patrons of the spa, "don't expect to be able to escape into an environment where you don't hear traffic and noise".
She said, "The Spa No. 1 Pery Square has always achieved that. You step out of that lift downstairs at minus level, and you just feel like you've gotten away from the world. We are lucky, we have always had that impact, what we have done now is, we had a very minimalist design and now it's a much more immersive, natural experience."
The Spa invites patrons to take a "journey to a place of inner stillness and calm, reconnect with nature, reconnect to a place which truly nourishes your body, mind, and spirit".
Patrica concluded, "Most of you who know me will know Limerick comes first for me. Without a strong destination appeal it is a challenge to attract visitors and it is our intention to offer guests extended 3-4 night wellness breaks in the future and solo headspace escapes. We feel privileged to be part of Ireland's Blue Book and they certainly support us by bringing many international visitors to Limerick and in particular to our neighbourhood of Pery Square. But an important message tonight is we welcome Limerick first and our spa welcomes non-residents 7 days a week with some late evenings. I look forward to seeing you all."
Pictures: Olena Oleksienko/ilovelimerick