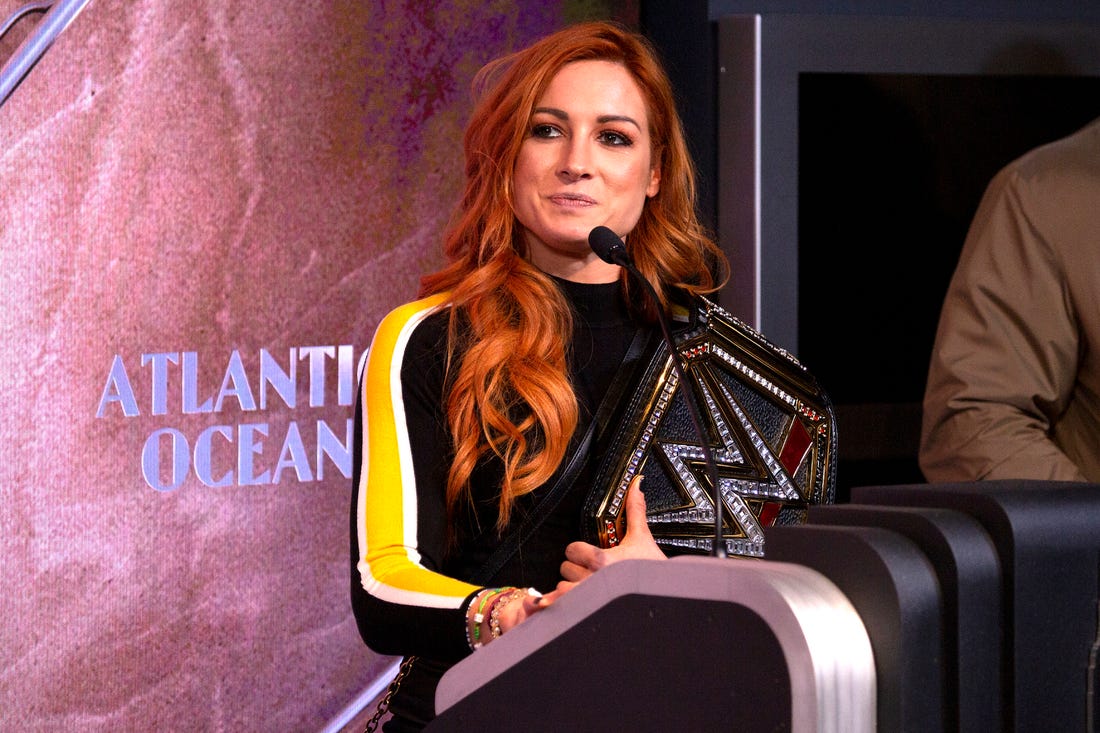 WATCH: Limerick-born WWE star Becky Lynch announces her pregnancy as she takes a step back from the ring
WWE star Becky Lynch pictured with her WWE Raw championship belt
Limerick-born WWE star Becky Lynch announces her pregnancy as she takes a step back from the ring
By I Love Limerick Correspondent Mary Doyle
Limerick-born WWE star Becky Lynch has this week confirmed her pregnancy via an emotional announcement on WWE's flagship TV show 'Raw'. The professional wrestler, whose real name is Rebecca Quin, will now be taking an indefinite break from the sport as she expects the arrival of her first child this December.
Becky, who was nicknamed 'The Man' after a winning streak in 2018 that led to her victory in the main event of WrestleMania 35, revealed that she is now set to become 'The Mom', as she relinquished her world title belt to Money In The Bank winner Asuka, bringing an end to her record-breaking 399-day title reign. Handing over her belt she said, "You go be a warrior, because I'm going to go be a mother".
Due to marry fellow WWE star Seth Rollins this month following their engagement last year, the couple were forced to cancel the wedding due to Covid-19.
Via a post to her fans on Twitter after the announcement, Becky said, "I have no idea what happens from here, but I do know that you've made all my dreams come true. I entered the PC in 2013 not knowing anyone, I'll leave that same building tonight with my new family. Thank you all so much."
Born in Limerick and raised in Dublin, Becky was always a fan of wrestling, and she began training as such back in 2002, alongside her brother who was known as 'Gonzo de Mondo'. With his influence, Becky left University College Dublin where she was studying philosophy, history and politics to follow her dream. At the age of 18, Becky, with the stage name Rebecca Knox, made the move to Canada to pursue a career as a pro wrestler, where she succeeded in making her mark. Disaster struck in 2006 when Becky suffered a head injury during a competition in Germany and was forced to take a six-year hiatus from the sport.
Becky joined WWE in 2013 after returning to training, where she truly shot to fame. Going by the name Becky Lynch from then on, she became a four-time women's champion, and the face of the so-called WWE 'women's revolution'. In 2018, an abundance of fan support forced WWE to change their storylines, and pushed Becky into the limelight. In 2019, she made history by winning the first-ever all women's Wrestlemania main event.
But Becky Lynch is not a one-trick pony. During her time off from wrestling, Becky explored other passions and worked as an actress, appearing in numerous plays in 2011 and 2012. She earned a degree in acting from the Dublin Institute of Technology, and went on to attend Columbia College Chicago and the Gaiety School of Acting. Recently, rumours have began circulating that Becky wants to leave WWE to pursue a career in acting,
The speculation developed after Becky's cameo on Showtime's original series 'Billions' earlier this month, after which more rumours emerged that the star had also secured a role in the upcoming Marvel Cinematic Universe movie.
Becky hasn't denied speculation that a career in acting is on the table, and her break from WWE over the last month due to her pregnancy only added fuel to the fire. Irish bookmakers BoyleSports are now backing Becky to make it to Hollywood, having trimmed the odds on the 33-year old wrestler into 20/1 from 66/1 to win an Oscar by 2025. After requests for odds on the wrestler to leave the WWE and become a full-time actress, it is now just a 10/1 chance, down from 16/1.
Sarah Kinsella, a spokesperson for BoyleSports, said, "Becky Lynch became the first woman wrestler to hold two titles at the same time and is now being backed for a future in the movie business. She appears as herself in an episode of Billions and now the Irish gem is 20/1 from 66/1 to win an Oscar by 2025 following reports that she is to star in a Marvel movie."
Who knows what Becky's career will look like in the future, with her main focus now being a healthy pregnancy. If this means an end to her time at WWE, then the former underdog can certainly be proud of a career in which she accomplished what once seemed improbable. Whatever the case, congratulations are in order for Becky and her fiance Seth.
For more information on Becky Lynch, click here.
For more stories on Becky Lynch, click here.