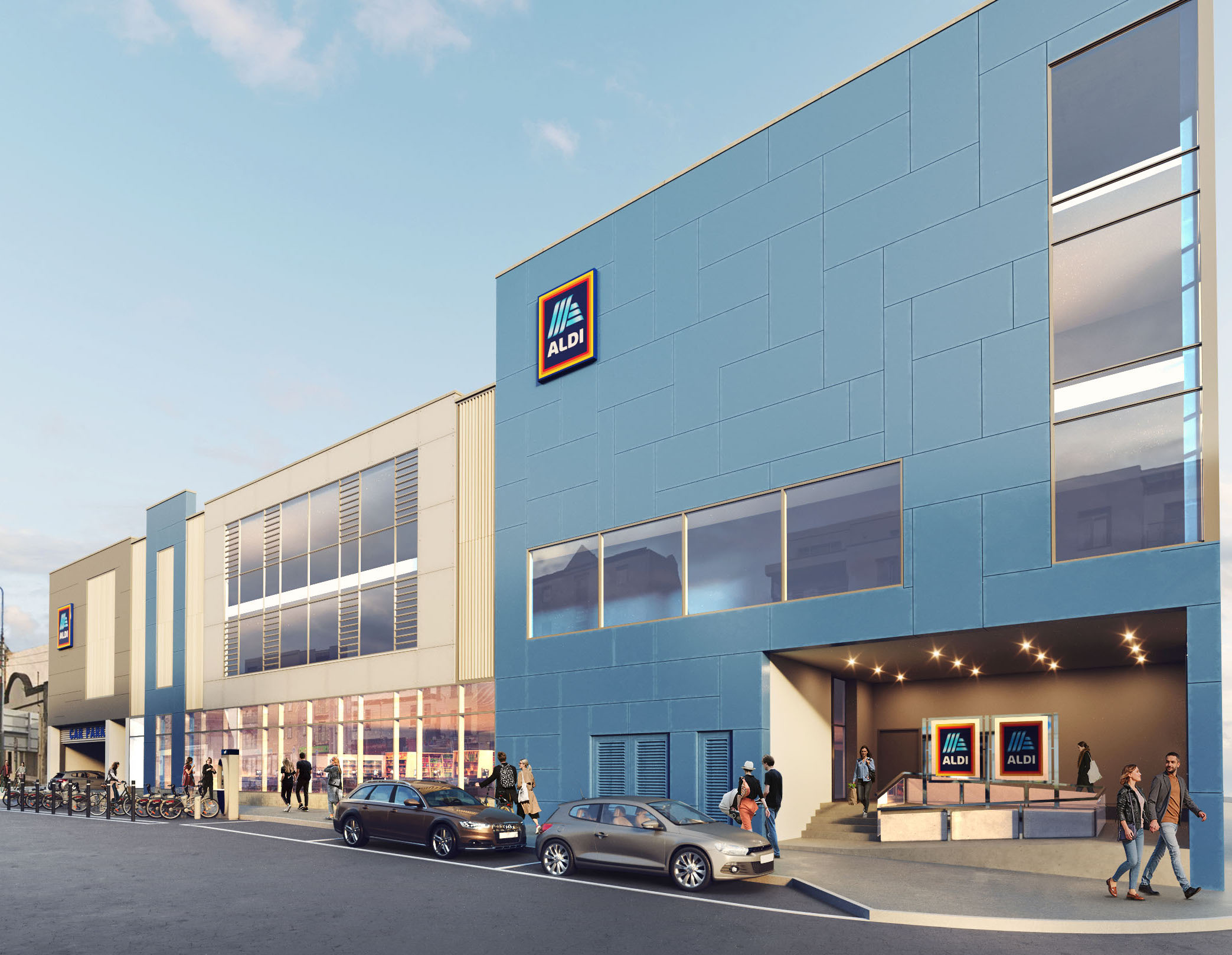 Limerick set to gain over 100 new jobs as construction of new Aldi Limerick store commences
Aldi Limerick store – over 100 new jobs are promised. An artists rendition fo the proposed store abov
Limerick set to gain over 100 new jobs as construction of new Aldi Limerick store commence
By I Love Limerick Correspondent Jade Crowe
Limerick is set to obtain over one hundred new jobs as construction of a new Aldi store is to commence. This new branch will not only create several new jobs for the Limerick area but will also provide a range of amenities for customers such as parking, whether it be by car or bike.
The new Aldi Limerick store which will be located at Roche's Street and will add to the chain and be the fourth addition of the renowned affordable supermarket in Limerick, with already existing locations at Childers Road and Dublin Road in Limerick City, and a store in Newcastle West.
Aldi has a total of 145 stores nationwide. This new store is part of a new scheme by Aldi to provide a total of four new stores and 1050 new staff nationwide, with 350 temporary and 700 permanent jobs, including 18 new permanent positions across Limerick stores It is thought that approximately one hundred jobs will be created through the construction of the new Limerick chain, with a further thirty jobs becoming available in-store in due time.
Aldi planning a new store on Roches Street in Limerick is fantastic news for the City Centre. #Limerick #Construction #Ireland #Engineering pic.twitter.com/dYnmxP4wEP

— James J O'Donnell General Engineering Works Ltd (@JamesJODonnell1) May 20, 2020
Aldi dates its roots back to 1913 and entered the Irish market on November 4, 1999. Aldi is a striving international supermarket renowned for its very affordable award-winning and exceptional quality produce, with approximately 12.5% of Irish consumers shopping Aldi dates its roots back to 1913 and entered the Irish market on November 4, 1999. Aldi is known for not just being a supermarket, with partnerships with the Irish Cancer Society, Food Cloud, WEEE Ireland and Foróige, making Aldi known for its countless community efforts. Not only this but Aldi were named the winner of the 2020 Pakman Award at the 6th annual Pakman Awards, an award ceremony that prioritises the prevention of plastic packaging waste.
It is hoped that this new addition to the Limerick Aldi branch will make shopping all the more affordable for local residents. Aldi Regional Managing Director, Colin Breslin commented, "Our dedicated customers know that we won't be beaten on price, and we are committed to providing the best value possible to shoppers. Our Swap & Save campaign reminds shoppers about the saving that can be generated by swapping their weekly shop to Aldi."
For more info on Aldi go HERE
For more stories on business go HERE