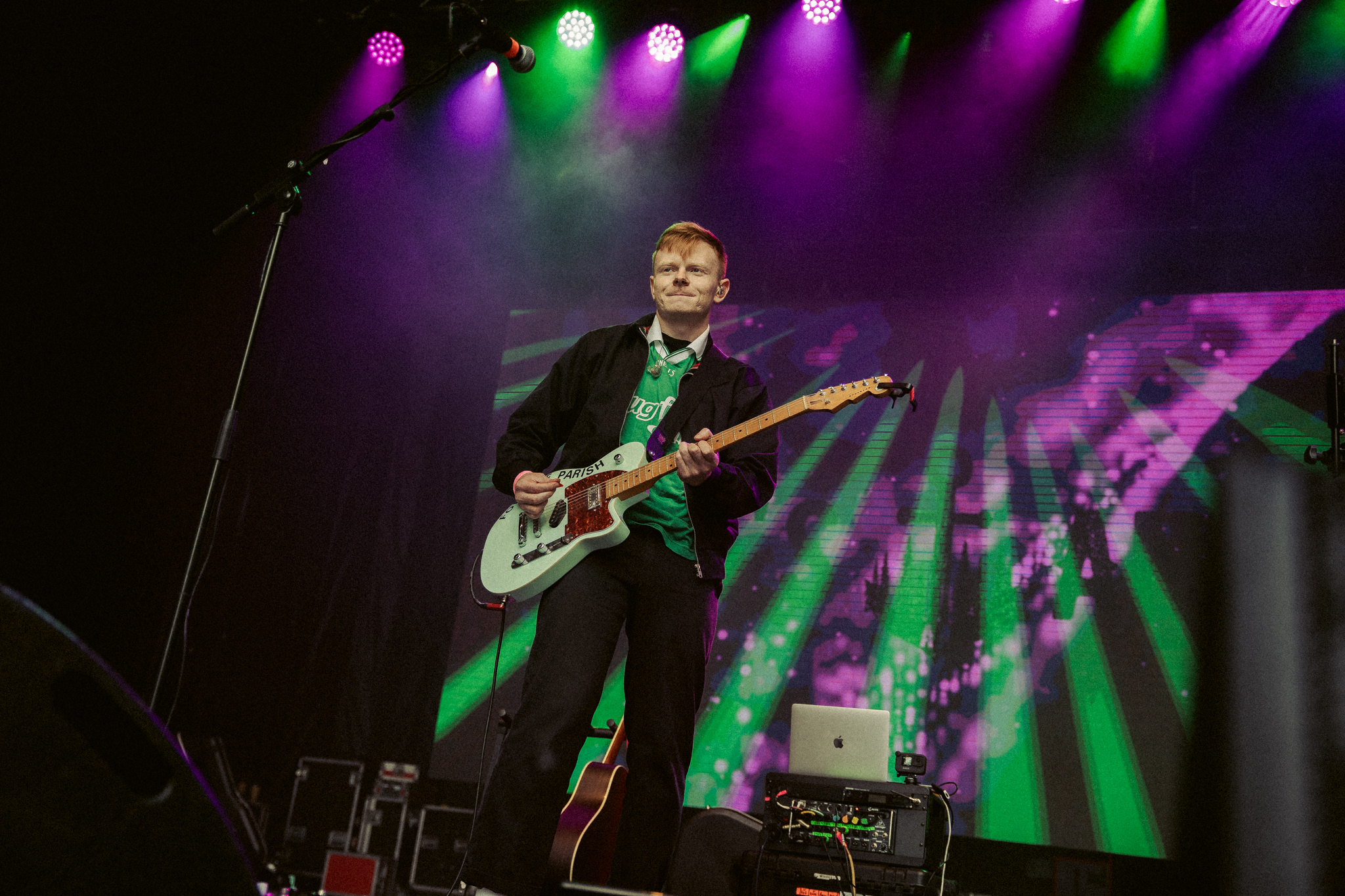 Grandson of GAA legend John Naughton reflects on 'huge honour' of performing at Limerick homecoming
Anna's Anchor Limerick homecoming performance a 'huge honour'. Photo: Jamie Moore
Anna's Anchor's Limerick All-Ireland homecoming performance was the perfect tribute to hurling, his family, and to local music
It was a moment of immense pride and honour for Limerick musician Marty Ryan known as Anna's Anchor, as he took to the stage to perform at the Limerick hurling homecoming event, an experience that went beyond the music. 
The musician, a passionate Limerick hurling fan himself, was thrilled to represent the Limerick music scene on such a grand stage but more importantly he played at the homecoming as a tribute to his late grandfather John Naughton, Formerly of John Street Stores, Naughton Oil and Limerick GAA who passed away in May 2022 and was heavily involved in Limerick GAA all his life.
Marty told I Love Limerick, "It is a huge honour, I'm a massive Limerick hurling fan and have been going to matches since I was a child. In adult life, music has been my biggest passion and I've always tried my best to champion original music in Limerick. For us to be asked to represent the Limerick music scene on such a huge stage is a massive privilege and something I don't take for granted."
Speaking about his grandfather's hurling achievements, he said, "To bring it back to hurling for a moment, there was an article in the Limerick Leader in 1973 where grandad was interviewed in front of his old shop, John Street Stores and said that he wouldn't leave John Street until they win another All Ireland. While it took a bit longer than he probably thought back then, this team did give him a number more while he was still with us.
"This group of players have given us so many memories and really brought a whole new level of pride to Limerick. I view us playing this giant show as another memory and experience afforded to us by this once in a lifetime group of players and I am so grateful for that. To have all of these worlds collide for one special, life changing night in Pery Square for the homecoming is a beautiful thing and I'm sure he would have loved it."
Speaking more about his grandfather and what he would have made of music career, Marty said, "He had been sick with dementia for a long time and never got to really see the growth of the band in recent years, but I'd say he would've found it all very exciting.
"While growing up, going to college and getting an education was the thing he wanted the most for me. At my college graduation in UL, I remember him being very emotional because no one on that side of the family had that same opportunity that I had. Right now I'm doing a PhD. in music education in America and I think that would make him the proudest but to come back and then represent Limerick on a stage like that pursuing my passion, I think would have made him equally proud."
Looking back on the homecoming event, Anna's Anchor expressed gratitude for the journey that led him and his band to this milestone. From playing to audiences of twenty people in Chez La Fab, to twenty in Pharmacia, to a couple of hundred in Dolans, and then to play in front of thousands at the homecoming, Marty says it was a "huge honour".
Marty spoke about inspiration behind the new work, saying, "I had an accident in 2021 that involved a head injury. Thankfully I'm 100 percent okay but it was quite a scare and when everything was said and done, I was so grateful to still be here and to have had such an amazing life up until now full of rich experiences and great friendships.
"The album is a documentation of those experiences and friendships that are nearest and dearest to me. The first song we played, Listowel, is basically about accepting that while your dreams may not come true as you hoped they might, you get so much else in return in life that was unexpected."
The Limerick musician said it was a "crazy" feeling to perform "a song about coming to terms with that, while in front of 20,000 people and quite literally having my dreams come true".
"It's an amazing platform to present our music on and as a proud Limerick person, it really meant the world to play our songs up there," said Marty.
Having just finished an extensive Irish tour with Clare as a duo, and performing some solo shows in the UK, Marty says the plan for the immediate future "is to keep gigging and promoting this new record".
"It feels so great to finally have it out in the world after years of hard work. To get to share our music with the world is the greatest gift and I feel so fortunate that we get to do it at this level," he said. 
Find out more here.
read about the homecoming here.