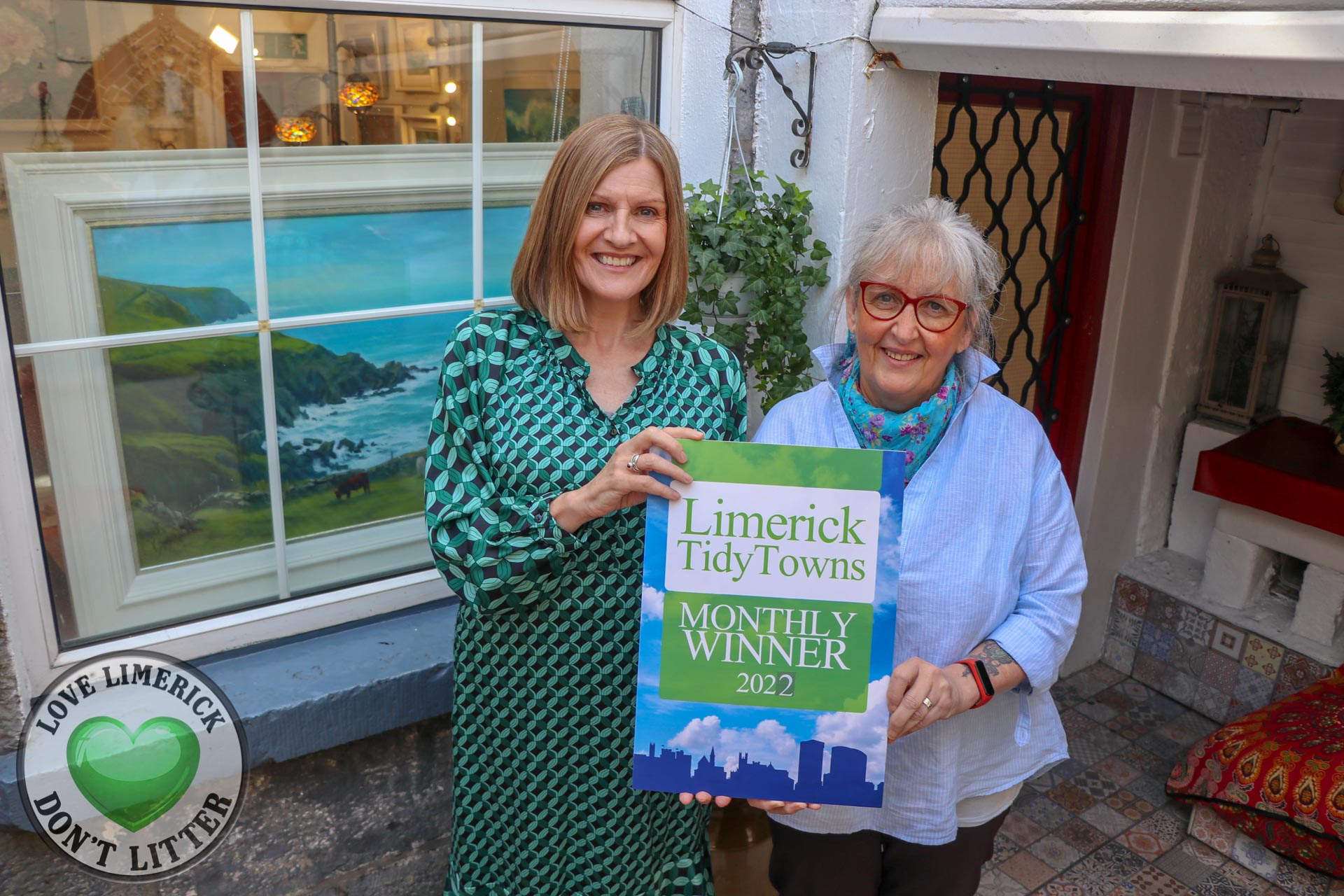 Limerick City Tidy Towns September 2022 Monthly Award goes to Annemarie Bourke Art Gallery and Studio
Annemarie Bourke Art Gallery and studio has been presented with the Limerick City Tidy Towns monthly award for September 2022 at her Basement Art Gallery Studio at 98 O'Connell, by Maura O'Neill, Limerick City Tidy Towns. Picture: Richard Lynch/I Love Limerick
Annemarie began her professional career in 1995 and first opened her Gallery Studio in O'Connell Street in 2008
Annemarie Bourke Art Gallery and studio has been presented with the Limerick City Tidy Towns monthly award for September 2022 by Maura O'Neill from Limerick City Tidy Towns.
Maura said, "As everyone who follows us knows, much of our focus on Limerick's built environment is to try to improve and encourage the development of the city's basements, not just by keeping them litter-free but by promoting their huge potential as business or residential premises. We therefore try to select one basement every year as one of our monthly winners and we are delighted to present our September award to Annemarie Bourke Art Gallery and Studio, which has for a number of years been one of the best examples of a beautifully maintained working basement in the heart of the city, and almost has a feel of Provence with its charming decor. It is also an important cultural offering in the city, being open to the public, and there is always a warm welcome for both locals and visitors to the city".
Annemarie began her professional career in 1995 and first opened her Gallery Studio in O'Connell Street in 2008, where she paints daily and runs inspiring workshops for aspiring artists. Originally from Killaloe where she spent her childhood on the shores of Lough Derg sketching and painting, Annemarie has a wonderful empathy for the Irish landscape. She paints in watercolour, oil and pastel, and covers a huge range of subject matter, including landscapes, seascapes, flowers, still-life and portraits. She is also a popular tutor both at home and abroad and travels extensively throughout Europe, painting on location. She has had many successful exhibitions both at home and abroad, and her work can be found in many corporate and private collections worldwide.
Annemarie's Gallery Studio is Limerick City Tidy Towns' eighth monthly award winner in 2022, and as a result will be in with the chance of winning this year's overall prize at their annual event to be held early in 2023. The winners from January and February 2020 will also be included in the overall event, as well as Treaty City Brewery, Khan Supermarket, Seoidin Jewellery, Souths Pub, The Bedford Townhouse & Café, Wickham Way and Locke Burger who won monthly awards so far in 2022.
If you wish to nominate a business in the city for a monthly award or indeed to volunteer with Limerick City Tidy Towns, they meet every Sunday morning at 11 am at the corner of Thomas Street and O'Connell Street, and on Wednesday evenings at 6 pm outside the White House during summer months.
For more information on Annemarie Bourke Art Gallery visit HERE.
For more Limerick Tidy Towns stories go HERE.