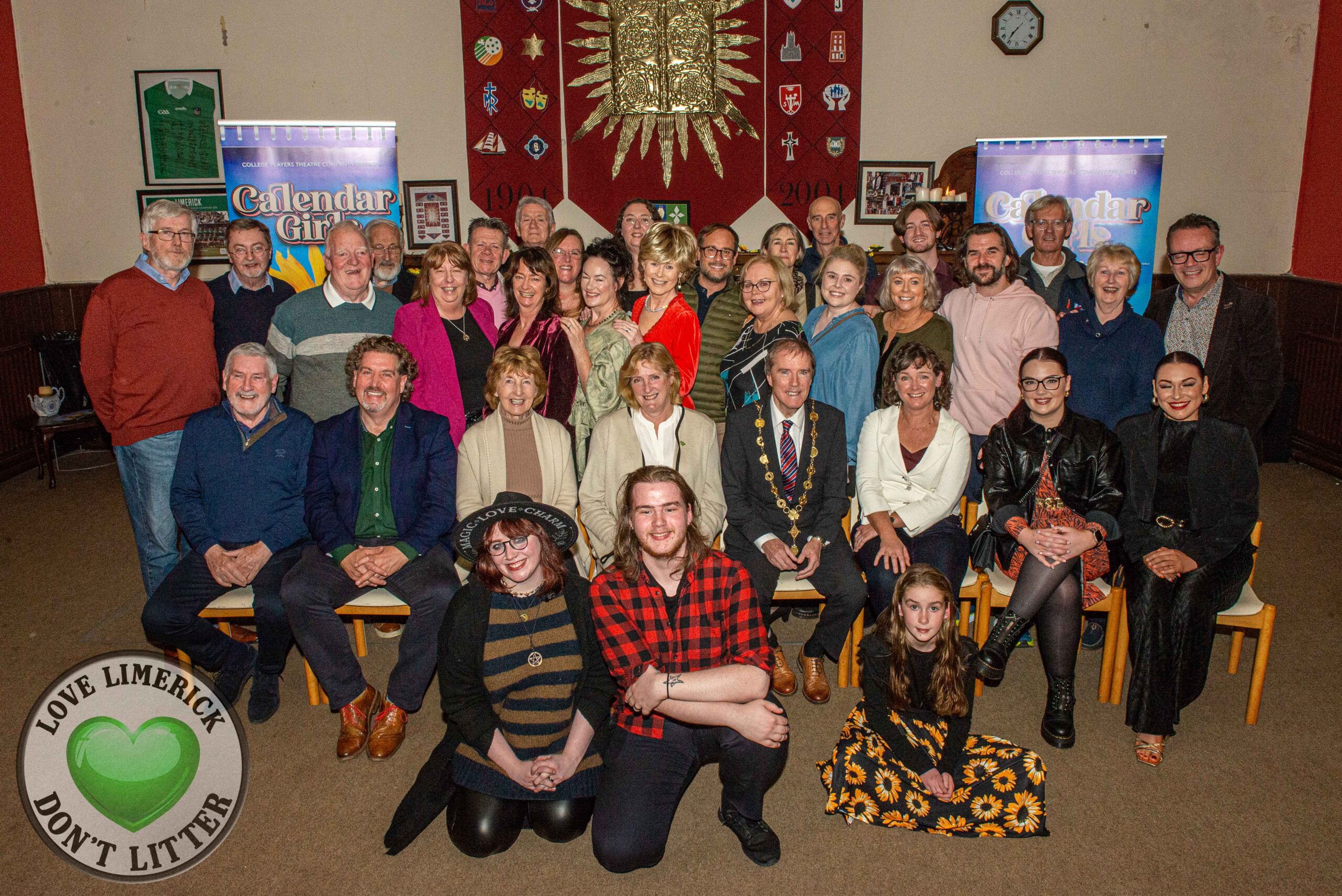 WATCH College Players Theatre Company returns to Lime Tree Theatre with Tim Firth's 'Calendar Girls', this November 8 to 11
Cast and crew and College Players young and old with Helen O'Donnell and Mayor of the City and County of Limerick, Cllr Gerald Mitchell who launched the Calendar Girls play which will be performed at the Lime Tree Theatre from November 8-1. – Picture: Olena Oleksienko/ilovelimerick
College Players Theatre Company has officially launched its Winter 2023 production. Tim Firth's glorious play, 'Calendar Girls' will be performed at the Lime Tree Theatre from Wednesday 8th November through Saturday 11th November (incl. Matinee on 11th Nov)
This year's production by Limerick's oldest theatre company will see well-known Limerick theatre educator, director & performer Nigel Dugdale, return to take the reins as director. Nigel is ably supported for this production by Joan McGary Moore as Assistant Director.
The company has assembled another quality cast for the 2023 production. Regular College Players cast members include well known faces such as Jessica Bray, Anna Maria Barrett, Evelyn Cosgrave, Deirdre Kiernan, Helen Christie, Pearl Kiely, Brian McNamara, Dan Mooney and Gary O'Hanlon. They are joined by Alicia Hayes, Caitriona Stack, Alison Coady, Gillian Hunt and James Corr, who each make their debut with the company.
Tim Firth's 'Calendar Girls' is the stage adaptation of his own script for the hugely successful 2003 movie of the same name, which starred Helen Mirren and Julie Walters. Based on actual events, it's an hilarious show, yet, full of poignant moments about friendship, determination, and hope, about loss and knowing when to let go.
When Annie's husband John dies of leukaemia, she, and best friend Chris resolve to raise money for a new settee in the local hospital waiting room. They manage to persuade four fellow Women's Institute members to pose nude with them for an "alternative" calendar, with a little help from hospital porter and amateur photographer Lawrence.
The news of the women's charitable venture spreads like wildfire, and hordes of national and international press soon descend on the small village of Knapeley in the Yorkshire Dales. The calendar is a massive success, but Chris and Annie's friendship is put to the test under the strain of their newfound fame.
"It makes you laugh; it makes you cry, and it leaves you feeling better about life than you did when you entered the theatre," The Telegraph
With a set designed by Gerry Lombard, costumes by Jacinta Florish, lighting design by Michael Finneran, props by Brid Finn, audiences can once again look forward to a quality-laden full-scale production for which College Players have gained a national reputation, over recent years.
Since they were founded in 1926, the College Players mission has been to bring exciting classical and modern theatre to home audiences and further afield. The company encourages, develops, and delivers artistic theatre experiences to local and regional audiences. In so doing, the Company has established a vivid presence in the cultural life of Limerick City and beyond.
Speaking at the launch of the November production of 'Calendar Girls', which was held at St. Josephs Parish Centre, Quinlan St., College Players Chairman Dave Griffin said, "We are delighted to be returning to the Lime Tree Theatre in November, after our hugely successful run last November. The company is once again blessed to be able to boast an experienced and talented cast, who we are confident, will give Limerick audiences another memorable theatrical experience.
"Welcoming this time into full director status we have our great friend & performer, Nigel Dugdale. Limerick audiences will know Nigel from his acting & singing reputation with College Players and many other companies, and also of late with the Live95 newsroom. We are also delighted to welcome back to the team, our great friend, actress and director, Joan McGarry Moore" who as Assistant Director, works closely with Nigel in coordinating such a large cast, crew and design group", he said.
College Players wish to show their particular appreciation for the critical support of John Hoare and his team at Punches Hotel, who have again been hugely generous in providing rehearsal and meeting facilities for the company throughout the production process. Also speaking at the launch, director Nigel Dugdale said, "It's a delight to be back again with College to direct, having had such a fantastic experience in 2022 with 'Pigtown'. And a joy to have such a superb local cast who have been so great to work with in the rehearsal room. And it goes without saying that I'm thrilled to be able to work with this fantastic story – one that should resonate with so many of you, and we can't wait to present it to live audiences.
"I would also like to acknowledge my assistant Director, Joan, and to be supported by an amazing production team who have dedicated so much of their time to realising the vision I have for this show. I believe we have the team, who together will deliver a stage performance that will delight Limerick audiences in November", he said.
Find out more here.
Read more College Players stories here.
Pictures: Olena Oleksienko/ilovelimerick