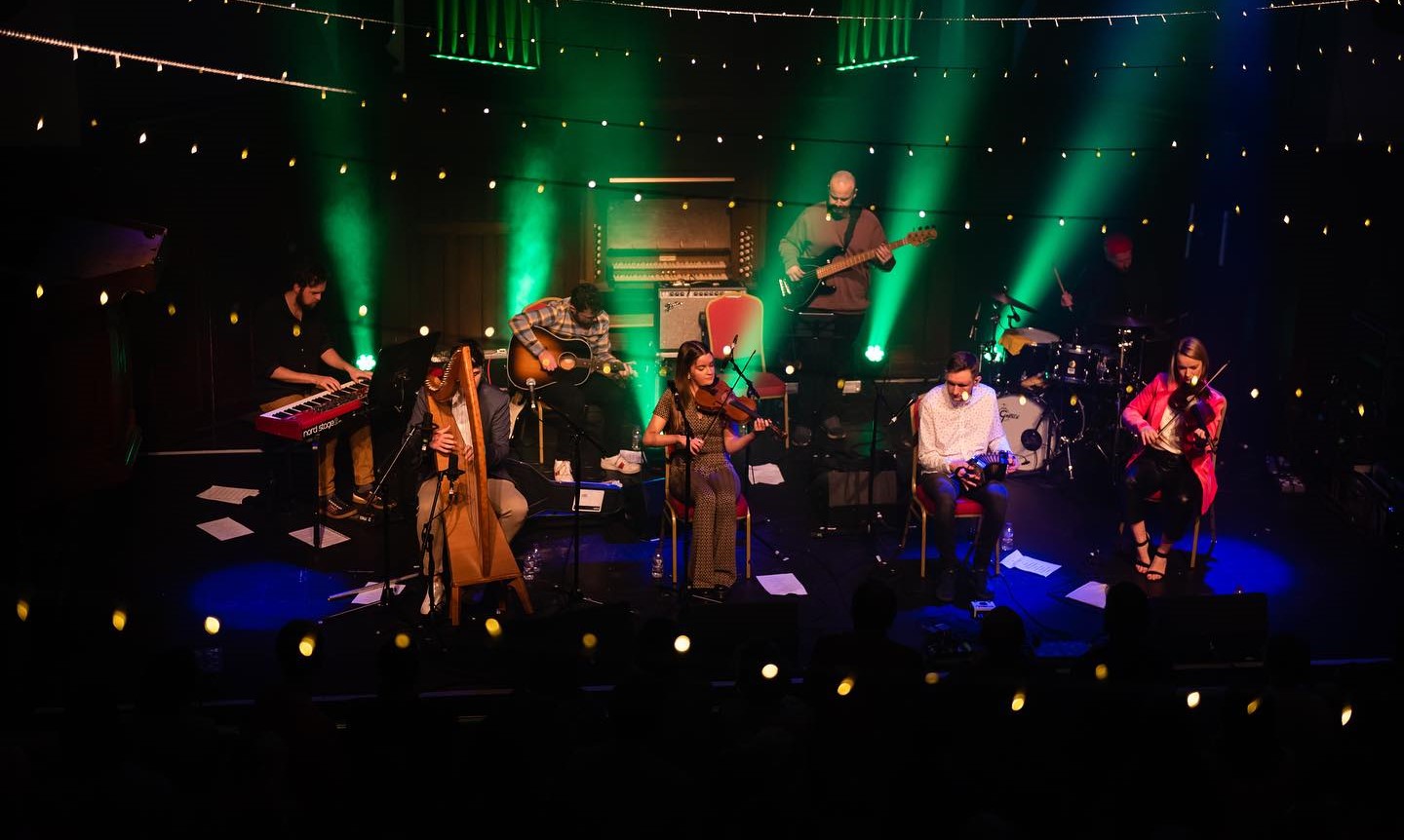 Contemporary trad group NOTIFY with Sean nÓs sensations Séamus & Caoimhe Ui Fhlatharta play Dolans Friday, November 24
Contemporary trad group NOTIFY and Sean nós sensations Séamus & Caoimhe Ui Fhlatharta pictured above join forces for a highly anticipated concert in Dolans Warehouse
Contemporary trad group NOTIFY will present a combination of melody and song appealing to listeners from all backgrounds, in particular trad, jazz, ambient & electronic
Contemporary traditional Irish instrumental band NOTIFY and Sean nós sensations Séamus & Caoimhe Ui Fhlatharta join forces for a highly anticipated concert in Dolans Warehouse, Limerick on this coming Friday 24th November. The concert is supported by the Arts Council | Traditional Arts, Touring Award.
The 8 piece line-up features Séamus & Caoimhe Ui Fhlatharta (sean-nós voice, harp, fiddle, flute), Pádraig Rynne (concertina, electronics), Tara Breen (fiddle), Davie Ryan (drums & percussion), Rory McCarthy (piano & rhodes), Hugh Dillon (acoustic & electric guitars) and Adam Taylor (bass).
Throughout the show Séamus & Caoimhe's intoxicating vocals take on different auras interchanging based upon the musical landscapes created by NOTIFY. Performing new compositions from NOTIFY's forthcoming album Airnéan, the concert presents a combination of melody and song which appeals to listeners from all backgrounds, in particular trad, jazz, ambient & electronic.
This collaboration first performed together in January 2013 in Ennis followed by a sell-out headline show as part of the world famous Celtic Connections festival in Glasgow, Scotland. The energy from these shows and affection shown by the audience encouraged both to continue the collaboration.
The idea of NOTIFY recording a new album originated during lockdown. Pádraig went about recruiting his favourite musicians from recent collaborations with the idea of creating music that would be uplifting and optimistic. With a love for Sean nÓs singing and always having a desire to collaborate with this genre, NOTIFY with Séamus and Caoimhe became the dream. Both acts have a desire to work with traditional forms of music where they can bring their own modern approaches, helping generate a new audience and inspire others to follow their creative desires with music.
Airnéan was recorded in March 2023 in Monique studios in East Cork. The album was produced by band members Pádraig Rynne and Davie Ryan and features all self-composed melodies by band members combined with old songs with a new approach sung by Séamus and Caoimhe. Celebrating 10 years since the formation of the band, producer of the 2013 album entitled "NOTIFY" returns as a guest musician for two tracks adding low whistle to La Grene and Uilleann Pipes to Arty's words.
Tickets are €22, but Dolans are offering a special 50% discount to students (student ID required at the door). Tickets can be booked online or on the door.
More info on Séamus and Caoimhe