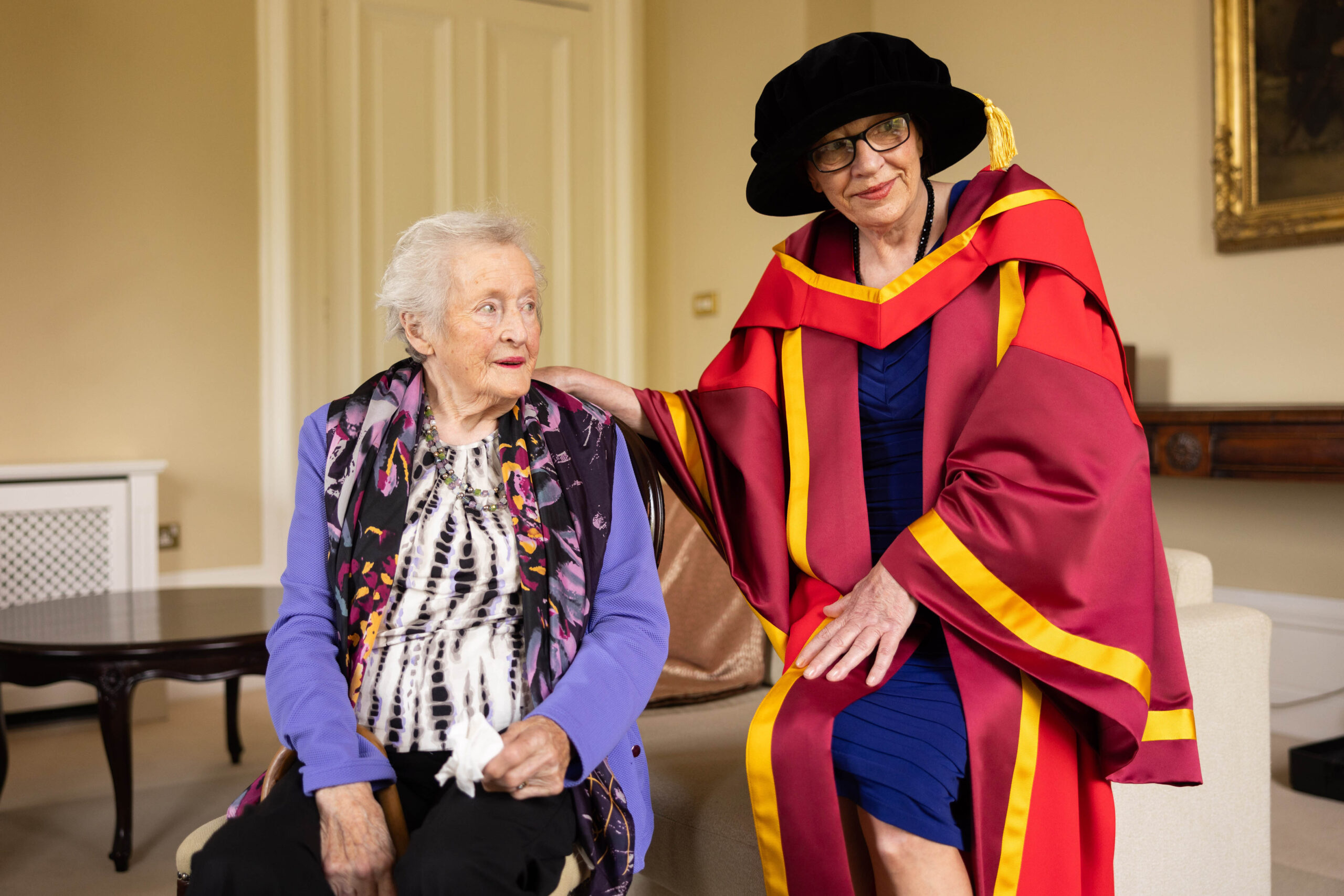 University of Limerick bestows honorary doctorates on trailblazing archaeologist and charity leader
Honorary doctorates from UL for archaeologist and charity leader. Maeve Lewis is pictured with her mother Bid Lewis at the honorary doctorates at the University of Limerick.
Trailblazing archaeologist and a leading advocate for survivors of sexual abuse receive honorary doctorates from UL
Archaeologist Rose Cleary and psychotherapist and Chief Executive Director of One in Four, the Irish charity supporting survivors of childhood sexual abuse, Maeve Lewis are being honoured for their outstanding contribution to society.
The recipients are joining 3,500 graduates being conferred at University of Limerick (UL) over five days as part of the 2023 Autumn Conferring.
"We are delighted to bestow the University's highest award to two honorary doctorate recipients today – an occasion that always greatly adds to the breadth and calibre of those we are privileged to count among our community," said Professor Kerstin Mey, president of UL.
"We are honouring trailblazing archaeologist Rose Cleary and a leading advocate for survivors of sexual abuse CEO of One in Four Maeve Lewis for their outstanding contribution to society.
"We do so to recognise the extraordinary contributions our honorary doctorates have made in their respective fields.
"Both of our recipients are leaders by example, and we are delighted that Rose and Maeve have both joined our roll of honour here at UL.
"I want to acknowledge their work, their dedication and their achievements in their respective fields and say that we are honoured to welcome you to the University of Limerick family as Dr Rose Cleary and Dr Maeve Lewis."
Meave Lewis, an alumnus of UL who graduated from University of Limerick (then NIHE) in 1979, said, "It is an incredible honour to receive this honorary doctorate – part of me can't believe that the University is giving me such an honour. It is wonderful to be here with my Mum and family and friends here today."
Asked what advice she would give to students graduating this week, Dr Lewis said, "Graduates today are facing problems that my generation didn't have to face, in particular climate change, dealing with AI – so what I would say to them is to be brave, be courageous, not to settle for a career but to find something that inspires them, excites them and where they really can make a change.
"I do believe they have the skills and the intelligence and the energy to find solutions to these huge problems that are threatening the human race."
Maeve Lewis who received an Honorary Doctor of Letters, grew up outside Nenagh in County Tipperary and is a practising psychotherapist who has dedicated her career to working for and with victims of sexual abuse and trauma.
As a human rights advocate, she has worked tirelessly to transform societal attitudes and has implemented programmes of support for victims and survivors across Europe and Africa.
Since 2008, as the CEO of One in Four – the only organisation in Ireland to work with survivors of child sexual abuse and their families, Maeve has led a team of professional psychotherapists and advocacy officers in developing a unique response to child sexual abuse.
As part of her work, Maeve also engages with policymakers at all levels and has been deeply influential in shaping recent Irish legislation relating to child protection and criminal justice.
Maeve's advocacy for some of the most vulnerable members of society extends beyond Ireland, and her contribution to the field of psychotherapy is internationally recognised. Having led on the design and delivery of trauma counsellor training in former Yugoslavia, Rwanda, and Sierra Leone following humanitarian crises and conflict, Maeve is one of only two Irish people to be an accredited expert witness at the International Criminal Court.
Rose Cleary who received an Honorary Doctor of Science is an archaeologist, author and academic who has dedicated 40 years of her life to unearthing, preserving and promoting the rich history and archaeology of County Limerick through her work at Lough Gur; the only site in Ireland where every age of humankind can be found.
Rose, from Burncourt in County Tipperary, has undertaken excavations at many internationally
significant prehistoric sites in the region and found over 1,000 visible monuments across the Lough Gur landscape. With findings ranging across the full spectrum of Ireland's history in Limerick – from Mesolithic, Neolithic, Bronze Age and Early Christian settlements to castles and tower houses, Rose's research has opened a window into the lives of the earliest settlers to Ireland.
With Lough Gur attracting over 110,000 visitors a year, Rose has been hailed for her contribution in putting Limerick on the map as a county of exceptional archaeological, historical, and cultural importance. She is also acknowledged as an important role model for women seeking gender equality in the field of archaeology, having been appointed as a senior archaeologist in University College Cork in the 1980s, a time when it was uncommon for women to hold such high positions.