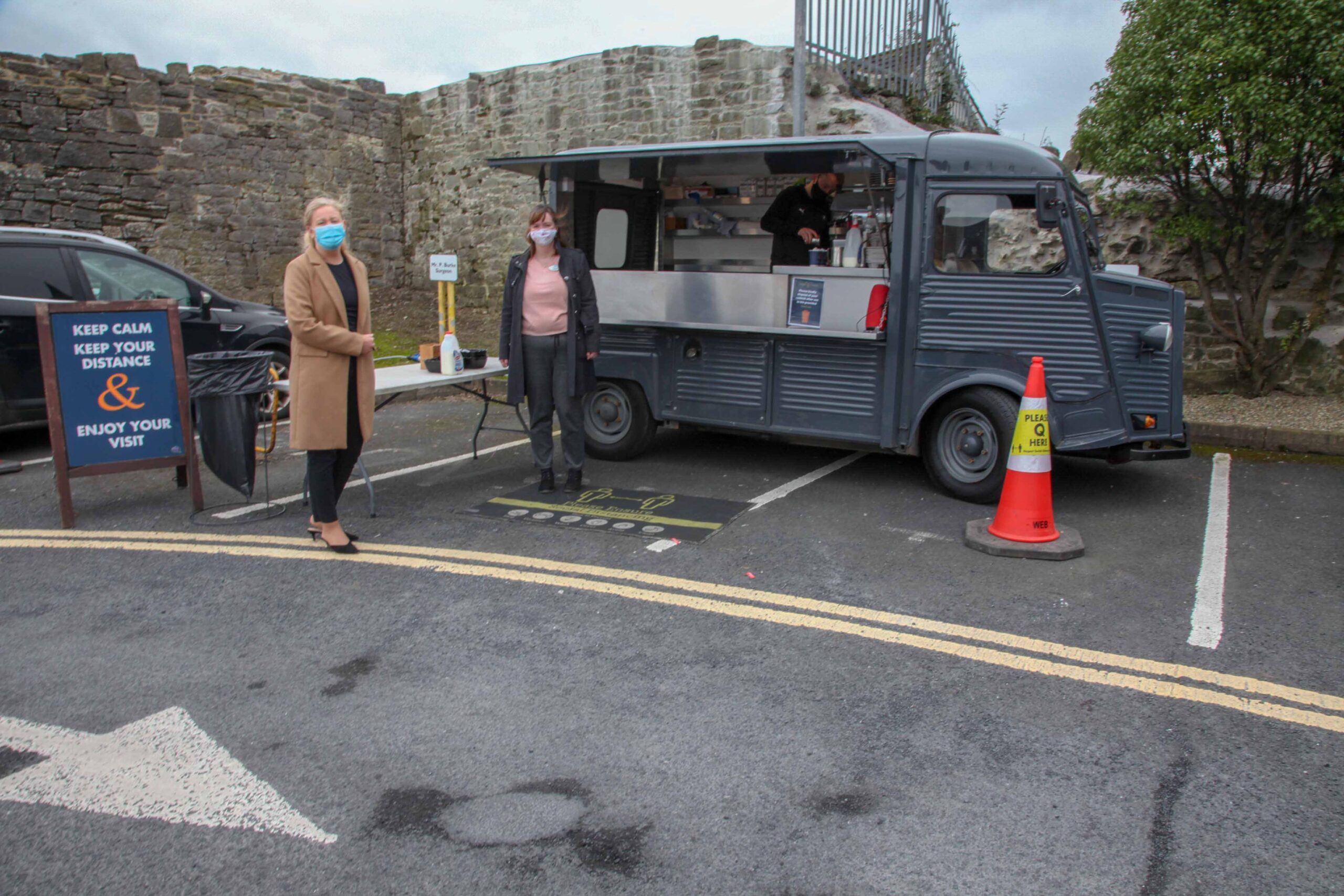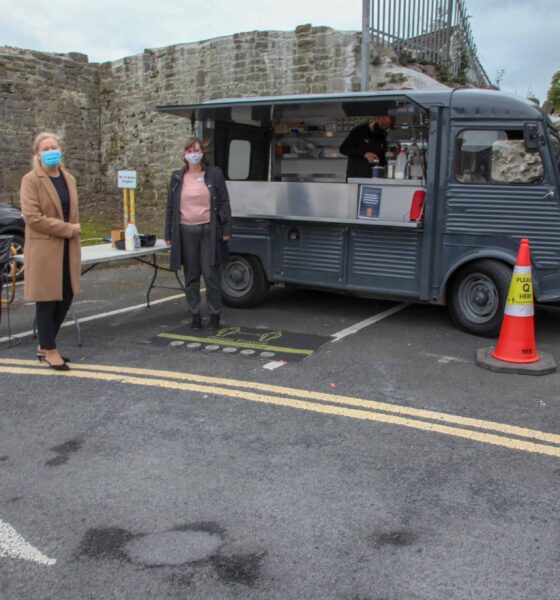 Hug in a Mug initiative offering free coffee to frontline heroes outside Limerick hospitals
Hug in a Mug – Staff of St John's Hospital pictured above enjoying their Hug in a Mug
Hug in a Mug initiative offering free coffee to frontline heroes outside Limerick hospitals.
Hook & Ladder, a family-owned and run cafe by Limerick locals Caroline and Oliver Moloney, have gone the extra mile for front-line staff during these uncertain times to bring a tiny bit of joy to their day.
Each Monday "HAL" the Hook & Ladder vintage coffee van has arrived at the main hospitals in Limerick – UHL, St Johns, Maternity Hospital, and Milford Care Centre to offer a "Hug in a Mug" and a friendly smile to front-line staff. Staff can choose from barista coffee, an H&L famous hot chocolate, or tea all free of charge. In addition to this since the start of the pandemic Hook & Ladder have offered all frontline workers from carers, nurses, paramedics, doctors & guards a complimentary hot drink in H&L locations – Sarsfield Street, Corbally, Castletroy and Dooradoyle, Shannon, and Waterford.
The 'Hug in a Mug' initiative has received amazing feedback on social media with frontline staff taking to the channels to show their appreciation for the treat. St. John's Hospital, Limerick took to Twitter to show their gratitude towards Hook & Ladder for their kind gesture.
A huge thank you to @hookandladder2 for treating all the frontline workers in St John's Hospital to a "Hug in a Mug" this morning. Your kindness is greatly appreciated by all staff and went down a treat! #KindnessMatters #frontlineworkers #heros #thankyou #staysafe #huginamug pic.twitter.com/bPdiqSu1Eg

— St. John's Hospital, Limerick (@StJohnsHospLmk) February 8, 2021
Hook & Ladder first arrived at Sarsfield Street in Limerick City in 2014, following this between 2015 and 2019, four more premises in Corbally Castletroy, Shannon and Dooradoyle opened and have joined the Hook & Ladder family.
Hook & Ladder have now over 110 people employed with the business and are committed to supporting local producers and suppliers, offering their support to people and in this case the frontline heroes, who need our kindness during these hard times.
Caroline and Oliver have seen first-hand how exceptionally difficult and challenging a job the front-liners are doing at the moment and felt they needed to be acknowledged. Caroline says, "it's a small gesture, what better way to recognise and say thank you, than to offer a Hook & Ladder service at their respective workplaces, they deserve it and deserve us giving them our time… a little happy distraction is what it should be about. I live by the motto "be a little kinder in life than you have to" it's nice to be nice and especially during these times!"
To read more of our stories on the frontline workers, click HERE
For more information on Hooker & Ladder, click HERE