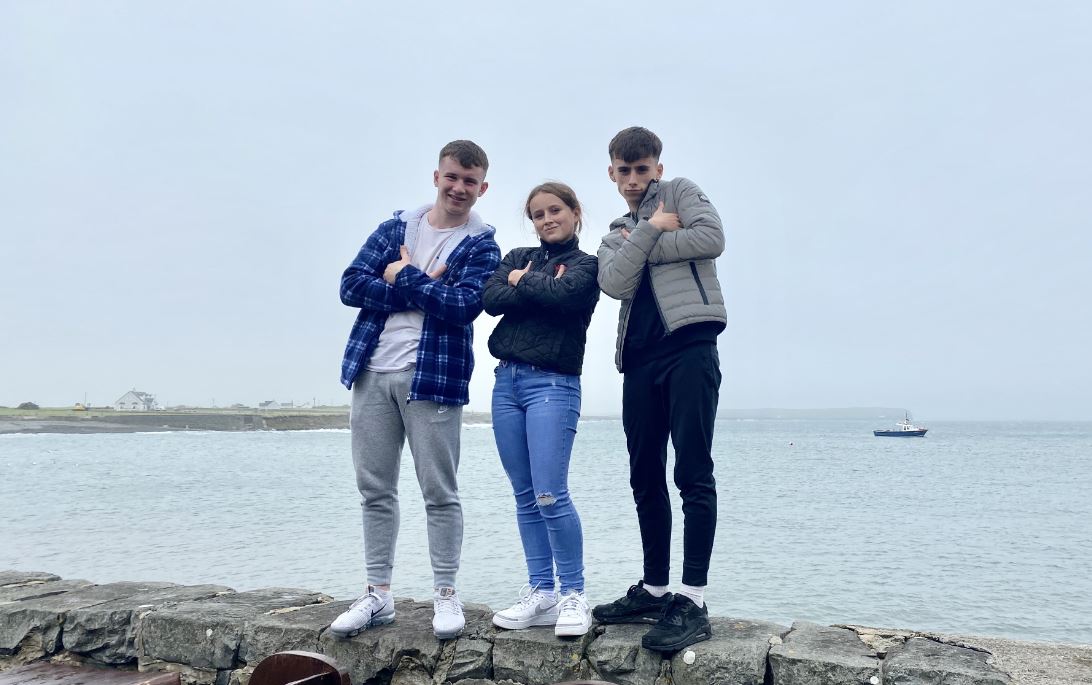 UPDATE: Jack Corbett Lynch raises over €1k for LauraLynn after taking the plunge at Kilkee Pier
Jack Corbett Lynch, pictured above with siblings Adam and Sarah, has organised a fundraiser in aid of LauraLynn
UPDATE: Jack Corbett Lynch raises over €1k for LauraLynn after taking the plunge at Kilkee Pier
Following his dip at Kilkee Pier on Sunday, December 19 at 9am, Jack Corbett Lynch, along with his family, raised over €1k for LauraLynn.
Over €600 was raised through his Facebook donation page and over €400 was raised through his JustGiving campaign.
"It was baltic, but worthwhile because it was for a good cause! Lauren Lynn provides so much support for young people in need of hospice care," Jack said.
"We were delighted with the donations from Limerick and the local support in Kilkee, some people came down to the pier to donate and Hollys Café offered us hot chocolate to warm up."
His brother Adam said, "Once you're in, it's grand, over 300 people all across Ireland did the very same and took part to raise funds. It's a big fundraiser for Laura Lynn, it made it easier to get into the water with family and friends to encourage us."
Well done @jackclynchmusic @sarahcorbettly1 Adam, Dave, Evan & Hugh. Thank you for all the donations #teamlauralynn pic.twitter.com/wtNfqhEuk1

— Tracey Corbett Lynch (@Lynchtr5) December 19, 2021
Jack Corbett Lynch is taking the plunge at Kilkee Pier in aid of LauraLynn
By I Love Limerick Correspondent Ann Mc Donald
Jack Corbett Lynch is raising money for LauraLynn by taking a dip at Kilkee Pier on Sunday, December 19 at 9am.
17-year-old Jack is a fifth-year student in Mungret Community College, and he, alongside his sister Sarah, 15, recently qualified as a lifeguard after training over the summer.
The family, which also includes Adam, 20, and Dean, 30, all like to volunteer, and Sarah recently donated the second print run of her book, 'Noodle Loses Dad', for free, with help from Adam.
With father Dave's birthday coming up, he asked that his children donate to LauraLynn rather than buy him gifts. His niece, Tara, passed away many years ago, and the family was touched after hearing the story of Muireann O'Flaherty, who passed away recently at only 5 years old, and was cared for and supported by LauraLynn.
The Corbett Lynch family were deeply moved by the story of Muireann and her family, with mother Tracey saying, "It's every parent's worst nightmare to lose a child."
"Their family was a similar size to ours and her life story just touched us. It made us all consider how many children and their families were in need of this service. Their Christmas appeal is LauraLynns biggest fundraiser," Tracey explained.
So proud of @jackclynchmusic please donate if you can to such a worthy cause @LauraLynnHouse @ilovelimerick #love ? We ll all be sipping in the sea at Kilkee on 19th December ? https://t.co/xmWhceEcuJ

— Tracey Corbett Lynch (@Lynchtr5) November 29, 2021
In order to raise funds for the amazing charity, Jack decided to organise a fundraiser for LauraLynn with his siblings and Dave to take a dip in Kilkee Pier on the morning of Sunday, December 19.
"I'll be freezing, but it's just a bit of water, and for a very good cause," Jack said, and the family is looking forward to raising funds for the charity.
"We are just really proud of them all. We always are, it's a nice thing to do at Christmas. We are proud they understand the importance of giving and kindness," Tracey and Dave said.
For 10 years, LauraLynn has provided palliative care and support for children with life-limiting conditions and their families. They provide symptom management, planned short breaks, emergency and end-of-life care, family supports, and bereavement care. The charity receives €1.5m as core state funding, but this only covers approximately 30% of the hospice's running costs, leaving the charity to rely on public support to fund their hospice services.
"Life is so fragile and precious, and LauraLynn helps ease the burden of families at the very worst time in their lives," Tracey said.
"Jack put it best when he said, 'We should all do something to make lives better especially at Christmas time.'"
To donate to Jack's fundraiser for LauraLynn, go HERE
For more stories about charity go HERE