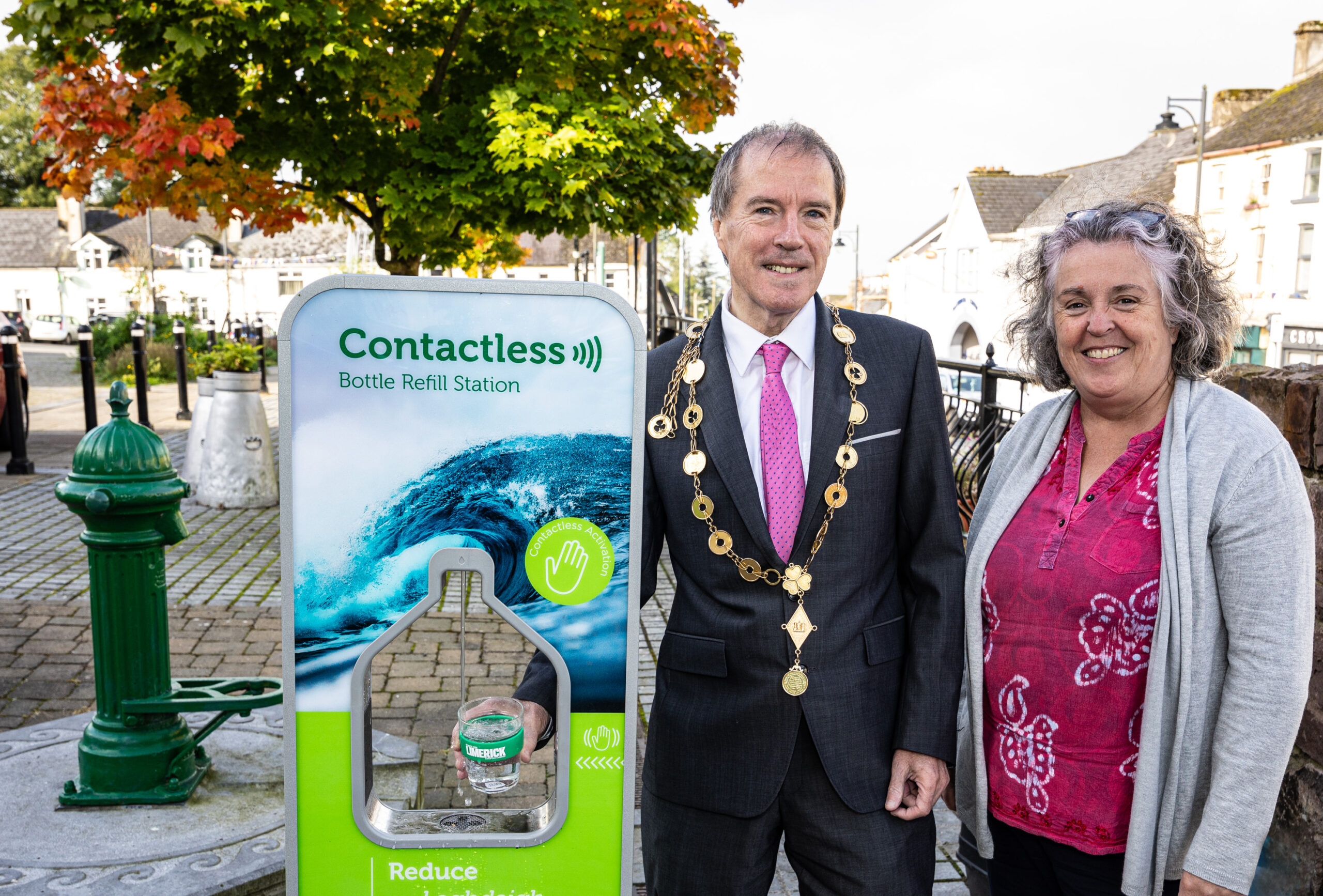 Limerick launches three new public drinking water fountains for National Sustainable Development Goals Week
Cllr Gerald Mitchell, Mayor of the City and County of Limerick and Sinead McDonnell, Enviroment Awarness Officer, Limerick City and County Council launched the Drinking Water Fountain in Kilfinane with the support of CLAR funding and the Department of Rural and Community Development with Fountains in Galbally,Doon and Feenagh as well as Kilfinane. Picture: Keith Wiseman
Limerick City and County Council has completed the installation of new public drinking water fountains at Doon, Galbally and Kilfinane in County Limerick
The fountains are funded by the Department of Rural and Community Development under CLÁR. A fourth will come on stream in Feenagh Town Park in the coming weeks.
Mayor of the City and County of Limerick, Cllr Gerald Mitchell is welcoming the additions to Limerick's public drinking water network.
"Drinking water fountains make drinking water freely available to citizens. They increase the opportunity for Limerick citizens and visitors to use reusable bottles helping to prevent the use of single-use plastic bottles. 
"I am delighted that Limerick City and County Council and the communities in Galbally, Doon, Kilfinane and Feenagh have come together to increase the provision of public drinking water infrastructure in County Limerick with the support of CLÁR funding."
The installation for the contactless public drinking water fountains is in line with the national and regional policy on waste prevention and the United Nation's Sustainability Development Goals, particularly Goal 12: Responsible Production and Consumption.
These new Contactless Public Drinking Water Fountains add to the existing network of fountains previously funded under the Local Authority Prevention Network, Healthy Ireland programme and the European Green Leaf Award Fund and by other organisations in Limerick. (See list below.)
Local Tidy Towns Group of Kilfinane, Doon, Galbally and Feenagh have confirmed that the drinking water fountains and the savings of single use plastic bottles will be included in their Tidy Towns applications for 2024 under the 'Sustainability Doing More with Less' category.  
Public drinking water fountains can be found in Mungret Park, Peoples Park, Newcastle West Demense,Lough Gur Heritage Park, Milk Market, Limerick City,Adare Library, Kilmallock Library, Merchant's Quay, Limerick City, Abbeyfeale Square, and Athea.
CLAR Funded fountains include Galbally, Kilfinane, Feenagh, and Doon, with the Limerick Greenway having fountains in Ardagh, Rathkeale is due to come on stream on 23 November, and others are expected to be installed in the longer term.
Glin Community Council also have publicly available potable water in the Glin Town Park and in a nearby carpark, and Irish Rail's Colbert Station in Limerick has free water filling stations.