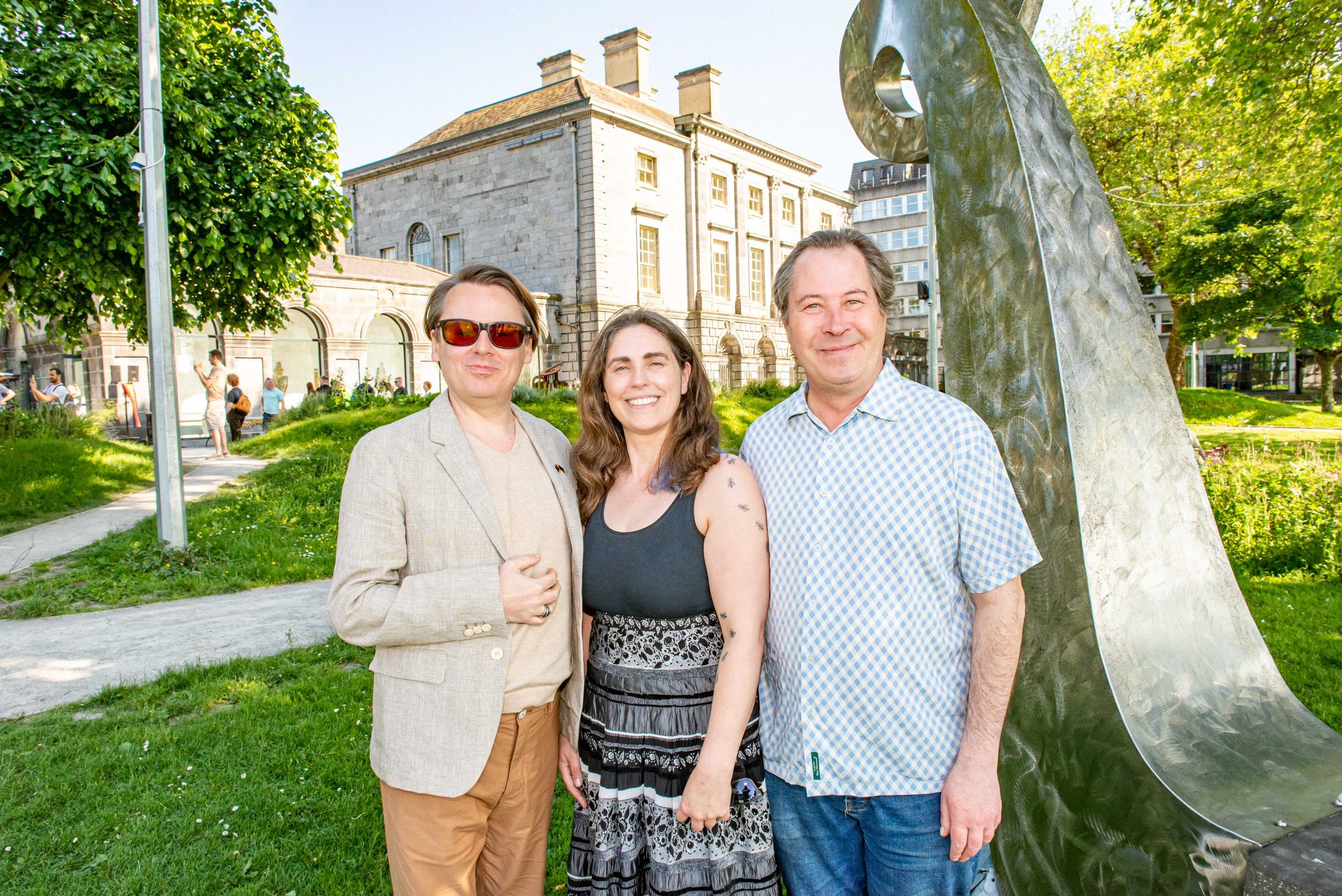 30 Years of Queer History to look at the 30 year anniversary of decriminalisation of homosexuality in Ireland
30 years of Queer History with historian Sharon Slater and Adam Long of the National LGBT Federation, and Limerick actor and playwright Myles Breen. Picture: Olena Oleksienko/ilovelimerick
'30 Years of Queer History' at the Hunt Museum on Tuesday, July 4, at 6 pm will see speakers discuss 30 year anniversary of the decriminalisation of homosexuality in Ireland
As part of Limerick LGBTQ Pride 2023, '30 Years of Queer History' at the Hunt Museum on Tuesday, July 4, at 6 pm will see speakers discuss 30 year anniversary of the decriminalisation of homosexuality in Ireland and hear from a Limerick actor and playwright about their personal story and experiences.
This Pride month marks the 30th anniversary of the decriminalisation of homosexual acts between men in Ireland and Limerick Pride wanted to acknowledge this through the theme of this year's festival: 'United in Solidarity'.
The 30 Years of Queer History event features a discussion with historian Sharon Slater and Adam Long of the National LGBT Federation, about the 30-year anniversary of the decriminalisation of homosexuality in Ireland.
Local historian, Sharon Slater said the decriminalisation was "absolutely massive" for LGBTQ rights, she said, "You have to consider how long it took to get to that point, and how many people lived in the shadows at that point and what we could develop from there. We wouldn't be able to leap to where we are today without that decriminalisation in the first place."
Speaking about the Marriage Equality referendum, Sharon noted, "We wouldn't have gotten there without decriminalisation, we would still be where we were."
Adam Long added, "I think Sharon is correct, decriminalisation was kind of the gateway, which is important in itself, but it meant that we could subsequently have equality legislation, marriage equality, and so many of the other gains. Of course, we were late to that, and it was Senator David Norris, a great senator, who really led that, the European Court of Human Rights really vindicated us."
Speaking about the importance of the movement, Adam said, "We see in other parts of the world, Uganda for example, parts of America culturally similar, where there's a real attack now again on our rights, so we can never be complacent and that's what our Pride movement is first and foremost about. It really is about honouring the legacy of progress and those who went before us, and guiding us as we go forward."
Limerick actor and playwright Myles Breen will tell his own personal story about his experiences before and after this landmark moment in LGBTQAI rights.
Speaking about the event and the theme of this year's Limerick Pride, Myles Breen said, "It's mad to think that it is 30 years, but it's also mad to think about at the time how late it was. So in one sense, it's kind of like it's great to celebrate that 'that finally happened', also we can complain about how long it took. But also, looking around the world, we may have got that, there are some other issues around the world and other topics to discuss as well. I'll leave it at that."
Register for the event here.
Read more about this year's Limerick Pride Festival here.
Pictures: Olena Oleksienko/ilovelimerick