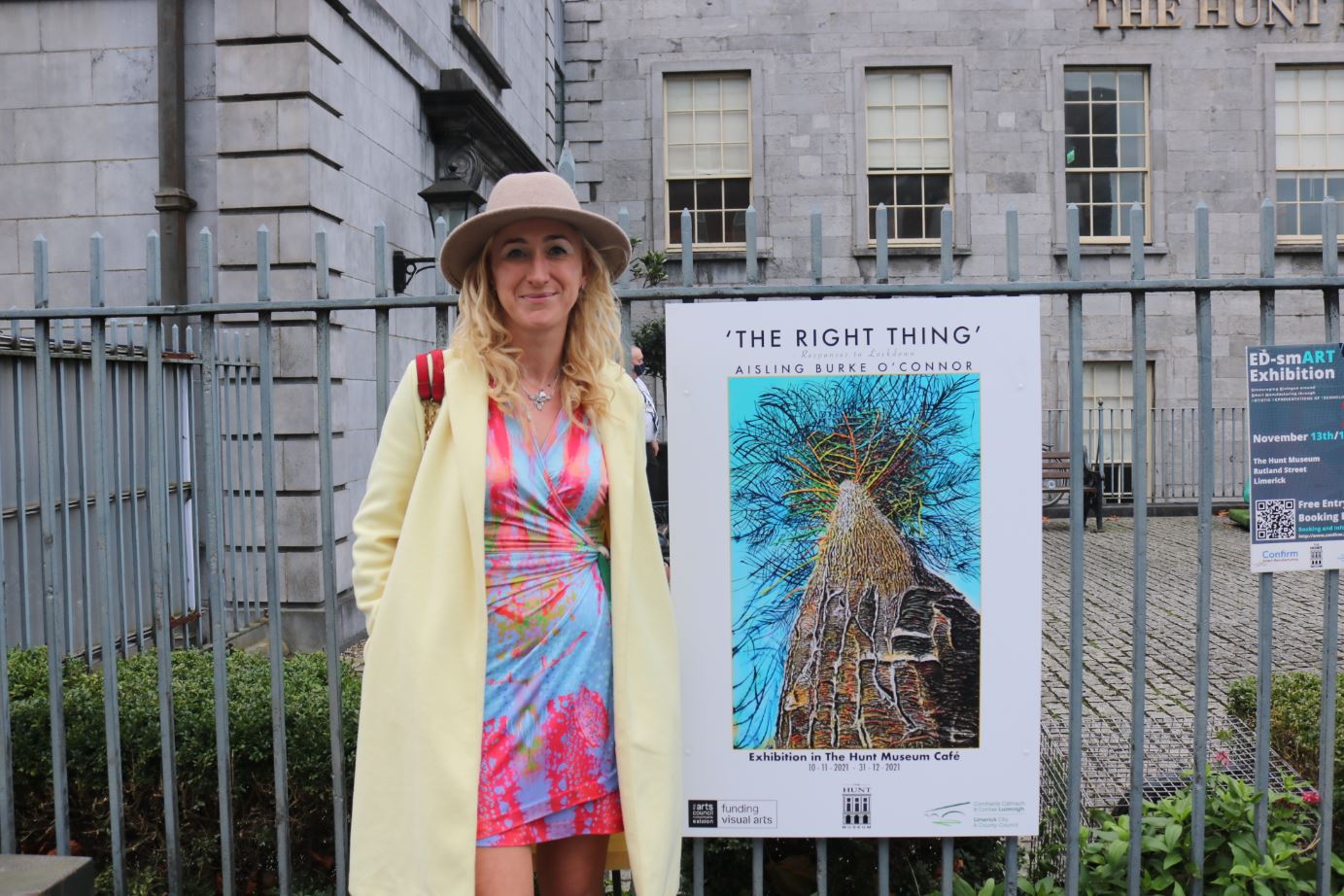 'The Right Thing,' an exhibition by artist Aisling Burke O Connor, is in The Hunt Museum Café until Christmas Eve 
Aisling Burke O Connor with a poster for her exhibition 'The Right Thing' outside The Hunt Museum
'The Right Thing,' an exhibition by artist Aisling Burke O Connor, is in The Hunt Museum Café until Christmas Eve
By I Love Limerick Correspondent Ann Mc Donald
'The Right Thing – Responses to Lockdown,' an exhibition by Limerick visual artist Aisling Burke O Connor, is in The Hunt Museum Café until Christmas Eve.
'The Right Thing' is a series documenting the duality of existence as an artist and mother during and coming out of the pandemic.
"The aim of the series is to communicate through my paintings, using textures, patterns, colour and interlocking shapes the duality of the universal energy of the current living experience," Aisling explained.
'The Home' gives indoor energy which communicates feelings of exhaustion, overcrowding, frustration, suffocation, love, and teaching. This transitions to 'The Outside,' which communicates feelings of vigor, space, and nature. These artworks are a response to the current emotions and realities of life unseen before now.
Her powerful artworks have a magical way of getting Aisling's feelings across to the viewer even though no words are said.
Her work, 'The Right Thing,' which the exhibition is named after, was created by using acrylic paint on linen fabric, which is a technique she uses in many of her artworks.
"My work aspires to promote wellness in the viewer through communicating the fluency of fractal patterns I see and feel in nature using textures to stimulate the viewers sensory perception. The enigmatic nature of my work and absence of figurative invites the viewer to enter into their own sensory journey," Aisling said.
Aisling explained that she has early memories of feeling what she saw and trying to reproduce those feelings through textures and colour.
"I am perceptive, emotional, engaging, passionate & dedicated. My gut drives my creativity," she said.
Her inspiration comes from her love of textures, interlocking shapes, laws of nature, music, harmony, symbolism, and patterns.
Aisling is a Limerick native and a proud past pupil of Limerick School of Art and Design.
The exhibition will be available to view in The Hunt Museum Café until Friday, December 24.
For more about Aisling Burke O Connor go HERE
For more stories about art go HERE