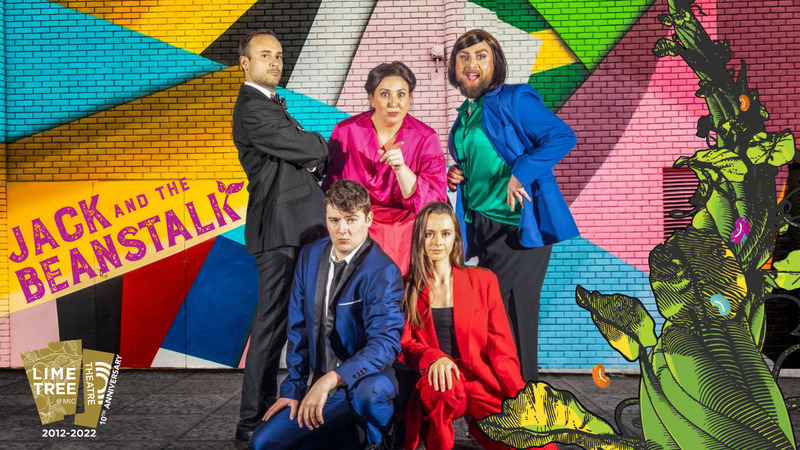 Lime Tree Theatre presents Jack and The Beanstalk panto running Dec 9 2022 – Jan 8 2023!
Jack And The Beanstalk 2022 stars Nigel Dugdale, Jessica Bray, Aidan Crowe, James Corr and Eleanor O'Brien running at the Lime Tree Theatre from Dec 9 until Jan 8 2023. Picture: Ken Coleman
Written by Mike Finn, Directed by Michael Finneran, with the voice of Pat Shortt as the giant
Christmas without a panto is like Summer without ice cream, Easter without eggs or Halloween without witches. For its inaugural homegrown panto the folks at the Lime Tree Theatre have chosen the evergreen Jack and The Beanstalk panto to light up the stage this Christmas.
Lime Tree Theatre officially opened back in October 2012 and they are delighted to be celebrating our 10th anniversary this year. As part of these celebrations writer Mike Finn and director Mike Finneran have joined the team to bring a brand new pantomime to the stage of the Lime Tree this December.
The Jack And The Beanstalk 2022 is their most ambitious project yet with 32 shows scheduled with a professional Limerick cast, with plenty of familiar faces!
Louise Donlon, Director of Lime Tree Theatre | Belltable said, "it is hugely exciting to be returning to presenting big, home grown shows like the annual pantomime, in our 10th anniversary year. The show will feature a whole new cast recruited from within the large and enormously talented pool of performers in Limerick and its environs. Open auditions will take place in the early autumn – subscribe to our newsletter to be sure you hear all about that when the time comes!"
What with Brexit, inflation and not being allowed to sell turf, Jack and Jack's mammy find themselves financially embarrassed. There's nothing for it but to sell their only cow, Milky White. When Jack swops the bovine beauty for a handful of beans, mammy is furious, but when a beanstalk taller than Paul O'Connell appears in their garden, the adventures are only starting. Will the end justify the beans? Find out at the Lime Tree this December.
With fifteen previous panto scripts to his credit, Mike Finn returns to the genre with a sparkling story full of magic and surprises while Michael Finneran directs an all-star local cast in an all-singing, all-dancing extravaganza for the entire family.
Michael Finneran said, "I'm hugely excited to have been asked to lead the inaugural Lime Tree Theatre panto 'Jack and the Beanstalk'. It's an opportunity to bring a vibrant and exciting new version of the story to the people of Limerick this Christmas season, and an opportunity to work with fantastic artists in the region. We're especially proud that we will have the opportunity to work with emergent performers to help them make their way in the professional ranks and play our part in developing a sustainable and thriving theatre ecology in the mid-West"
If you want a few hours of fun with the entire family this is the Christmas panto for you!
Please note during the run they have one signed performance on Sunday, December 18 at 2.30pm and one relaxed performance on Friday, December 30 at 2.30pm.
What is a signed performance?
Signed performances are aimed at people who are Deaf or Hearing Impaired. A trained describer will stand to one side of the stage on Sunday, December 18 at the 2.30pm performance to interpret the script for audiences.
What is a relaxed performance?
A relaxed performance is where the ambience of the auditorium and theatre 'rules' are relaxed. The performance on Friday, December 30 will be ideal for people with additional needs including those who have ASD or anyone who would benefit from a more relaxed environment. Please be aware the performance will have:
– Soft lighting in the auditorium throughout the show.
– The band volume will be at a lower level than normal throughout this performance.
– A 'chill-out' room where you and the people you come with can go to if they need quiet time during the show.
JACK AND THE BEANSTALK BOOKING DETAILS:
Preview: Friday, December 9 at 7.30pm
Opening: Saturday, December 10 at 7.30pm
Running until Sunday, January 8 2023 at 2.30pm.
Ticket prices: Adults €26 / Concession €22
Family €90 / Schools €15
To buy tickets to Jack and the Beanstalk 2022 go HERE
For other panto stories go HERE