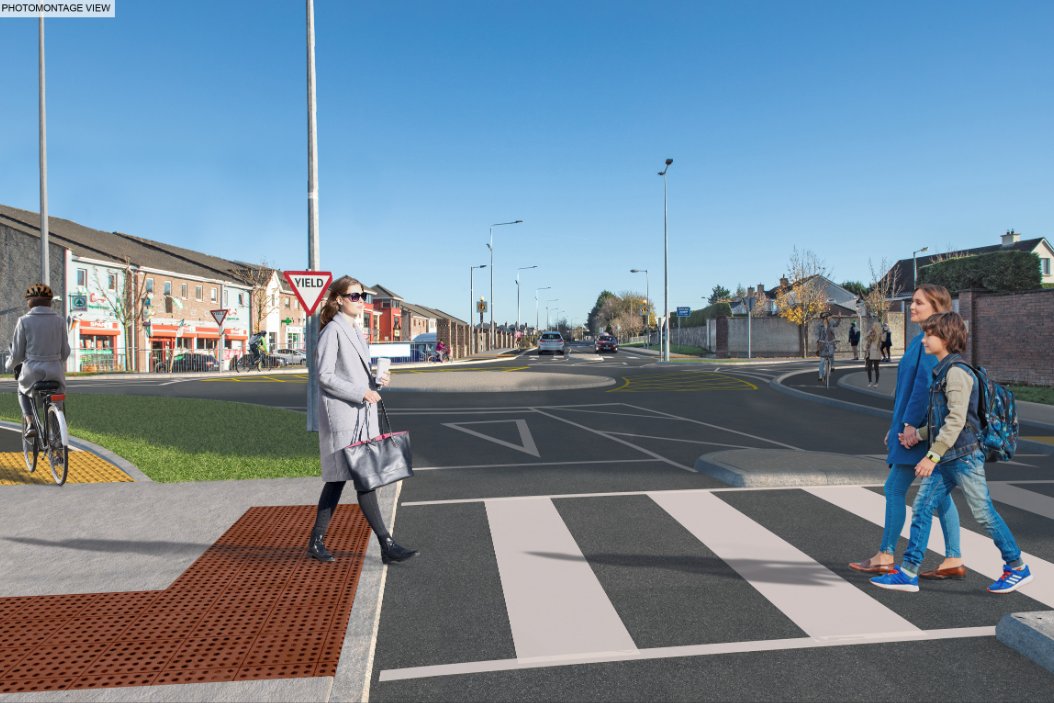 €10million funding for 70 Limerick Active Travel schemes from National Transport Authority
Limerick Active Travel schemes – Work is already underway on footpath projects at a number of locations including Kennedy Park, Irish Estates and the Regeneration Area of O'Malley Park, Southill
The money will be spent on new footpaths, new pedestrian crossings and making junctions safer
More than 70 different Limerick Active Travel schemes, ranging from new footpaths and pedestrian crossings to greenway connections and junction tightening, have received funding approval from the National Transport Authority in recent weeks.
More than €10m has been allocated to the Limerick Active Travel schemes that will improve connectivity for communities in the city and county. This latest tranche of approvals is part of an overall allocation of more than €24m for Limerick Active Travel schemes in 2022.
Work is already underway on footpath projects at a number of locations including Kennedy Park, Irish Estates and the Regeneration Area of O'Malley Park, Southill.
Brian Kennedy, Director of Transportation and Mobility with Limerick City and County Council said: "The vast majority of these schemes are designed to benefit pedestrians across the city and county. The addition of new and upgraded footpaths along with more pedestrian crossings will make it easier and safer for thousands of citizens to get to their destinations in a sustainable way. The Active Travel team at Limerick City and County Council is working closely with our partners in the NTA to deliver these improvements as quickly as possible."
Sean McGlynn, Senior Engineer with Active Travel said: "Our teams are already on the ground delivering on a number of these schemes and we will have more of them underway in the coming weeks. The allocation of more than €10m from the NTA for these works means we can deliver Active Travel improvements for a large swathe of citizens across Limerick."
List of Limerick Active Travel schemes Limerick Active Travel schemes Limerick Active Travel schemes to receive funding approval
Metro Area – New Footpaths
| | |
| --- | --- |
| Scheme Name | Details |
| Lisnagry National School | Proposed works comprise installation of footpath/cycleway extension from its terminus south of the mini roundabout to the school gate.Install speed ramp for road users crossing the road from the eastern footpath/cycleway and install flashing signage on approach to the school. |
| Lower Park Rd to Rhebogue Hill Footpath Link | Proposed works comprise installation of 238m of footpath. |
| School Road Lisnagry Footpaths | The scheme comprises installation of 430m of footpath and installation of public lighting. The scheme is located on the L-11062-2 in the environs of Lisnagry. |
| Scoil Spioraid Naoimh Footpaths | The scheme comprises installation of 800m of footpath, installation of public lighting along this section of carriageway. |
| Ballykeefe Roundabout Footpath | The scheme comprises installation of approximately 250m of footpath around Ballykeefe roundabout. |
| Castleconnell National School Footpaths | Proposal is to construct a footpath in front of Castleconnell National School. |
| Drombanna Footpaths | The proposed scheme comprises the installation of 360m of footpath, installation of public lighting along this section of carriageway. The scheme is located on the R-512 in the environs of Drombanna. |
| Garryowen Green Footpaths | The scheme comprises installation of 250m of footpath along this section of green area. |
| Rosbrien Road Footpaths | Scheme comprises installation of 800m of shared cycle/pedestrian path, installation of public lighting along this section of carriageway. |
| Ballybrown Church to School | Scheme comprises a footpath (approx. 300m) from the church to the school. |
Metro Area Asset Renewal (Footpaths)
| | |
| --- | --- |
| Scheme Name | Details |
| Bengal Terrace Footpath Refurbishment | The scheme comprises installation of 80m of 2m wide footpath. |
| Clarina Footpath Refurbishment | Refurbish the footpath entering Clarina village from Mungret. |
| Collins Avenue / O'Malley Park Footpath Refurbishment | The scheme comprises installation of 410m of footpath along the R511 Collins Avenue/ Lilac Court. |
| Dooradoyle Footpath Refurbishment | The scheme comprises installation of 415m of footpath along the Mulcair Road from Avonmore Road to Ryan's Foodstores. |
| Farranshone Footpath Refurbishment | The scheme comprises installation of 600m of footpath refurbishment in Farranshone / Belfield Court. |
| Irish EstatesFootpath Refurbishment | The scheme comprises installation of 700m of footpath in Corbally on Lanahrone Avenue. |
| Kennedy Park Footpath Refurbishment | The scheme comprises installation of 700m of footpath within Kennedy Park housing estate. |
| New Street Footpath Refurbishment | The scheme comprises installation of 500m of refurbished footpath along this section of carriageway. The refurbishment works will be concentrated along the section of roadway which links Mary Immaculate College and Punches Hotel which is now student accommodation. |
| Roseville / Park Gardens Corbally Footpath Refurbishment | The scheme comprises installation of 750m of refurbished footpath in Corbally in Roseville Gardens and Park Gardens. |
| Wolfe Tone Street Footpath Refurbishment | The scheme comprises installation of 550m of refurbished footpath along Wolfe Tone Street linking the R527 and R858 in the city. |
Metro Area – Asset Renewal (Cycle Tracks and Greenways)
| | |
| --- | --- |
| Scheme Name | Details |
| Cycle Lane on the R526 | Provide stone to field entrances to minimise mud soiling and kerbing in 60kph sections to provide protection to cyclists. |
| | |
| Kennedy Park Widen and Upgrade Cycleway | The scheme comprises widening of 400m of cycleway connecting Childers Road Cycle Path to Roxboro Road via the Kennedy Park green area. |
| Red Path Upgrade Cycle Ramp to Athlunkard Bridge and Link to Spring Grove | Provide cycle ramp adjacent to steps up to Athlunkard Bridge, provide cycleway link from Spring Grove to Red Path. |
| Widen and upgrade Cycle Way Clare Street to UL Boat Club | Widen and refurbish the Canal Bank / Shannon Bank Cycle way to connect Locke Quay to UL Boathouse. |
| Baggot Estate Upgrade Cycleway | Scheme comprises a new combined cycleway/footpath (approx. 440m) with public lighting linking into the existing cycle path network in Baggot Estate, connecting Dooradoyle Road to Rosbrien Road, providing access to Dooradoyle Shopping Centre and onward to the hospital. |
Cappamore-Kilmallock MD – Minor Footpath Schemes
| | |
| --- | --- |
| Scheme Name | Details |
| Marian Terrace Galbally | Scheme comprises new section of public footpath to connect to existing footpath on the R663. Restoration of 150 m of existing footpath along the R663 and construction of a new pedestrian crossing thereby completing a walking route of 1km between the estate and Galbally village. |
| Herbertstown Phase 1 | This scheme will complete a walking and cycling route in the village of Herbertstown – these works will facilitate the creation of a 0.9km long route within the village of Herbertstown and will create a link to the National School, GAA Field/Soccer Field and village. |
| L1133 Cappamore | Provision of new footpath, drainage, public lighting, boundary wall to provide a safe walking route connecting residents on the L1133 to Cappamore Village. |
| Bruff – Ardykeohane | Construction of new footpath in addition to the replacement of existing public footpath along the R516 Hospital Road into Bruff. |
| L1135 Pallasgreen | Installation of public lighting and upgrade footpath on L1135. |
| L5048 Old Pallas | Provision of new footpath and public lighting to connect existing housing to the village. |
| Knocklong | Scheme comprises 500m of new footpath along the L8520 which connects from the R513 into the GAA club. |
| Elton | Provision of 650 meters of new public footpath and restoration of 100 meters of existing public footpath in Elton connecting the village to the Soccer Field, Housing Estate and Ribbon Development along the R515. |
Adare-Rathkeale MD – Minor Footpath Schemes
| | |
| --- | --- |
| Scheme Name | Details |
| Banogue Pedestrian Route Upgrades | Upgrade paths along route to required standards to create connectivity to Church and School. |
| Cappagh Village | New Pedestrian Crossing at National School.Footpath connectivity between National School & Church, public lighting etc. |
| Crecora Village to GAA Pitch | Connect village centre to GAA Pitch with new Footpath & associated public lighting upgrades. |
| R518 Holycross to Kyletaun | Upgrade existing Footpath & drainage. |
| Adare Pedestrian Linkage and Upgrades | Upgrade to paths along Station Road and Riverbank route. |
Newcastle West MD – Minor Footpath Schemes
| | |
| --- | --- |
| Scheme Name | Details |
| Athea Village Footpaths | Refurbishment of existing footpaths. |
| Knockane Lower and Bóthar Buí, Newcastle West | The creation of footpaths along Bóthar Buí and Knockane Lower. |
| L1324 Tournafulla | Refurbishment of footpath along the main street. |
| Mountcollins Village Footpath | New footpaths and refurbishment of existing footpaths. |
| Ardagh Footpath Extension | Footpath construction along R521 on either side of the traffic lights. |
| L7809 Abbeyfeale – St Ita's Road | Pedestrian improvement works. |
Low-Cost Junction Tightening and Pedestrian Crossings (Metro Area)
Scheme Name
Lisnagry National School Pedestrian Crossing
Castleconnell Pedestrian Crossing
Carey's Road Pedestrian Crossing
Belmont Hill Junction tightening
St John's Hospital Pedestrian Crossing
Garyglass Pedestrian Crossings
Arthur's Quay Pedestrian Crossing
Irish Estates Corbally Junction tightening
Mallow St/Pery St Junction improvement
Low-Cost Junction Tightening and Pedestrian Crossings (Municipal Districts)
R518 Ballingarry Village/Adare-Rathkeale
L1423 Station Rd, Adare Village/Adare-Rathkeale
Nicker NS to Pallasgreen/Cappamore-Kilmallock
Morroe (Ros Ferna)/Cappamore-Kilmallock
Cloverfield NS/Cappamore-Kilmallock
NCW Bishops Court
NCW Ped Crossing- Bishop St/Bridewell Lane
Low-Cost Permeability Measures (Metro)
| | |
| --- | --- |
| Project | Details |
| Monaleen Heights to Kilmurry footpath | The scheme comprises installation of 130m of footpath and installation of public lighting. The proposed works would link Monaleen Heights to the Kilmurry Road. |
| Elm Park footpath | The scheme comprises installation of 30m of footpath and the installation of public lighting at the start and end of footpath. |
| Old Dooradoyle Road to Glencairin | The scheme comprises installation of 130m of shared surface linking the Old Dooradoyle Road to Glencairin. |
| Nessan's Court to Meadow Lawn Permeability | The scheme comprises installation of 23m of footpath linking Meadow Lawn to Nessan's Court. |
| Hunt Museum/Sylvester O Halloran Bridge Pedestrian Access | The scheme comprises installation of a pedestrian access from the Hunt Museum to the Sylvester O Halloran Bridge. |
Low-Cost Permeability Measures (Municipal Districts)
Bruff – Sycamore Dr. Link/Cappamore-Kilmallock
Galbally – Cappamore/Kilmallock
Bruff Walkway Improvements/Cappamore-Kilmallock
Limerick Greenway Connections
| | |
| --- | --- |
| Scheme Name | Details |
| Abbeyfeale Greenway Connectivity | Working on concepts for new cycle and new or upgraded pedestrian connection to town centre. |
| Castlematrix Footpath Link | Footpath along Castlematrix road to connect to housing in the area and connect to the Greenway Walking Route. |
| Bishops Court Greenway Connection | A macadam shared surface through Bishops Court will link the Greenway trail head to Bishop St in Newcastle West . |
| Ardagh Pedestrian Access to Greenway | Install pedestrian access at the Station House amenity facility on the Greenway at Ardagh to the village itself to provide a safe secure pedestrian link from the Greenway to the village including pedestrian entrance to carpark. |
| St Anne's School Link Rathkeale | Footpath/Cycleway through St. Mary's Park Green connecting St. Anne's School to the Limerick Greenway Trailhead at the Palatine Museum. Including Junction tightening/improved Pedestrian facilities at the entrance to St Mary's Park and Pedestrian crossing (Toucan) to the Greenway. |
 For more stories on Limerick Active Travel go HERE
For more info on Limerick Active Travel go HERE