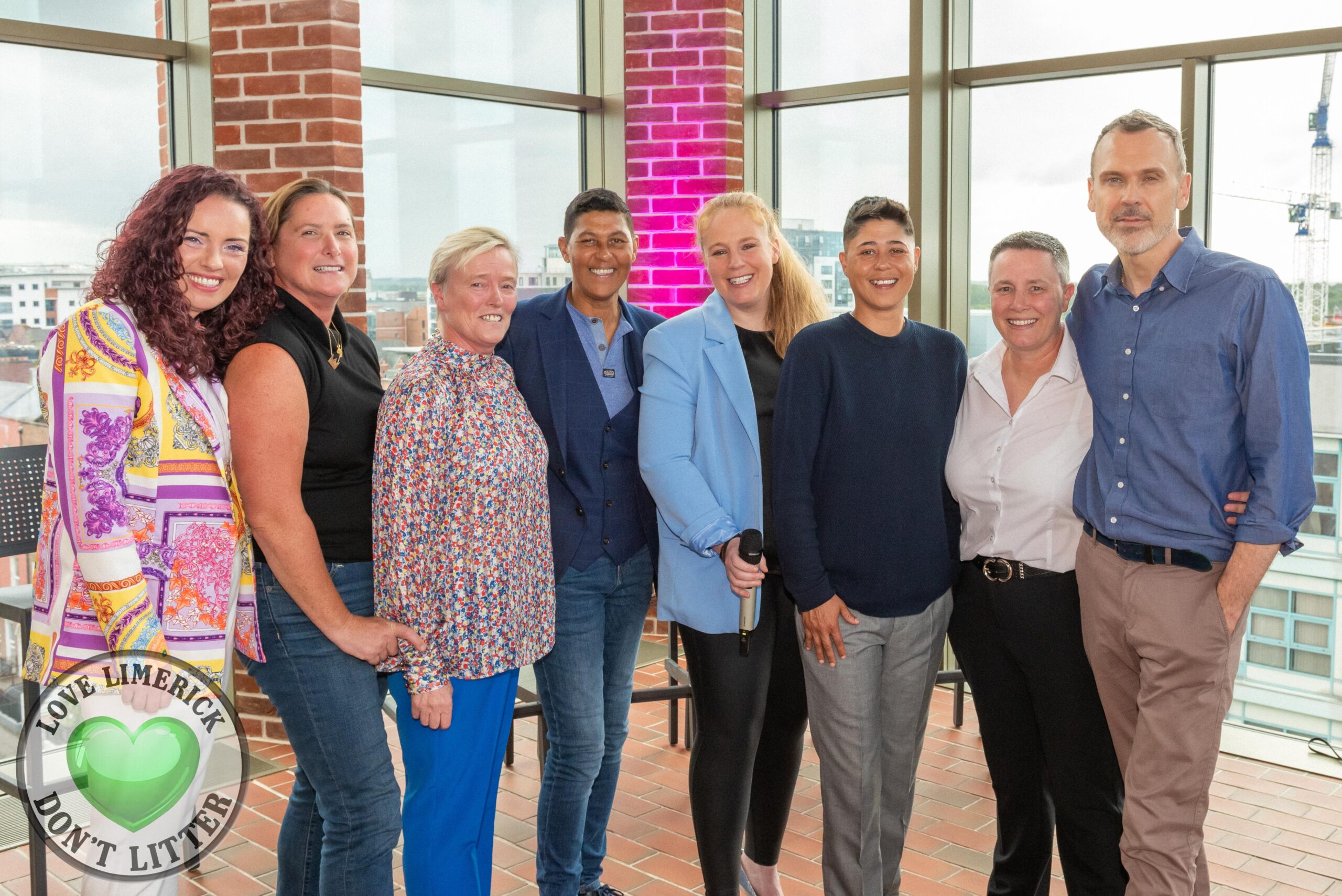 PHOTOS Amazing lineup of trailblazer sporting women speak at International Rugby Experience Limerick Pride event
Limerick Pride International Rugby Experience event – Pictured are Lisa Daly, Chairperson Limerick Pride, Rosie Foley, Grainne Cross, Jackie Mc Carthy O'Brien, Fiona Hayes, Sam McCarthy, Irene Hehir and Irene Hehir. Picture: Olena Oleksienko/ilovelimerick
Limerick Pride announce the amazing full lineup of inspiring sport trailblazer women for the official Limerick Pride event at the International Rugby Experience
Limerick Pride are excited to announce the amazing full lineup of inspiring sport trailblazer women for the official Limerick Pride event at the International Rugby Experience including former Irish Rugby Union player, Fiona Hayes, this year's Grand Marshal Jackie McCarthy- O' Brien, as well as International soccer player Irene Hehir among others.
Hosting will be Fiona Hayes, the former Irish rugby union player. She was a member of the Ireland teams that won the 2013 and 2015 Women's Six Nations Championships, and that defeated New Zealand at the 2014 Women's Rugby World Cup. Hayes has also played association football at the intervarsity and intermediate levels and is currently a sports commentator.  
This year's Grand Marshall Jackie McCarthy O" Brien. Jackie is a former Irish International and rugby player. She played forward for the Republic of Ireland women's national football team. Jackie represented Ireland 13 times each in soccer (1981-1993) and rugby (1994-1998). She was the country's first mixed-race player in both games.
Grainne Cross also like Jackie played as a senior international. She first became an international soccer player at the age of 15 and once played senior and U18 for Ireland in one day. She also spent a season in Italy with Flaminia Ambrosiana in Monza something unheard of at the time.
Rosie Foley is also a former Irish rugby union player, who played for Munster and for the Irish national rugby team. Rosie is the second Irish woman to complete the arduous 'Triple Crown' of Open Water Swimming, a marathon swimming challenge consisting of three historically important swims around the world.
Irene Hehir has played soccer for the International team for many years before moving into coaching girls and women's teams. She has been very successful, on and off the pitch with soccer while also picking up many awards over the years, continues to coach, and is a UEFA A Licence candidate.
Sam McCarthy, like her mam Jackie has sport in her veins. Samantha has played for Republic of Ireland women's national team.
Tickets for this event are fully sold out but don't worry as the event will be broadcast live on Limerick Pride's Facebook.
Find out more about Limerick Pride Festival 2023 here.
Read more about this year's festival here.
Pictures: Olena Oleksienko/ilovelimerick