Limerick Youth Service SOS Event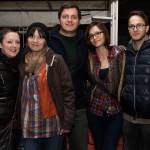 Limerick Youth Service facilitated an international training and networking programme called, SOS (Share Our Stories) over Halloween week. This project was based on the theme of 'Storytelling'. This theme has evolved from Limerick Youth Service's involvement in a project of storytelling as a means of capturing the 'cornerstones' of youth work and the unique aspects that distinguish youth work in the human professions. In particularly the project has been influenced by Bernard Davies, a renowned intellectual in the field of youth work who has been leading this work in Limerick. The aim of this training was to impart the theory behind storytelling and skills necessary to utilize 'storytelling' as a method of embracing and protecting the core of youth work practice.
Over the week the participants also had the opportunity to explore their stories in creative ways through puppet making, song writing, video making and graffiti art.  The participants who hailed from Malta,Bulgaria, Romania, Italy, UK as well as young youth leaders from Dublin, Clare and of course Limerick. The finale saw the group celebrate through an exhibition of the work produced, as well as social night of celebration of  achievement and new friendships forged. All were delighted to celebrate the culmination of our week, in a central point of Limerick's Culture- The Limerick Milk Market (hosted by Harpers & Bon Appetit).
This programme was made possible by the Youth in Action Programme funded through Leargas.
Photos by Cian O Reilly for ILoveLimerick.com 2013. All Rights Reserved.