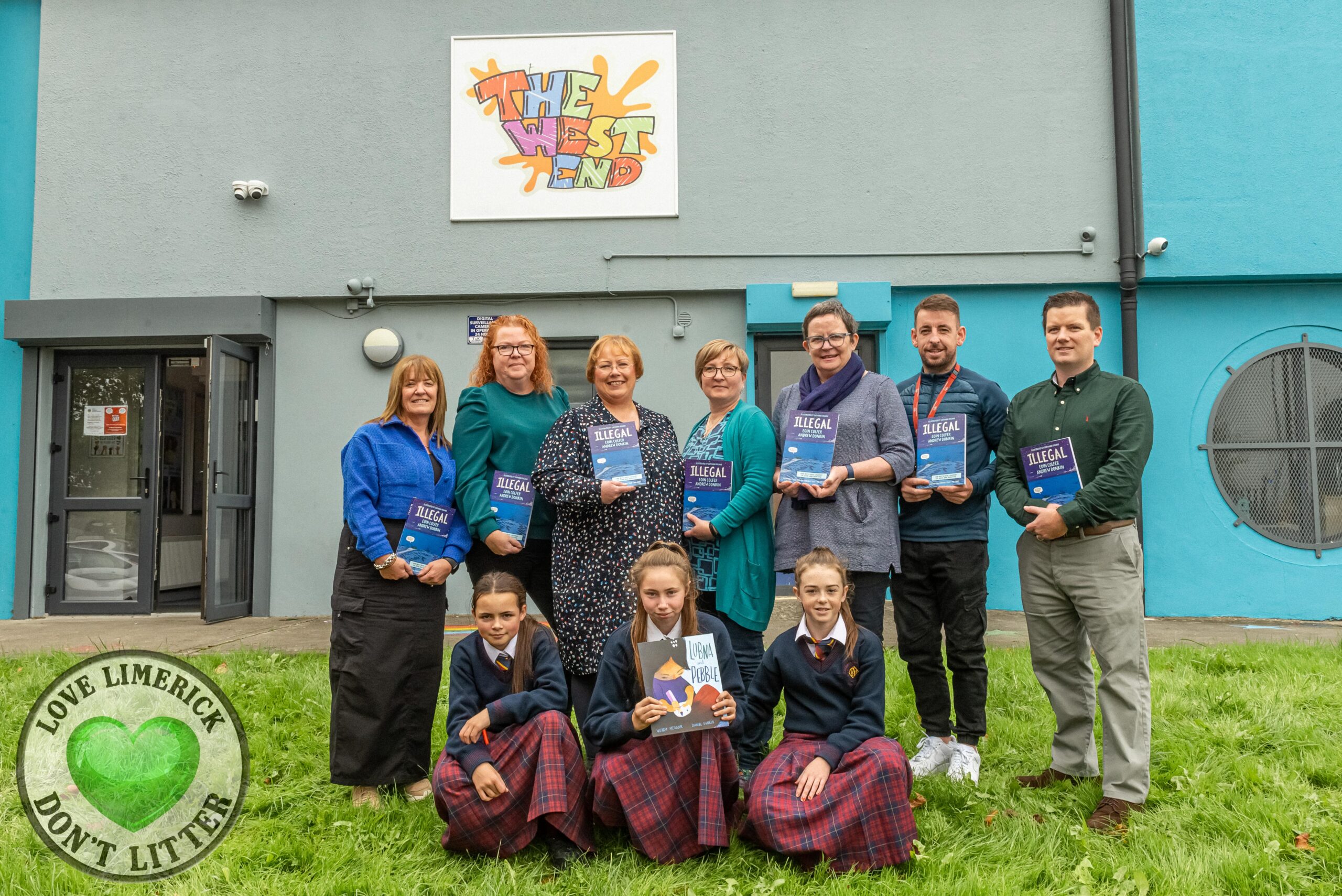 WATCH One Book One Community will promote literacy and spark conversation in Our Lady of Lourdes Community
Pictured at the launch of 'One Book One Community' were Mary Kavanagh, LEC committee from Colaiste Nano Nagle, Julianne Ryan, LEC parent, Tracy Fitzgerald, LEC secretary, Jonna Malone LEC committee treasurer, Mary Ryan Rose, Limerick and Clare Education and Training Board, Evan O'Grady, LEC Chairperson, Tommy Giltenane, LEC committee from St Clement's College (back) with Rhiann, Tori and Ariana, pupils from Colaiste Nano Nagle (front). Picture: Olena Oleksienko/ilovelimerick
'One Book One Community' will see 700 books being distributed to children and young individuals in the community, providing them with a valuable opportunity to read and share with their families
Aiming to foster a love of reading, bolster literacy, and spark conversation, the 'One Book One Community' initiative in the Our Lady of Lourdes community sees young readers and families bring one of 700 books into their homes from Thursday, October 11, 2023.
The event organised by Our Lady of Lourdes Local Education Committee (LEC) will see 500 copies of the book 'Illegal' by Eoin Colfer and Andrew Donkin shared throughout the community, tackling the issue of migration and integration while sparking conversation in the community.
Additionally, the Limerick and Clare Education and Training Board has contributed copies of 'Lubna and Pebble' by Wendy Meddour and Daniel Egnus, specially curated for the youngest readers.
These books are being distributed to children and young individuals in the community, providing them with a valuable opportunity to read and share with their families.
Tracy Fitzgerald, Home School Community Liaison Teacher in Our Lady of Lourdes NS explained the importance of the LEC and the initiative in the Our Lady of Lourdes community, "where many people haven't had the opportunity in education that other people would have".
Tracy said, "We do important work in that we are promoting learning opportunities for young people, you have young people who see adults in their lives getting involved in initiatives like this and the message is learning is important, learning is valuable, enjoyable, and it is part of everyday life, every adult learns during everyday life."
Jonna Malone, coordinator of STEPS School Completion Programme, and another LEC committee member, explained the developmental benefit of the initiative, saying, "Reading is so important on lots of levels, it is the basis of all learning and communication of all kinds, reading is an incredible tool to ride on for other themes as well."
The project has an incredible impact in being that it can be considered a success from the beginning, Jonna told I Love Limerick, "It's not just a hope that books will get into homes, we have 700 books that will physically get into homes, so we know that there are going to be 700 homes that at least have one book. We also hope that it will start conversations among the adults and young people around the topic of tolerance."
A powerfully moving graphic novel by author Eoin Colfer and the team behind the Artemis Fowl novels, Illegal explores the current plight of undocumented migrants.
Ebo is alone. His brother, Kwame, has disappeared, and Ebo knows it can only be to attempt the hazardous journey to Europe, and a better life—the same journey their sister set out on months ago.
Tracy told I Love Limerick, "We did a One Book One Community project several years ago, and it was a great success, we decided it's about time we did it again. We can see the young people were interested, we saw some of the young people in the community having conversations and passing comments about racism, about attitudes toward migrants.
"Others were challenging those poor beliefs and those poor attitudes so we went with what the young people were saying. They were interested in exploring those themes or doing a project in terms of inclusion, acceptance and that we are all welcome, we are all one community."
The books will be read and discussed in community groups and will also be covered in some of the schools in the Our Lady of Lourdes community with competitions around the promotion of the book within families also inspiring young people to pick up the book and read it.
Find out more here.
Read more Our Lady of Lourdes stories here.
Pictures: Olena Oleksienko/ilovelimerick