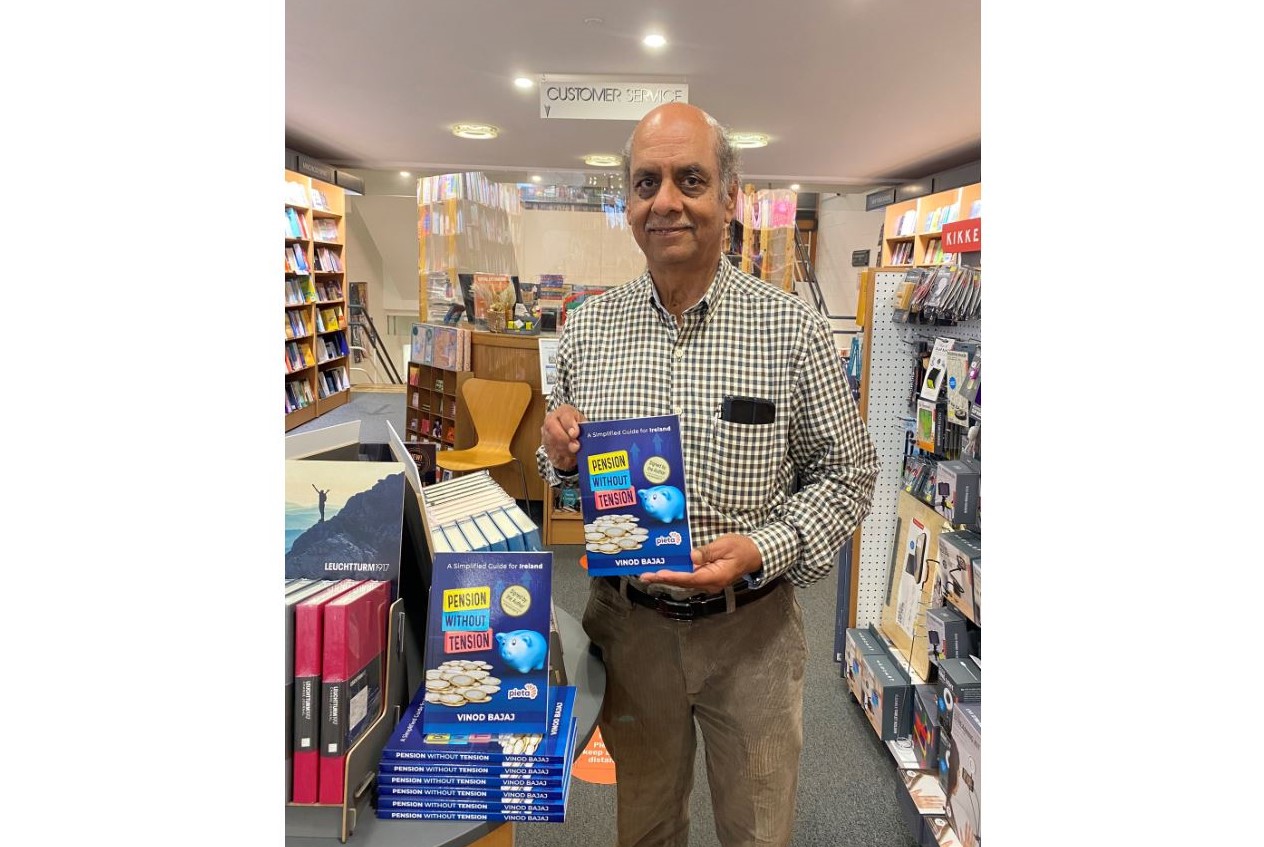 Limerick retiree Vinod Bajaj releases his first-ever consumer book called "Pension Without Tension"
Pension Without Tension is a new book by Vinod Bajaj, pictured above in O'Mahony's Booksellers
Limerick retiree Vinod Bajaj releases his first-ever consumer book called "Pension Without Tension"
By I Love Limerick Correspondent Ann Mc Donald
71-year-old retired business consultant Vinod Bajaj is making headlines again with the release of his new book, "Pension Without Tension."
You may remember Mr. Bajaj from last year when he walked the equivalent of the circumference of the Earth in 4 years without ever leaving Limerick. He began his journey with the hope of losing weight, and, not only did he reach his goal, but he also became a name known to both people in Ireland and internationally for his fantastic achievement. Recently, he has hit the milestone of walking 55,000km.
Mr. Bajaj, who was born in India and has lived in Ireland for over 40 years, decided to write the book as he found many people coming to him with questions about their pensions, and wants people to enjoy a stress-free retirement like he is. He believes that the pension in Ireland is in a bad shape, and is a problem that won't go away.
"Some of my friends were coming to me for pension advice because they knew that I could explain things to them in a very practical way. Some of my friends said, 'Would you not write a book on this subject, because you make it so easy to understand without any jargon?' So I said, yes, I would, but it was very daunting," Mr. Bajaj explained to I Love Limerick.
He began writing his book in January and wrote a page a day – sometimes more, sometimes less – and had his first draft completed by the end of March. After completing more drafts, getting the book edited, proofread, and designed, it was ready to be published in October.
His book covers almost everything a reader could want to know about Irish pensions in a simple, step-by-step, and easy-to-understand format with practical examples.
It also aims to debunk several myths and misconceptions through the provision of facts.
The book will cover topics such as pension tax, pension transfer, pension contribution holidays, and much more.
Pension without Tension by Vinod Bajaj launches today. A practical easy to follow guide on all things pensions.

He is donating €1 to Pieta for every copy sold.

The book is available to buy on https://t.co/WXJMPrBmbx @PietaHouse pic.twitter.com/PwjLYXCBvb

— OMahonys Booksellers (@OMahonysBooks) October 18, 2021
Mr. Bajaj explained that people are not saving enough money for their pension and hopes that his book will help encourage and educate people to start saving as soon as they can.
"My book and the subject covered will potentially touch 2.3 million workers in Ireland and can be a compelling read," Mr. Bajaj said.
It has already received excellent reviews, despite only being released just over two weeks ago.
A contribution from each purchase of the book will go to the charitable work of Pieta House.
"Mental health services in Ireland are very underfunded, and many people are suffering from mental health problems, which Covid-19 hasn't helped. Pieta has been at the forefront of charitable work in terms of helping people who are suicidal, self-harm, and suffer from mental problems," Mr. Bajaj said.
'Pension Without Tension' is €9.99 and is available in-store at O'Mahony's Booksellers in Limerick, Ennis and Tralee, Easons at Parkway Shopping Centre, Sky Court Shopping Centre and Nenagh, Cresent Bookshop at Cresent Shopping Centre, and Talking Leaves Bookshop at Castletroy Shopping Centre.
To buy Pension Without Tension online go HERE
For our previous story about Vinod Bajaj go HERE