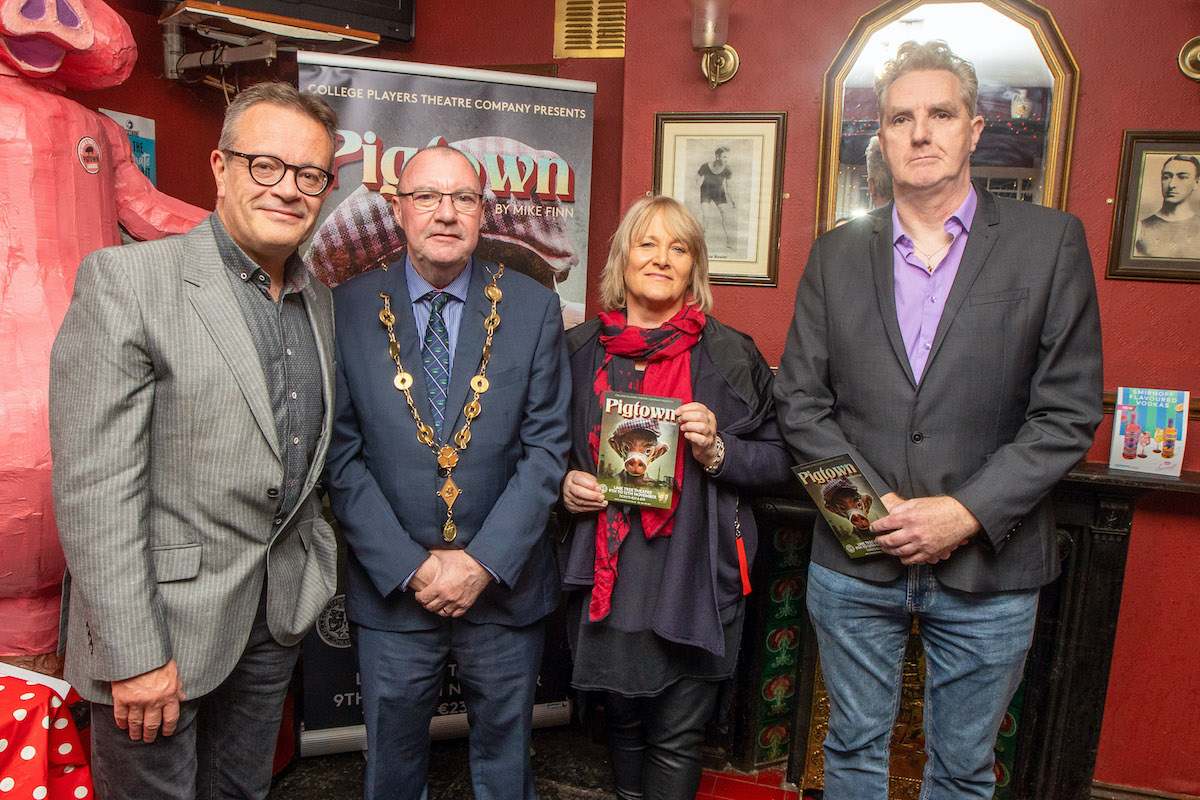 College Players Theatre Company returns to Lime Tree Theatre with Mike Finn's Pigtown play November 9 to 12
Pigtown play – Dave Griffin, Chairman College Players Chairman, Francis Foley, Mayor of the City and County of Limerick, Pigtown Director Margaret Haugh, and writer Mike Finn. Picture: Ken Coleman.
'Pigtown' is a poignant theatrical journey through the history of 20th-century Limerick

College Players Theatre Company has officially launched its Winter 2022 production. Mike Finn's iconic Limerick play, 'Pigtown' will be performed at the Lime Tree Theatre from Wednesday 9th November through Saturday, November 12 (incl. Matinee on Nov 12).
This year's production of Mike Finn's Pigtown play by Limerick's oldest theatre company will see well-known Limerick theatre educator, director and performer Margaret Hough, return to take the reins as director. Margaret is supported for this production by Nigel Dugdale as Assistant Director.
The company has assembled a quality cast for the 2022 production. Regular College Players cast members include Brian McNamara in the central role of Tommy Clocks, supported by Padhraic Hastings, Jean McGlynn, Dave Griffin, Dan Mooney, Paul Fitzgerald, Eoghan Ahern, Áine Hogan, Joanne O'Brien, and Paddy Kelly. They are joined by Jessica Bray, Anna Maria Barrett, Martin Kenny, James Malone, John Mooney, and Gary O'Hanlon, each of whom make their College Players stage debut in the Pigtown play.
'Pigtown' is a poignant theatrical journey through the history of 20th-century Limerick, seen through the eyes of one man, Tommy 'Clocks' Clohessy. On the morning of his funeral, Tommy wanders the streets of Limerick meeting characters from his life and times, as scenes and moments from his 100-year past take shape before him. Mike Finn's award-winning script delivers a compendium of stories that are equally funny, poignant, hard-hitting and yet always truthful and laid-bare. 'Pigtown' is ultimately a celebration of a place and a community that many will know either vaguely or specifically.
The Pigtown play won the 2000 Stewart Parker Award, received four Irish Times Theatre Award nominations and has been produced Off-Broadway and in San Jose in the United States. College Players look forward to giving their skilled interpretation of what has become recognised as a proud and fearless theatrical celebration of Limerick city.
"I saw it all. A hundred years. Every minute from start to finish. The good, the bad, the ugly".
With a set designed by Gerry Lombard, costumes by Jacinta Florish, lighting design by Michael Finneran, audiences can once again look forward to a quality-laden full-scale production for which College Players have gained a national reputation, over recent years.
Since they were founded in 1926, the College Players mission has been to bring exciting classical and modern theatre to home audiences and further afield. The company encourages, develops, and delivers artistic theatre experiences to local and regional audiences. In so doing, the Company has established a vivid presence in the cultural life of Limerick City and beyond.
Speaking at the launch of the November production of 'Pigtown', which was held at JJ Bowles Bar in Thomondgate, College Players Chairman Dave Griffin said, "We are delighted to be returning to the Lime Tree Theatre in November, after such an enforced hiatus due to the pandemic, with what is arguably Limerick playwright Mike Finn's finest theatrical work, 'Pigtown'. The company is once again blessed to be able to boast an experienced and talented cast, who we are confident will give Limerick audiences another memorable theatrical experience.
"Having a director of the calibre of Margaret Hough on board again this year, following our last production of 'Translations' in 2019, is particularly exciting. Limerick audiences will know Margaret from her many years as a founder of Spotlight Stage School, but also much work over many years with local theatre groups, notably Granary Players. We are eagerly looking forward to presenting Mike Finn's celebrated work, to live Limerick audiences", he said.
College Players wish to show their particular appreciation for the critical support of John Hoare and his team at Punches Hotel, who have been hugely generous in providing rehearsal and set-build facilities for the company throughout the production process.
Also speaking at the launch, director Margaret Hough said, "It's a delight to be back again with College to direct, having had such a fantastic experience in 2019 with 'Translations'. And a joy to have such a superb local cast who have been so great to work with in the rehearsal room. And it goes without saying that I'm a big fan of Mike Finn's work and to be able to stage his iconic 'Pigtown' is a pure joy, and we can't wait to present it to live audiences. I would also like to pay tribute to my assistant Director, Nigel Dugdale, and to be supported by an amazing production team who have dedicated so much of their time to realising the vision I have for this show. I believe we have the team, who together will deliver a stage performance that will delight Limerick audiences in November", she said.
College Players Theatre Company presents 'Pigtown' at Limerick's Lime Tree Theatre from Wednesday, November 9 to Saturday, November 12, including Matinee on Sat, November 12.
Tickets for the Pigtown play are on sale now and can be purchased via the Lime Tree Theatre box office on 061 953400 or HERE
For more stories on Pigtown go HERE